A Chinese entrepreneur, Zhou Qunfei is the CEO of the Lens Technology and is known to have founded the same, which creates the touchscreen. She became one of the richest women in China after her company got publically listed on the Shenzhen ChiNext market.
Early life and background
Born in 1970, to a poor family in Xiangxiang, Hunan province, Qunfei's father became blind in a car accident in the 1960s. She was just fiver years of age when her mother died. Qunfei quit school at the age of 15 and became a worker as a migrant in Shenzhen, a special economic zone in the province of Guangdong. Interestingly, she took a decision to work near the Shenzhen University so that she could take up part-time course while working. She passed in many examinations and subjects including licensed commercial vehicle driving, accounting, computer operations and even customs processing. One of her biggest regret is not having learnt English Language.
Career Achievements
She created her own company in the year 1993. Before this she worked in a firm as a watch part maker. She used her savings of 20,000 Hong Kong Dollar to open her own company with the encouragement of her cousin brothers and sisters. They advised her to open her own business. Qunfei got her big break when her company was approached by a famous Chinese firm, TCL Corporation to make mobile phone screens. Over the years, Zhou is said to have started 11 new companies.
Sponsored link
She started her company Lens Technology in 2003 and this company played a major role in the industry. This company supplies to major and very famous electronic makers, Samsung Electronics, Apple and Huawei.  The most awaited Apple watches have used glasses from her company and crystal sapphire screens! On March 2015, it was the 22nd anniversary of Lens Technology. It began to trade on the Shenzhen Stock Market. During this period the stock prices rose sky high.  She surpassed the China's previously richest lady Chen Lihua. Her company, in April 2015, employed up to 60,000 workers.
Sponsored link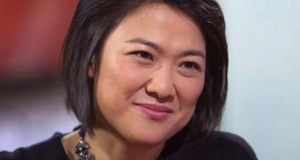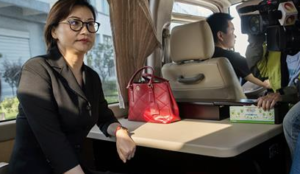 Zhou Qunfei – Husband
Qunfei got married to the former boss of the factory. She got divorced eventually but has a child with him. She later married Zheng Junlong, a long time factory colleague who presently works on the Lens Board. They have a daughter.
Controversy
Zhou Qunfei has indirectly been in a controversial loop in the year 2015, when a labor rights group accused that one of Chinese suppliers used exploitative methods on workers. This took place during the iPhone 6 launch.  SACOM (Students and Scholars against Corporate Misbehavior) said that Lens Technology was exploiting the factory workers with forced overtime, health risks and no payment of wages. Lens Technology denied these allegations.
Zhou Qunfei- Net worth
Up till the date of February 2016, her net worth is estimated to be a whopping 6.4 billion US Dollars. She has exceeded Chen Lihua's net worth. .   She is the richest-self made female billionaire in the world.
House
Until November 2015, she is known to own real estate of worth 27 million Dollars in Hongkong.
Sponsored link