One of the most controversial personalities in Television Zakir Naik is an Islamic preacher and the founder and president of the Islamic Research Foundation.  Along with this Naik is also the man behind forming the 'comparative religion 'Peace TV channel through which he communicates with his million followers.  He is considered to be one of the most influential Salafi Ideologue in India.
Early Life and Background
Zakir Naik was born on 18th October 1965 in Mumbai, Maharashtra, India. In the earlier years, Zakir attended Krishnchand Chellaram College. Then, he studied medicine from Topiwala National Medical College and BYL Nair Charitable Hospital. In the later years, he also joined Mumbai University from where he was graduated with an MBBS degree in Medicine and Surgery.
Zakir Naik – Young Pictures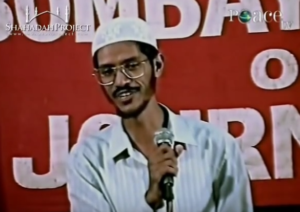 Sponsored link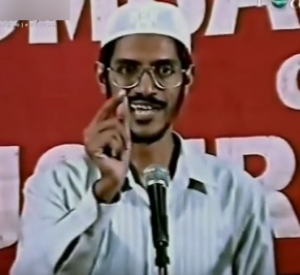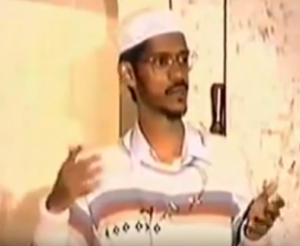 Career
Zakir Naik started his career way back in the year 1991 as a worker of 'Dawah', a preacher of Islam. At that time Zakir founded the Islamic Research Foundation which is a registered nonprofit public charitable trust. The work of IRF continued over the years and in 2006 Naik founded the Islamic International School in Mumbai, with that he also established the United Islamic Aid which provides scholarship to every poor and helpless Muslim youth.
Along with his work in IRF, Naik holds various lectures and debates around the world, in many countries.  Naik's main center point of all lectures remains to be Islam.  It is said that till now, he has hold around 4000 lectures around the world.  Some of the very important issues which Naik had discussed in many of his lectures are Islam and Modern science, Islam and Christianity and Islam and Secularism.
Lecture in Australia (2004)
In the year 2004 Naik was invited by the Islamic Information and Services Network of Australia. There he delivered a very profound statement that only Islamic women gave true equality. The introduction of western dresses makes a woman more lustrous for rape.
Lecture in Gambia (2014)
On the occasion of grand celebration of Gambian's revolution 20th Anniversary, Naik was invited by the president to express few of his thoughts.  The four topic on which Naik spoke at Gambia are 'Terrorism and Jihad: an Islamic perspective, 'religion in the right perspective', 'Dawah or Destruction and the misconceptions about Islam.
Sponsored link
Zakir Naik's views
There are various opinions and thoughts expressed by Naik on many issues which have sparkled huge controversy against him. Some of his views are highlighted below:
Women's rights
He says that the man is the leader of the family and he has the right to beat his wife 'gently' or 'lightly'.

Stand against Music

According to Naik, music personifies intoxication. He has condemned dance and music as because these two art forms are prohibited in Islam.
Stand against LGBT
On this particular issue, Naik expressed that people belonging to the LGBT community are suffering from a sinful mental problem.
Punishment for stealing
He advocates the harshest punishment for stealing, if found guilty and says the US should also implement such measures.
Zakir Naik- Wife and Children
Zakir Naik is married to Farhat Naik. They have a son named as Fariq Naik and a daughter Rushdaa Naik. Zakir Naik's wife looks after the women's section of IRF.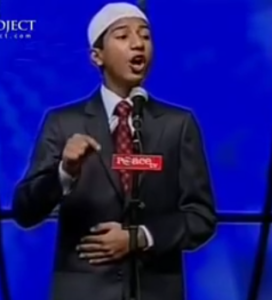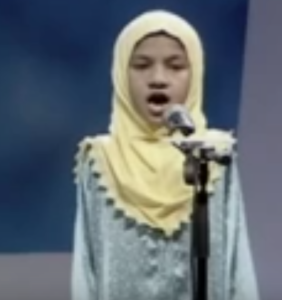 Controversy
Zakir Naik has been involved in many controversies due to his teachings and delivering of thoughts against certain believes of the society.  In the recent attack in Bangladesh, it has been found that one of the terrorist who was arrested use to follow Naik's teachings in a Facebook Page and was highly influenced by his philosophy. Due to controversies surrounding him, Zakir Naik has been banned from giving speeches in India, the UK and Bangladesh.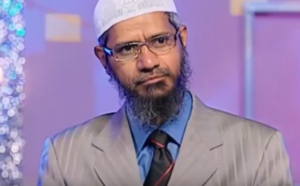 House
Zakir Naik resides at Jasmine Apartment which is in Mazgaon, Mumbai.
Zakir Naik – Net Worth
Though the perception is that Zakir Naik leads a humble existence, investigating authorities claim that if he is the owner of a channel like Peace TV, he has access to enormous amount of funding.  They are also investing the licensing behind the channel.  Though it is disputed, sources claim that he is a millionaire.
Sponsored link