Elizabeth Anne Holmes is the founder and CEO of Theranos, a blood test company that specializes in painless testing.
Elizabeth Holmes – Early life and education
She was born on February 3, 1984 in Washington D.C. Her father Christian Rasmus Holmes worked in government agencies that administer civilian foreign aid. Elizabeth Holmes' mother Noel Anne works in the congressional committee as a staffer. Her brother Christian Holmes V  works with her as the direct of product management at Theranos. Holmes has business in her blood as her great-great-great grandfather Charles Fleischmann founded the popular Fleischmann's Yeast Company.
As a child, Elizabeth chanced upon the biography of her great-great grandfather Christian R.Holmes  who apart from being a solider for World War I was also an inventor, engineer and a surgeon. Reading about him made it clear to her that she wanted to do something in medicine. At the same time, Elizabeth Holmes had fear of medicine. She channelized her fear into creating Theranos.
Sponsored link
Post her graduation from Houston (St. John's School) in 2002, Holmes studied chemical engineering in Stanford University. But she left the university before completing her graduation degree.
Building the Theranos Brand
Theranos announced that she had developed a blood testing equipment called 'Edison' that would extract few drops of blood through a finger-stick rather than administration of needle injected in the veins, as is normally done. By adopting the microfluidics technology, she said that it would be a painless way for blood testing.  Holmes company which was once called 'Real-Time Cures' in Palo Alto was rechristened as Theranos (which is an amalgamation of 'therapy' and 'diagnosis'). By 2014, Theranos managed to raise $700 million from investors and the company was valued at $9 billion. She had 18 patents from US and 66 non-US patents to her name.
In 2014, Elizabeth Holmes was Fortune's Businessperson of the Year. She was one of TIME magazine's most influential people of the world for 2015. She was a part of the Harvard Medical School Board of Fellows in 2015. Holmes was named the Woman of the Year in 2015 by Glamor Magazine. She was invited by US President Barack Obama to be an ambassador on the basis of the president's behalf for global entrepreneurship.
 Elizabeth Holmes' 2-year ban from blood testing industry – Reason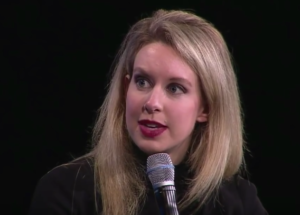 Sponsored link
Theranos was not subject to peer review study, even though it had huge inflow of investments. A report floated in The Wall Street Journal in 2015 that Theranos was exaggerating the functionality and reach of its technology. This media claim was endorsed by some pathologists and experts from the medical industry as well.
The Food and Drug Administration (FDA) stated that the miniature blood containers for Theranos should be unapproved for any other test apart from Herpes.  Following that order, Theranos was asked to limit the use of its proprietary technology only to one of the two hundred tests that the company mentioned in its advertising material.
Holmes publicly stated that Theranos verified its results which were true and accurate, but didn't back it up proof. She also agreed on October 17, 2015 that she would release data that showed that Theranos' tests were reliable and foolproof but didn't backup her claim. Meanwhile, issues were found in the Theranos lab by the Arizona Department of Health.
The Washington Post on December 2015 said that Holmes was pleading to the retired marine general James Mattis to speak on behalf of the company during the investigations.  Mattis was on the board of directors of the company since 2013.
In January 2016, Centers for Medicare and Medicaid Services  (CMS) wrote a letter to Theranos' Newark (California) that they had noted deficient practices in the laboratory that could jeopardize patient health and safety. A deadline of ten days was given to Theranos to prove that the laboratory was complying with safe and secure lab requirements.
Within 3 days, Walgreens, the second largest chain of pharmaceutical companies in the US, which had partnered with Theranos, stopped all testing at Palo Alto location and asked the company to conduct its testing from its Arizona testing center.
On June 12, 2016, Walgreens decided to wind up its relationship with Theranos and said that it would not offer Theranos services at any of its outlets. On July 9 2016, the CMS banned Elizabeth Holmes from owning or operating a blood testing service for two years and levied an indefinite monetary penalty.  The sanctions were to take 60 days from the issuance, and Theranos were given the liberty to appeal against the decision of CMS to a presiding judge and the board at US Department of Health and Human Services.
 Elizabeth Holmes – Net Worth
In 2014, Elizabeth was the richest self-made woman in America, under 30. In 2016, Forbes brought down her net worth from $4.5 billion (in 2014) to zero, following its approximation of Theranos fall in worth from $9 billion to $800 million (for a capital of $724 million raised). If the company is liquidated, Holmes would be the last one to be paid, as she owns common sock as against the other investors who owned preferred shares.  Holmes owns 50 percent of Theranos shares.
Sponsored link