Chris Wallace hosts the news/talk show named Fox News Sunday affiliated with the Fox Broadcasting Company. He is famous as an American television anchor. His full name is Christopher Chris Wallace. He has achieved the Dupont-Columbia silver Batron Award and three Emmy Awards. In the year 2003, he joined Fox News Channel (FNC). He also serves as a special guest on the Howie Carr show on Boston's WRKO.
Early life and background
Chris Wallace was born on 12th October, 1947 in Chicago, Illinois. His father, Mike Wallace, served as a reporter on CBS television. The name of his mother is Norma Kaphan. Both of them were Jewish. His parents broke up when he was one year old. After that, his mother married  Bill Leonard, who worked as the president of CBS News from the year 1979 to 1982. Wallace and his brother, Peter Wallace, grew up with Norma and Bill.
Wallace completed his high school education from The Hotchkiss School. After that, he attended the Harvard college in order to pursue his bachelor degree in political science. During his college days, he reported news on-air for the college radio station named WHRB.
Sponsored link
Career achievements
After completing his graduation, Wallace joined an American daily newspaper, named The Boston Globe. But he wanted to move to television and  joined NBC in 1975 in order to begin his network journalism career. He served as a reporter with WNBC-TV for fourteen years in New York City.
After that, he shifted to NBC's Washington office to work as a political correspondent. Later, in 1982, he  also worked as Washington Co-anchor for the Today (NBC show).
Besides, Wallace worked as chief White House correspondent from the year 1982 to 1989. He also contributed as the anchor of the NBC Nightly News and the moderator of Meet the Press.
In 1989, Wallace left NBC and joined ABC News. He served  there as the senior correspondent for Primetime Thrusday. He also hosted a late night news program called ABC News Nightline. In the year 1991, during the first Gulf War, Wallace reported from Tel Aviv on the Iraqi Scud missile attacks.
Sponsored link
After leaving ABC, he joined the Fox News Channel, in 2003. After replacing Tony Snow, he started hosting Fox News Sunday.
Throughout  his 50-plus years in broadcasting media, he has received many major broadcast news awards for his contribution. Wallace achieved the SoI Taishoff Award and the Peabody award for broadcast journalism. In 2013, he gained the 2013 Paul White Award. The Boston Globe described him as an "equal opportunity inquisitor".
Chris Wallace – Wife and Children
In 1973, Chris Wallace married Elizabeth Farrell. They have four children named Andrew, Catherine, Margaret and Peter.
He later separated from Elizabeth and married Lorraine Smothers, the ex- wife of  comedian Dick Smothers, in 1997. Lorraine has two children from her previous marriage, namely Remick Smothers and Sarah Smothers.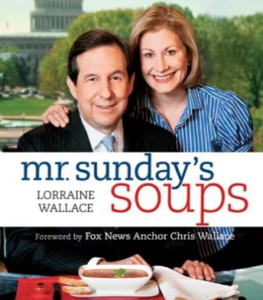 Chris Wallace –  Salary and Net Worth
This famous journalist and TV anchor has an estimated fortune of $6 million.  He draw a salary of $1.5 million annually.
House
Presently, The host of Fox News Sunday, lives in a posh apartment located in Washington, D.C. This expensive mansion has three bedrooms and five bathrooms.
Sponsored link