Andrea Mitchell is a renowned American Television anchor, journalist, commentator and reporter for the NBC News network based out of Washington D.C. She is the Chief Foreign Affairs Correspondent for NBC News.
Early Life and Education
Mitchell was born on the 30th of October 1946 in a Jewish family in New Rochelle, New York to Sydney and Cecile Mitchell. Her father was the CEO and partner of a furniture manufacturing unit in Manhattan and the President of the Beth El Synagogue in her hometown for four decades.
Her mother was a superintendent at Manhattan's New York Institute of Technology while Arthur, her brother, moved to Canada in the 1970s to be a part of the Legislative Assembly of Yukon. He became the leader of the Yukon Liberal Party in the early 2000s.
Sponsored link
Michelle's early schooling was done at New Rochelle High School and she went on to receive a Bachelor of Arts degree in the English literature in 1967 from the University of Pennsylvania. This was her first brush with journalism, as she served as the News Director at the student radio station WXPN.
Career
Mitchell moved to Philadelphia soon after her graduation and was picked up as a reporter for KYW radio. She soon rose to prominence as the City Hall correspondent for KYW Radio and also reported for its sister concern KYW TV.
She soon moved to Washington D.C. based WTOP, presently WUSA, in 1976, from where she moved on to NBC Network News Operations two years later, serving as a general correspondent. She was named the NBC News Energy correspondent in 1979 where she reported on the energy crisis faced during the late 1970s and the nuclear accident at Three Mile Island.
Mitchell was also responsible for the White House from 1981 to 1988 when she became the Chief Congressional Correspondent. Some of her notable work include Race for the White House in 2008, NBC Nightly News with Lester Holt, MSNBC and Today. She currently hosts Andrea Mitchell Reports and has Guest Anchored Meet the Press.
Sponsored link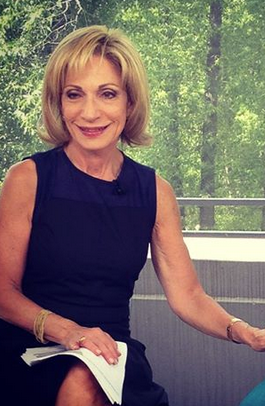 Controversy
The Plame Affair – Mitchell had leaked a report to The Washington Post in 2003 which led to Valerie Plame's identity being compromised. Mitchell was subsequently questioned by the Federal Bureau of Investigation and was served a subpoena as a Person of Interest, although, she never had to appear before the investigating Grand Jury.
Sudanese Case – Mitchell was thrown out of a room back in 2005 in Khartoum where she had asked the Sudanese President, Omar al-Bashir a few questions including, "Can you please tell us why the violence is continuing?", referring to the genocide at Darfur, and "Can you tell us why the Sudanese Government is backing the militia?", and "Why should Americans believe your promises?"
Personal Life
Mitchell married and divorced Gil Jackson in the 1970s, following which she married Alan Greenspan, former President of the Federal Reserve, in 1997.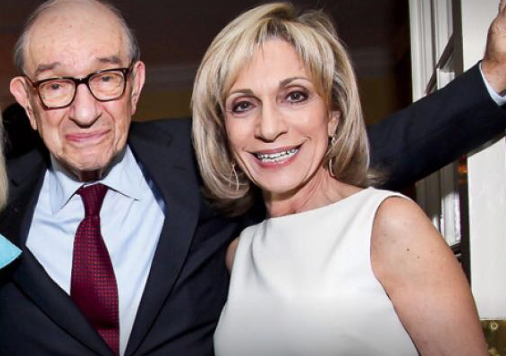 Andrea has also suffered and recovered from breast cancer and on September 7, 2011 she made the news public.
Andrea Mitchell – Salary and Net Worth
With a net worth of over $5 Million, Andrea Mitchell receives an annual salary of $750,000.
Sponsored link