Tucker Swanson McNear Carlson is a reputed American political commentator who is known for his work on The Fox News Network. Carlson is the co-founder and ex editor-in chief the news and opinion website 'The Daily Caller'. He was also the host of the political show 'Tucker' that aired on MSNBC as well as the co-host of 'Crossfire' on CNN. Carlson currently hosts the show 'Tucker Carlson Tonight' on Fox News Channel replacing The O'Reilly Factor.
Carlson started his career in journalism with a position on the editorial staff at 'Policy Review' which is a national conservative journal. He later worked at the Arkansas Democrat-Gazette newspaper as a reporter and also at The Weekly standard, both in Little Rock, Arkansas. Carlson has served as a reporter for various magazines and newspapers across the world. He has regularly written columns for Reader's Digest, The Weekly Standard, and The New York Times Magazine among others. He debuted as a television host on 'The Spin Room' with Bill Press as his co-host.
Early life and Education
Carlson was born on 16 May 1969 in in San Francisco, California to Lisa McNear Lombardi and Richard Warner Carlson. He is the stepson of Patricia Caroline Swanson. Carlson has a younger brother named Buckley Swanson Peck Carlson. The Tucker brothers were raised by their father and step mother after their biological mother left the family he was 6.
Sponsored link
Tucker first attended the La Jolla Country Day School, Caliifornia. The family later relocated to the East coast and Tucker attended and graduated from a boarding school, St. Georges's School in Middletown, Rhode. He later attended Trinity College in Hartford, Connecticut from where he graduated with a Bachelor of Arts in History in 1992.
Career Rise
Carlson was appointed the co-host of CNN's 'Crossfire' in 2001 and where he stood as a representative of the right wing politics. Carlson stayed at the network until 2005 when his contract expired and the network decided not to renew it, cancelling 'Crossfire' suddenly, but Carlson maintained that he had already tendered his resignation to the network. Carlson was then employed by MSNBC where he served and the host of the 2005 show 'Tucker' which lasted only three seasons and was cancelled due to low ratings. In March 2008, Tucker resigned from MSNBC.
Sponsored link
Tucker was hired as a news contributor by Fox News in May 2009 and has since been a frequent panellist appearing on the network's show titled 'Red Eye', has made several appearances on 'Special Report with Bret Baier', He has also served as a substitute host for Sean Hannity's show, 'Hannity', in his absence and hosted 'Fox and Friends' from 2012-2016. Carlson has been hosting his own show 'Tucker Carlson Tonight' on Fox News since January 2016, which remains one of the most watched program on cable in the 9pm time slot. It was shifted to the 8pm time slot in April 2017, after 'The O'Reilly Factor' was cancelled due to allegations of sexual harassment.
Personal Life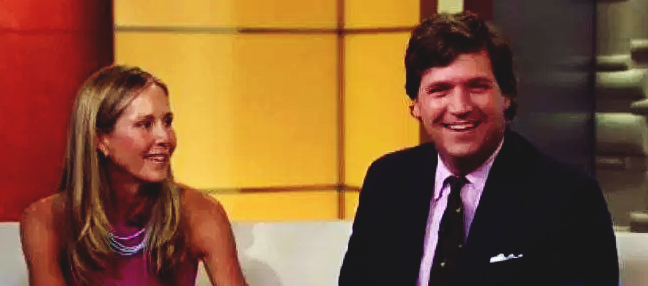 Carlson married Susan Andrews in 1991. Andrews was his classmate at St. George's Boarding School and her father was the headmaster of the school when they were both students there. Together, the couple have four children; daughters Dorothy, Lillie and Hopie Carlson and a son named Buckley Carlson.
Tucker Carlson – Salary and Net Worth
Carlson draws an approximate salary of $500,000 annually and has an estimated net worth of approximately $8 Million.
Sponsored link