Travis Cordell Kalanick is a successful American businessman and a computer programmer. He co-founded Uber, a transportation network company in 2009. Kalanick also served as the CEO of Uber from December 2010 to June 2017 when he resigned from the post owing to demands from shareholders. He however, continues to sit on the company's board and maintains a majority of the voting shares in the company. Kalanick currently holds a 12% stake in Uber.
Kalanick was announced as an economic advisor for President-elect Donald Trump's Strategy and Policy Forum in December 2016 where he joined other successful American CEO's. The Council was organized by Stephen Schwarzman of Blackstone's. Despite not being a Trump supporter, Kalanick accepted the position to give the citizens a voice. He stepped down from the council after he was pressured by Uber board members.
Early Life and Education     
Kalanick was born in Los Angeles, California on 6 August 1976 to Donald Edward Kalanick, a civil engineer and Bonnie Renée Horowitz Kalanick, who had a career in retail advertising. He was raised in the city of Northridge, California and attended The Granada Hills High School. He has one biological sibling, a brother named Cory Kalanick and two half sisters. Kalanick has Slovakian and Austrian roots on his father's side.
Sponsored link
Kalanick attended the University of California, Los Angeles (UCLA) where he enrolled for a degree in computer engineering but dropped out in 1998 in order to launch his first start-up company named Scour, Inc., with a few of his UCLA classmates.
Career Rise
Kalanick's first venture Scour Inc., which he co-founded with his UCLA classmates, did not take off the way they would have liked and filed for bankruptcy within 2 years in 2000, after it was slapped with a $250 billion lawsuit for copyright infringement. His next venture was called Red Swoosh, which was also a peer-to-peer file-sharing company. The business allowed users to transfer and share large media files, including videos and music files. Through a blog he maintained, Kalanick has addressed his struggles during his time at the company, which included living without a salary for 3 years, moving into his parents' home and owing huge amounts of money to the IRS in "unwitheld taxes". In 2007, Red Swoosh was acquired by Akamai Technologies for $19 Million.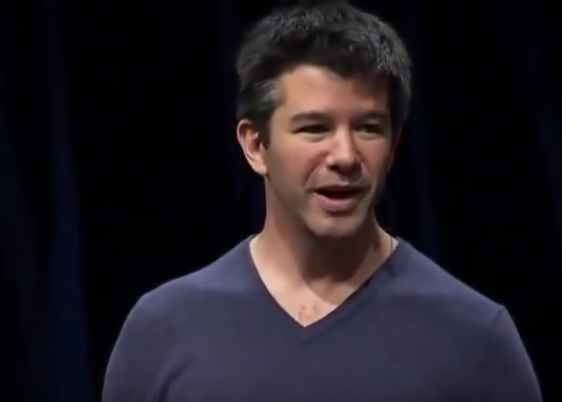 Sponsored link
Kalanick co-founded Uber with Garrett Camp and gives Camp the full credit for coming up with the idea of launching a mobile app that connects drivers and passengers and provides vehicle hiring and ride-sharing services economically. Kalanick was initially brought in the company in the capacity of a 'mega-advisor' but was later named CEO in December 2010. He resigned from his position after being pressured by several shareholders on the board of the company. He however holds a 12% stake in the company and continues to be a board member.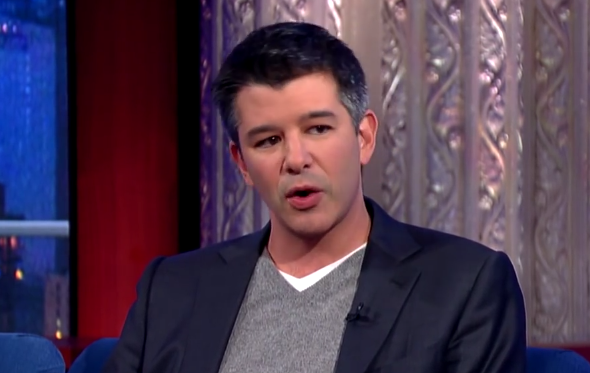 Travis Kalanick – Wife, Parents
Kalanick dated his long time girlfriend Angie You with whom he bought a townhouse in San Francisco's Castro section in the upper hills but eventually split up with her. In 2014, he was in a relationship with Gabi Holzwarth, a then street-violinist, who was discovered by Shervin Pishevar, an Uber investor. The couple met at an event hosted by Pishever and dated until 2016.
Kalanick lost his mother Bonnie  in a boating accident in May 2017, in which his father Donald Edward also sustained injuries.
Travis Kalanick –  Salary and Net Worth
According to Forbes list of America's Richest people, Kalanick is one of the richest business men in the country and as of June 2017, holds an estimated net worth of approximately $7.1 Billion. As on 2017, he is the 226th richest person in the world and among the top 35 tech billionaires. During the time, he found Red Swoosh, he went without salary, and according to reports, did the same when he was the CEO of Uber. Kalanic has a 12 percent stake in Uber, which is worth $70 billion, as on 2017.
Sponsored link