Skip Bayless is sports media personality whose best known role is a commentator on First Take which airs on ESPN2. He works alongside Stephen A. Smith on the same show. Skip Bayless is also an author and a sports columnist.
Early Childhood
Skip Bayles was born in the city of Oklahoma in a family of three siblings – two brothers and one sister. He's the eldest of his siblings. He was originally named John Edward Bayless II until his father nicknamed him 'Skip', short for skipper. The name proved popular and his parents never again referred to him as John.
Sponsored link
Skip Bayless' parents were restaurateurs and they ran a barbecue joint in Oklahoma City. Skip worked there when he was young though it never appealed to him as a career that he could pursue. Rick Bayless, his younger brother however followed in his parent's footsteps and today wears three hats – a TV personality, a chef and a restaurateur.
Skip Bayless's interests lay in sports and this was evident since he was young. He actively played basketball and baseball. In school during his junior year as well as his senior years, he was the school newspaper's sports columnist.
Career
Upon graduation from high school he joined Vanderbilt University on a Grantland Rice Scholarship where he took a major in History and English. At the university he was the sports editor of the student newspaper named The Hustler. Prior to graduating cum laude in the year 1974 he had interned under the sports editor of The Daily Oklahomian, Frank Boggs, five years earlier.
After leaving university Bayless joined The Miami Herald as a sports features writer. He worked there for slightly over two years before the Los Angeles Times poached him. At the Times Bayless broke new ground in the arena of investigative reporting. His exceptional skills were noticed and in 1977 he was honored with an Eclipse Award in the category of Outstanding Newspaper Writing. This was for his reporting of the Triple Crown win of the Seattle Slews.
Sponsored link
At the age of 26 Bayless moved to The Dallas Morning News where he was tasked with writing the lead column for sports. Three years down the line, Dallas Times Herald, a Morning News rival, poached him, a development which was covered in a story by The Wall Street Journal. During his years in the state of Texas the National Sportscasters and Sportswriters Association voted Bayless the Texas sportswriter of the year thrice – first in 1979, then in 1984 and finally in 1986.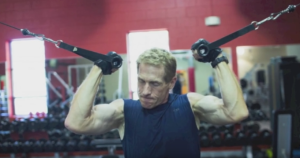 In the course of his newspaper journalism career the National Sportscasters and Sportswriters Association voted Bayless the Illinois sportswriter of the year in 2000. This is after he left Texas and moved to Chicago to work for the Chicago Tribune.
Bayless also worked in radio as a guest, guest host, co-host before moving into TV fulltime.
Skip Bayless first appearance on TV was in 1989 where he was on the panel of an ESPN show called The Sports Reporters. A fulltime stint at ESPN for Bayless begun in 2004.
Skip Bayless has also written books and had several cameo roles in films.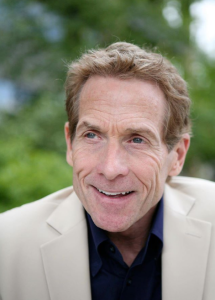 Personal Life
The 1.78 meter tall Skip Bayless is married to Ernestine Sclafani who works as a publicist. Bayless first marriage to a high school sweetheart ended in divorce.
Skip Bayless – Net worth and Salary
In 2015, Skip Bayless renewed his contract, which materialized into a $3 million annual salary.  But in the year 2016, it was reported that Bayless was leaving ESPN for Fox. Richard Deitsch, the sports-writer wrote on Twitter that his best guess was that the salary Skip Bayless would receive would be $5 million. His net worth is $7 million.
Sponsored link