Sinéad Marie Bernadette O'Connor is a songwriter and a singer from Ireland. She came into the limelight when her debut album The Lion and the Cobra became a hit in 1980s. Her song Nothing Compares 2 U was a worldwide success in 1990. She has appeared in charity events and has done many solo songs for films with other artists.
Early Life and Background
Born on 8th December 1966, Glenageary, County Dublin, she is the third child to her parents out of the five. Her parents Sean O'Connor and Marie O'Connor had a troubled relationship. They had married young and separated when Sinead was eight years old. She has experienced physical abuse when she was a child and that's why she advocates for Child's Right. In 1971, she moved to her father's place with his new wife but later had to be admitted in an asylum because of her shoplifting and truancy habits.
Her father sent her to Newtown School in 1983. In 1985, O'Connor's mother died in a car accident and it had devastated her despite a strained relationship with her. Soon she moved to London.
Sponsored link
Career
Her first album was released in 1987 called The Lion and the Cobra. The singles like Madinka, Troy were hit as well. Artists like Bob Dylan, Bob Marley and David Bowie influenced her during the 1980s. Her second album, I Do Not Want What I Haven't Got gained some positive reviews and attention. Her original work and voice was appreciated by many. O'Connor was also noticed for her trademark look- a shaved head and mismatched, unruly clothing. In the 1990s, she joined the Pink Floyd for a huge concert, The Wall, held in Berlin.
In 2000, Faith and Courage got released and in 2002 her album,Sean-NósNua was noticed by others. She gave some contributory singles for several artists and retired for a period owing to fibromyalgia. But she returned shortly, with a change in her music genre. She released a reggae album which appeared in 2005. It received positive feedback. November 2006 was the time when she sang seven songs from her album named Theology in Dublin. She later performed a duet with R&B Mary J Blige.
O'Connor announced that she was recording an album called Vishnu Room which had romantic songs in it. She later changed the album name to I'm Not Bossy, I'm The Boss. She is writing a memoir which was supposed to release in March 2016.
Relationships
Sinead O'Connor has four children. She had her first kid, Jake Reynolds with husband John Reynolds. Her daughter Roisin's was from her second husband John Waters. O'Connor then married British journalist Nick Sommerlad but the marriage lasted only for 3 years. She gave birth to her son Shane, the third child, with DonalDunny. In 2006 she had her fourth child with Frank Bonadio who was named Yeshua Francis Neil Bonadio.
She married the third time, in 2010 to Steve Cooney and separated with him in 2011. Barry Herridge was the fourth husband in her life.
Sponsored link
O'Connor announced in 2015 that her first son Jake Reynolds and Lia had a child and that she became a grandmother for the first time.
Controversy
On May 2016, she was considered missing for 31 hours on a motorized bicycle. Police later found her in Chicago quoting safe and unharmed. Reportedly, she was missing and suicidal. Later, she wrote a scathing Facebook update blaming her ex-husband John and son Jake for abandoning her, when she was mentally ill and said that she would sue them.
Why did Sinead O'Connor shave her hair?
In the 90s, she was likened to Winona Rynder for her pleasant looking face and hairstyle.  But she detested the girlie stuff that music executives and record companies would subject her to, for pedaling more copies. She was not interested in looking prettier and felt that she should be known for her talent – voice.  So, she took off to a barber, sheared off her hair and never looked back.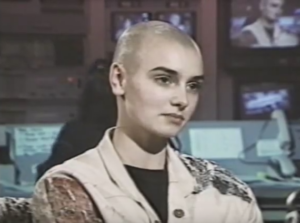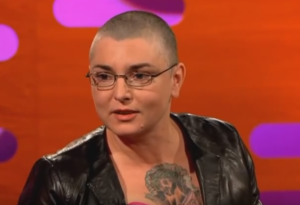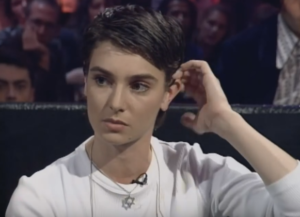 Sinead O'Connor – Net worth
Up till the year 2015, she has an estimated net worth of $6 million with an annual fees of $705,882 dollars.
Sponsored link