Sean Michael Spicer is an American citizen and politician who serves as the current Press Secretary of the White House as well as the acting communications director for U.S. President Donald Trump. 2011 to 2017 worked for the Republican National Committee, serving as their communications director and, from 2015-2017, was named the committee's chief strategist.
Spicer has drawn a lot of criticism ever since he has been named Press Secretary. A Trump loyalist, Spicer has made numerous controversial statements that have proven to be false. His statement that Trump's inauguration saw the largest crowd in the history of Presidential inaugurations was refuted by various media houses, who claim that his behaviour with the press is also highly combative. Spicer is infamously compared to Saddam Hussein's Information Minister Muhammad Saeed al-Sahhaf, known as "Baghdad Bob" in USA.
Early Life and Education
Spicer was born on 23 September 1971 in Manhasset, New York to Michael William Spicer and Kathryn Grossman and was raised in Rhode Island. While his father was an insurance agent, his mother worked at Brown University. Spicer has partial Irish ancestry and was raised as a Catholic.
Sponsored link
Spicer studied at a Roman Catholic boarding school named Portsmouth Abbey School, Rhode Island from 1985-1989 and displayed his political ambitions, volunteering for the state's local political campaigns. He later attended the Connecticut College in 1989 and earned a Bachelor of Arts Degree in government in 1993. Spicer also attended the Naval War College in Newport, Rhode Island, from where he graduated in 2012, with a master's degree in national security and strategic studies.
Career Rise
Spicer, after graduating in 1993, took up an active political career and worked for Representatives such as Mike Pappas, Mark Foley, Frank LoBiondo, and Clay Shaw. Spicer is also a Navy Commander. Some of his early roles at the White House include communications director on the Government Reform Committee, (2000-2001) incumbent retention director for the National Republican Congressional Committee, (2001-2002) Spokesman and communications director on the budget Committee and Representatives communications director for Republican Conference, (2003-2005) and media and public affairs assistant for the U.S. Trade Representative during President Bush's administration.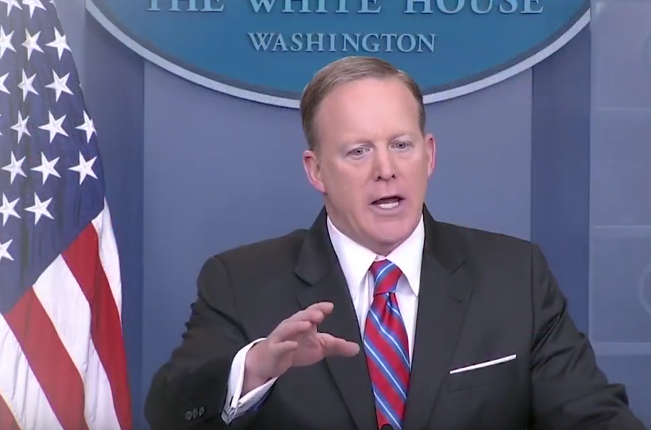 Sponsored link
Spicer was named the Republican National Committee's communications director in February 2011 and in February 2015, was made the party's chief strategist. On 22 December 2016, Spicer became the White House press secretary under President Donald Trump and two days later, was also named as the communications director under the Trump Administration, after Jason Miller suddenly resigned. Since coming into the role, Spicer has been subjected to a lot of media criticism for his controversial statements. Also, since December 2016, Spicer has been serving with Washington, D.C.'s naval reserve contingent as a Joint Chiefs of Staff.
Sean Spicer – Wife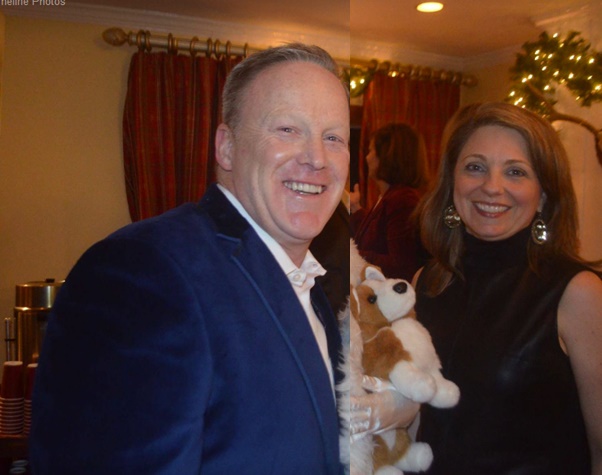 Spicer dated and later married Rebecca Claire Miller on 13 November 2004. Miller at that time served as a television producer at Washington D.C's St. Alban's Episcopal Church, and also worked in the White House during the Bush Administration. The couple have two children together and the family lives in Alexandria, Virginia. Currently, Miller serves as the senior vice president, for communications and public affairs of National Beer Wholesalers Association.
Resignation Reason
On July 21, 2017, Spicer announced his resignation as the White House Press Secretary. The decision came in close to the heels of the appointment of Anthony Scaramucci, as the White House Communications Director.
It was reported that U.S. President Donald Trump was not happy with Spicer's role as the White House Press Secretary. Trump however, was keen that Spicer not quit, but the latter had made up his mind, especially  because he did not agree with Trump's appointment of Scaramucci.  He exits from his post on August 21, 2017 to be replaced by Sarah Huckabee Sanders.
Sean Spicer – Salary and Net Worth
Spicer draws an annual salary of approximately $179,700 and has an estimated net worth of approximately $14 Million.
Sponsored link