Sean Hannity is known to be an American radio, television host and conservative political commentator. His full name is Sean Patrick Hannity. He serves as the host of a popular nationally syndicated talk radio show, named 'The Sean Hannity Sho'w. He also hosts 'Hannity', a cable news show on Fox News Channel. Apart from hosting shows, Hannity is also popular as an author. He has written three New York Times  books and those are acknowledged as best sellers.
Early life and background
Hannity was born on December 30, 1961 in New York city, New York. The name of his father is Hugh Hannity while his mother is Lillian Flynn. All of his family migrated to the United states from Ireland. Hannity grew up in Franklin Square, New York, with his parents and three sisters. While living there he joined Sacred Heart Seminary in Hempstead. After that he attended St. Pius X Preparatory Seminary high school in Uniondale. After completing high school education, he attended New York University. But he left the university without completing the course and then joined Adelphi University.
Career achievement
In the year 1989, while working as a general contractor,  Hannity hosted his first talk radio show at the volunteer college station at UC Santa Barbara, KCSB-FM. After leaving this station he promoted himself as the most talked about radio host in America, by placing an ad in several radio publications.  A radio station of Athens, Alabama,  named WVNN , hired him as the afternoon talk show host.  In the year 1992, Hannity joined WGST in Atlanta, as the replacement of Neal Boortz.
Sponsored link
Fox news co-founder  Roger Ailes hired him as the host of a television program named Hannity and LTBD ( "liberal to be determined") , in September 1996. Later Alan Colmes joined the program as a co-host and the show changed its name as Hannity & Colmes. In January, Hannity joined WBAC and worked there until the end of 2013.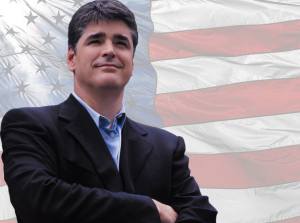 Sponsored link
Apart from working with the radio and television media, he is popular as the author of three books. The names of the first two books are Let Freedom Ring and deliver us from Evil. These two bestsellers were published through ReganBooks.
His third book, named Conservative Victory: Defeating Obama's Radical Agenda, was launched by HarperCollins in the year 2010.
Besides writing books , he has also contributed to several freedom concerts. Since 2003, He has hosted country music in order to gather money for charity.
In 2003 and 2007, the National Association of Broadcasters awarded him with the Marconi Award for his large contribution to the broadcast media.
Sean Hannity – Wife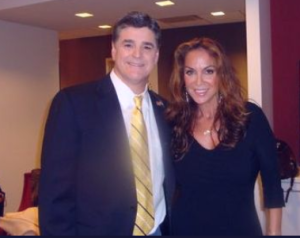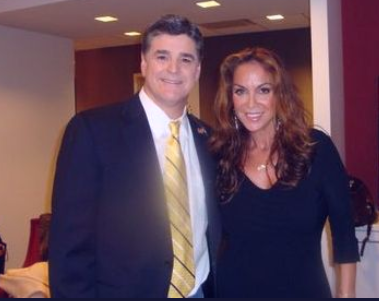 In the year 1993, he married Jill Rhodes. He met her for the first time, while working for WVNN radio in Alabama (Huntsville) in 1991.They are married since last twenty- three years and there is no report of separation or divorce irrespective of rumors floating around. They have two children named Sean Patrick and Merri Kelly.
Sean Hannity –  Salary and Net Worth

This famous television personality earns $30 million  as annual salary. His net worth is $80 million.
House
In the year 2014, the Fox News host catalogued his residence of Harbor, New York for sale for $3.6 million. Presently, he is staying in Centre Island, New York.
Sponsored link