Scott Van Pelt is a sportscaster who hosts on ESPN channel. The sports talk show host has co-anchored the edition of SportsCenter in the channel ESPN. He also served as a co-host of the program SVP & Russillo together with Ryen Russillo on ESPN Radio. Van Pelt hosts numerous golf events within the ESPN network. He abandoned his radio show in June 2015 to start a solo anchor of the ESPN's midnight edition of SportsCenter. Van Pelt worked in various radio stations before finally settling with ESPN where he has established grounds to become a solo anchor of SportsCenter.
Early life
Scott Van Pelt was born 4th August 1970 in Brookeville, Maryland. However, he was brought up in Washington D.C. Van Pelt went to Flower Valley Elementary School which is situated in Rockville, MD before attending Sherwood High School located at Sandy Spring, Maryland. He joined University of Maryland taking studies in radio, television, and film. He has pursued a career in the field he studied. He has been a member of Pi Kappa Alpha.
Career rise
Van Pelt started his career in 1990 when he joined the WTTG-TV, which is an affiliate of FOX station. He was sportscasting at this affiliate station in Washington, D.C. before he moved to the Golf Channel in which he worked in the period from 1994 to 2000 taking the role of studio host for the signature programs of the network. Van Pelt left the channel in the 2001 and joined ESPN.
Sponsored link
At the beginning in ESPN, he served as a presenter hosting the program SportsCenter. In ESPN, he has been a top golf correspondent where he has covered major tournaments including the Masters Tournament. Van Pelt has been a prominent personality with the ESPN Radio station and he co-hosted the program Tirico and Van Pelt together with Mike Tirico.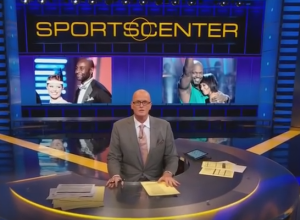 Sponsored link
However, the program was cancelled and substituted with a three-hour program that was hosted by Van Pelt. This program was known as The Scott Van Pelt Show and was started in 2009.
In October 2012, the show was given another name SVP & Russillo. Van Pelt also presents the Friday night College Football aired on ESPN Network. Van Pelt decided to stay with the network and in May 2015, he made the announcement that he was going to leave the show SVP & Russillo to focus on the midnight edition of SportsCenter acting as the solo anchor of the program.
The midnight show covers events in sports featuring actions of the day. It also includes commentary brought by Van Pelt. The show would also feature popular elements from the ESPN radio.
Scott Van Pelt – Wife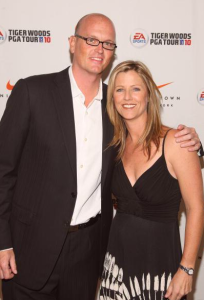 The 1.98 meter tall Scott Van Pelt dated his girlfriend Stephanie before the married her in 2011. Van Pelt has been nominated in the acclaimed Sports Emmy Award in the category of Outstanding Sports Personality-Studio Host.
Scott Van Pelt – Salary and Net Worth

Van Pelt has a jaw dropping net worth estimated to be $16 million. His salary is reported to be an average of $1 million.
Sponsored link