Satya Narayana Nadella is a reputed Indian-born American business executive and author who gained world-wide prominence after he was appointed as the Chief Executive Officer of the Microsoft company. Nadella succeeded Steve Ballmer in the company as the CEO in 2014. He also served as the company's Executive Vice President for the cloud and enterprise group which builds and runs computing platforms, cloud computing services and developer tools for Microsoft.
During his tenure as Microsoft's CEO Nadella has successfully contributed in raising the company's stock. He has also spearheaded several acquisitions including those of Mojang, Xamarin and LinkedIn. He also brought back the Linux operating system and announced his intention to working with Microsoft's competitors like IBM, Apple Inc., Dropbox and Salesforce among others. Nadella has also authored the book 'Hit Refresh: The quest to rediscover Microsoft's soul and imagine a better future for everyone' published in 2017.
Early Life and Education
Nadella was born on 19 August 1967 as the only child of home-maker Prabhavati and Indian Administrative Services civil servant Bukkapuram Nadella Yugandher in Hyderabad, Andhra Pradesh (Present day Telangana) India. He was raised in the city of his birth in a Telugu-speaking Brahmin household.
Sponsored link
Nadella was educated at the Hyderabad Public School, Begumpet. He later attended the Manipal Institute of Technology at Mangalore University from where he earned his Bachelor of Engineering degree in Electrical Engineering in 1998. Nadella then moved to USA to earn a Master of Science Degree in Computer Science, graduating in 1990 from the University of Wisconsin–Milwaukee. He also attended University of Chicago from where he earned his MBA Degree.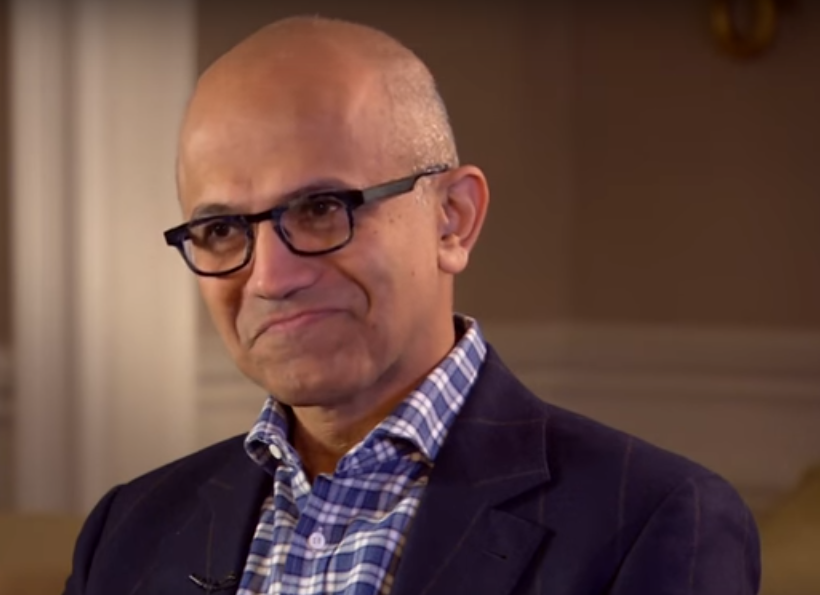 Career Rise  
Nadella began his career soon after graduation as a member of the technology staff at Sun Microsystems but moved to Microsoft in 1992. At Microsoft, Nadella served in various capacities and positions. He served as the Cloud and Enterprise group's Executive Vice-President, and the Business Solutions, Search & Advertising Group's Corporate Vice-President. Nadella also served as the Vice-President of Microsoft's Business Division. In March 2007, Nadella was named the Senior Vice-President of the Research and Development wing for Online Services Division, a position he continued to hold until February 2011 when he was named as the Server & Tools Division president, serving in the position for three years until February 2014.
Sponsored link
Nadella was named as the Chief Executive Officer of Microsoft on 4 February 2014 and became only the third CEO in the history of the company after Bill Gates and Steve Ballmer. Under Nadella, Microsoft welcomed a new wave of changes with his emphasis and openness to working with Microsoft competitors like IBM, Apple Inc., Dropbox and Salesforce. Nadella rehashed the Linux operating system proclaiming "Microsoft ♥ Linux" which led to the company joining the Linux Foundation in 2016 as a Platinum member. He also revised the vision statement of Microsoft to "empower every person and organization on the planet to achieve more" with the goal of transforming the company's corporate culture, valuing continual growth and learning. He has also spear-headed major high profile acquisitions of companies such as Mojang, Xamarin and LinkedIn. Microsoft's stock has risen over 60% since Nadella took over as CEO.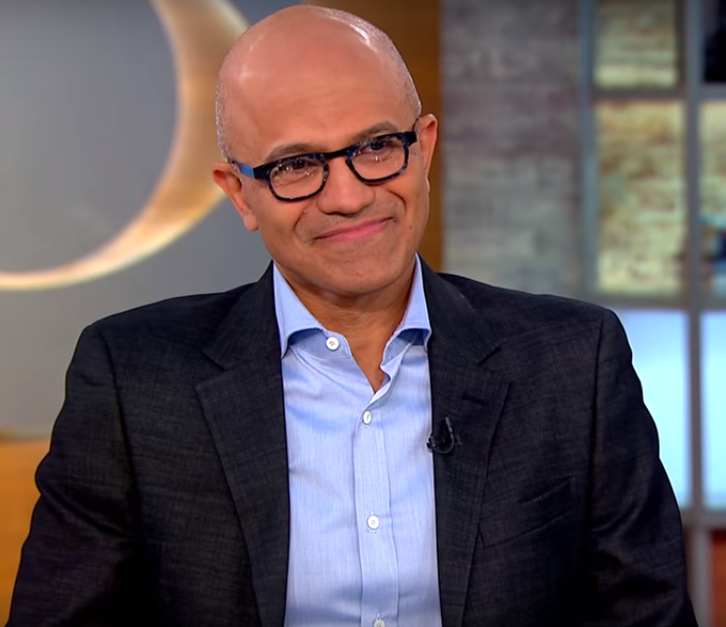 Personal Life
Nadella married his wife Anupama in 1992 who he was introduced to by his father. She is the daughter of K.R. Venugopal, an Indian Administrative Service Officer. Together, the couple are parents to three children, a son named Zain Nadella and daughters named Tara and Divya Nadella. Their son Zain, who was born prematurely owing to asphyxiation in utero suffers from severe disabilities. He is visually impaired, quadriplegic and has limited communication. The family resides together in the city of Bellevue in Washington.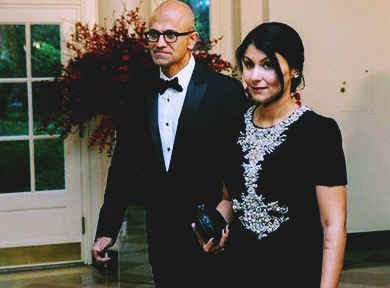 An avid reader, Nadell is passionate about Indian and American poetry, loves Cricket and is a huge fan of ace cricketer Sachin Tendulkar.
Satya Nadella – House
He bought a 4000 square feet home in Seattle , which features 4 bedrooms,  3 bathrooms and floor to ceiling windows, with a superb view of the skyline and Olympic mountains for $1.3 million. As on 2017, the value of that house is $3.5 million.
Satya Nadella – Salary and  Net worth
Nadella draws an annual salary of approximately $20 Million, which includes cash and stock options.  Microsoft based pays of top-end executives on three parameters – product and strategy, customers and stakeholders, and culture and organizational leadership.  Nadella has been proved to be exceptionally brilliant in the 'culture' area.  Satya Nadella's base salary is $1,450,000; the 2017 review earned him a bonus of $7,032,406
He has an estimated net worth of approximately of $84 Million.
Sponsored link