Safra Ada Catz is a business executive from America. Since 1999, she has been an executive of a company named Oracle Corporations. She is also its board member since 2001. Safra Catz was named the Chief Financial Officer (CFO) and co-president to Larry Ellison in April 2011. On September 2014, an announcement was made that Larry Ellison would step down as the CEO and Safra Catz along with Mark Hurd would be the new CEOs  of the company.
Early Life and Background
Born on 1st December, 1961, Safra was brought up into a Jewish family in Holon, Israel.  She emigrated from Israel to Brookline, Massachusetts at the age 6 years. She completed her schooling from Brookline High School and went on to do her Bachelor's study from Wharton School, which is under University of Pennsylvania.  Safra got a Juris Doctor degree in 1986 from University of Pennsylvania Law School. She attended her final year from the Harvard Law School.
Career
Donaldson, Lufkin & Jenerette was the company she joined in 1986, as a banker. She has served as the Managing director from 1997 to 1999 and had been a Senior Vice President from 1994 to 1997. Safra has been in many banking positions since 1986. Hyperion Solutions Corp was the company where she became an Independent non-executive director since 2014.  She has been a part of TechNet since 2013 and has worked at PeopleSoft Inc as the Director since 2004. Safra has also worked for StellentIncin December 2006.
Sponsored link
In 1999, she joined the Oracle Corporation and became company's Board of Directors in 2001. She later became the president of Oracle Corporation. This happened in 2004. She has been given big credits for having driven Oracles position in 2005 by acquiring the software rival PeopleSoft for US$10.3 billion takeover. Safra was also the CFO of the company for temporary period, 2005-2008. She came back to the same position since 2011 till present. In 2010, Mark Hurd joined her as the president and in 2014 Safra announced that Oracle was looking for operational expansion in Romania. She decided the location of the company outside of Bucharest after the employment number reaches 3000 in Romania's capital city.
Sponsored link
She has been ranked the 12th most powerful women in the business world in 2009 and ranked 16th in the Forbes list of powerful business woman. According to Fortune, she was the highest paid woman amongst Fortune 1000 companies. Safra is also a professor at the Stanford Graduate School of Business and has been a part of HSBC Group as the director in May 2008.
Safra plans to build a public school named Design Tech High School which is set to open by 2017.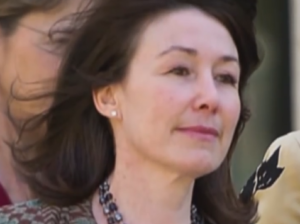 Husband and Children

Safra Catz married Gal Tirosh and is a proud mother of two sons, Daniel and Jonathan.
Safra Catz – Salary and Net Worth

Her net worth is $525 million. Safra Catz is the highest paid female executive in US for the year 2016, according to Bloomberg Pay Index. Her annual income is $56.9 million, which includes $1 million as  base salary and  $10.5 million as special equity awards in line with annual stock grants.   Ruth Porat, the CFO of Google, comes second to her  as the highest paid female executive in the country.
House
She has a big and luxurious property in California, US that has a large garden, swimming pool, tennis court and greenery around her home
Sponsored link