Ryan Steven Lochte is an American swimmer. He has won 12 Olympic medals that include 7 individual medals. He is in the second place behind Michael Phelps in total number of Olympic medals won. Across all major international swimming competitions that include the Olympic Games and the World, Pan Pacific, and Pan American Championships, Lochte has won 90 medals with 54 golds, 22 silvers, and 14 bronze medals.
Ryan holds the individual world records for short and long course 200m individual medley, 100m individual medley, and short course 400m individual medley. He also holds the world record for 4×200m freestyle relay as a member of the American swimming team. Ryan has won many awards during the course of his career; he has won the FINA Swimmer of the Year 3 times, the American Swimmer of the Year Award 2 times, and the World Swimmer of the Year Award once.
Early Life
Lochte was born on 3rd August 1984 in Rochester, New York to Steven R. Lochte and Cuban mother Ileana. He has 4 siblings. After living in Canandaigua, New York for a few years, Ryan and his family moved to Florida in order for his father to continue his work as a swimming coach.
Lochte began swimming when he was 5 years old. He was coached by both his parents. Ryan did not take swimming very seriously during his early days in the pool and was very mischievous. He became serious only after losing at the Junior Olympics as a 14 year old.
Ryan went to the University of Florida. He graduated in 2007 with a major in sports management.

In college, he competed as a Florida Gators swimming and diving team member. From 2004 to 2007, he swam in the SEC/Southeastern Conference and NCAA/National Collegiate Athletic Association competitions under Coach Gregg Troy. He won both the championships 7 times.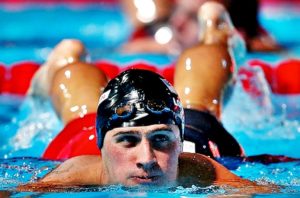 Sponsored link
Sponsored link
Career
Ryan qualified for the Summer Olympics for the 1st time in 2004. At the Olympics games in Athens, Lochte won a gold medal in the 4×200m freestyle relay and a silver in the 200m individual medley.
The 1. 83 meter tall Lochte won gold medals in the 200m backstroke and the 4×200 m freestyle relay at the 2008 Beijing Summer Olympics. He also won bronze medals in the 200m and 400m individual medleys.
At the 2012 London Olympics, Ryan won 2 gold, 2 silver, and 1 bronze medals.
In the ongoing 2016 Summer Olympics at Rio De Janeiro, Brazil, Lochte has won a gold medal in the 4×200 m freestyle relay, till now, as part of the American men's swimming team. That pushed his medal tally to 12 making him the second most decorated male Olympic swimmer, second only to Michael Phelps.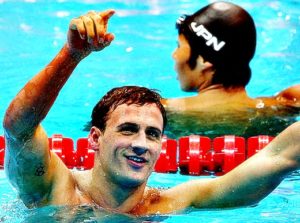 Ryan Lochte – Girlfriend
It was rumored that Ryan was in a relationship with Australian swimmer Blair Evans. Ryan's mother however denied it in 2012 and stated that he was 'too busy' for a relationship.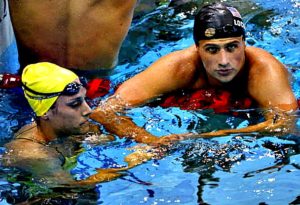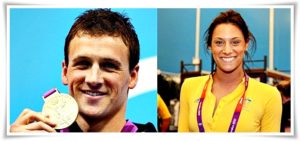 Ryann Lochte – Net Worth
In 2012, Fortune magazine stated that Lochte had earned about $2.3 million in varied endorsement deals. His net worth is estimated to be $3 million.
Trivia
The character and persona of Lochte has been the source of many Internet Memes.
He is also called by his nicknames 'the Lochentator' and 'Reezy'.
Robbing Controversy
On August 14 2016, Ryan Lochte and three other team-mates were robbed at gun point, as they were stepping out of taxi. Lochte said in an interview that the men were dressed as police officers from Rio De Janerio.
Sponsored link