Rajdeep Sardesai is a widely respected and popular news anchor, news editor and author, based in India. He was the editor-in-chief of IBN18 Network which includes CNN-IBN and IBN 7. He is the consulting editor for the India Today Group.
Early life and education
Rajeep Sardesai was born on May 24, 1965 in Gujarat, India. He is the son of famous test cricketer Dileep Sardesai.   Rajdeep studied at Campion School in Mumbai and then went on to graduate from St. Xavier's College with a degree in Economics. He then sought higher education and secured multiple degrees in the form of Bachelor of Arts, Bachelor of Civil Law and Master of Arts from University College, Oxford. Rajdeep proved that he was a chip of the old block when he played six first-class test matches for Oxford University against the then – Pakistan touring team, in the year 1987.
Rise in Career
Rajdeep Sardesai worked with Times of India in the initial stages of his career, and was promoted to the rank of the city editor for the Mumbai edition. He entered the world of TV journalism in 1994 and became the political editor for NDTV. He went on to become the managing editor for both NDTV India and NDTV 24X7 with a responsibility of overseeing the content and policies of the two channels. He was known for the popular show 'The Big Fight' on NDTV.
Sponsored link
After he quit NDTV, Sardesai floated his own company called Global Broadcast News (GBN) teaming up with CNN and TV18 . The news channel which released by their combined efforts was called CNN-IBN. Sardesai took on the mantle as the Editor-inChief of the channel, which started programing from December 17, 2005. Sardesai's company GBN also brought 46 percent shares in a Channel 7, which later became IBN 7.
Rajdeep apart from compering and curating very national and international stories and live political events, also writes extensively for newspapers and magazines. He is the President of the Editors Guild for India.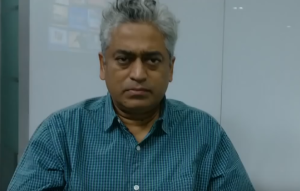 Rajeep Sardesai's resignation from Network 18
TV 18 became a part of Network 18 Group, after the latter was acquired by Reliance Industries Ltd on May 29, 2014. , Network 18 through its subsidiary TV18, owns news channels like CNN, IBN 7, CNBC-TV 18, CNBC Awaaz, CNBC -TV 18. TV 18 also has a joint venture with Viacom, and the association known as Viacom 18 owns and operates channels like Colors, MTV IndIa, Rishtey, Comedy Central, Nick, Vh1 etc. Viacom18 Motion Pictures is the film-based business.
Sponsored link
So, when Network 18 took over the as controlling authority of CNN and IBN 7, Rajdeep, his core-team and founding team resigned from Network 18. His letter made for public consumption, cited the fact that he was not in a mood compromise on editorial integrity.
Rajdeep Sardesai – wife and children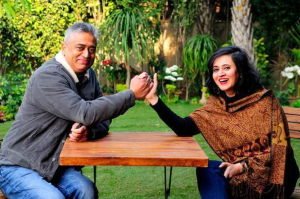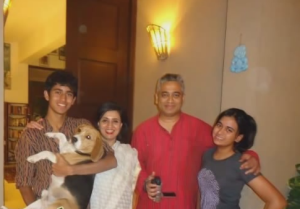 Rajeep is married to Sagarika Ghose, she was the prime-time anchor and deputy editor of CNN-IBN. She resigned from CNN-IBN along with her husband and the founding team on July 5, 1984 after the company TV18 was taken over by Network18, a subsidiary of Reliance Industries in 2014.
Book
The noted journalist has also written a book called '2014 – The Election that Changed India'. Interestingly, he also wrote a piece on his professional arch rival Arnab Goswami, whom he described as 'a slim, floppy-haired, bespectacled youngster visiting my house in the early 1990s to inquire about TV opportunities'
Awards
He has won multiple awards for excellence in journalism, which includes Padma Shri for Journalism in 2008 and the Ramnath Goenka Excellence in Journalism in 2006.
Rajdeep Sardesai – Salary and Net Worth
His salary upwards of Rs. 85 lakhs and he has a net worth of Rs. 10 crores.
Sponsored link