Peter Mukerjea is the ex-CEO of Star India and ex-chairman of INX Media. He came under the scanner of Central Bureau of Investigation (CBI) for his involvement in the Sheena Bora murder case.   He was arrested and has been in judicial custody for the homicide.  He has been charged for conspiring with his wife Indrani Mukerjea (prime suspect) for murder, conspiracy and tampering of evidence.
Peter Mukerjea was born in the United Kingdom in the year 1954. He studied in Don Bosco School, Dehradun and attended college in the UK.  He also has a brother called Gautam Mukerjea who runs a magazine called Planet Goa.
Rise in career

Mukerjea began working in the marketing department of Heinz, and then went on to work for the premier advertising agency called Ogilvy & Mather in New Delhi. He became the account director for the London branch of the said agency.  He then became the Regional Group Account Director for DDB Needham in Hong Kong.
Sponsored link
In 1993, Peter Mukerjea joined Star TV as the sales director, in Hong Kong. He moved to Mumbai and became headed the sales and advertising in India. He also secured additional responsibility to promote the company in the Middle East. By 1997, Peter Mukerjea became the Executive Vice President and then the CEO of Star India in 1999, a position which he retained for 8 years.  Under his leadership, Star TV india as a brand grew from strength to strength due to programs like Kyunki Saas Bhi Kabhi Bahu and Kaun Banega Crorepati. Members from his core-team like Raj Nayak (present-day CEO of Colors), Sameer Nair, Sunita Rajan, Rajnath Kamath, Tony D'Silva went on to become senior executives in their own right, in years to come.
In 2007, Mr Mukerjea resigned from Srar India, and became the chairman of his wife's HR company called Inx Services Pvt. Ltd.  The company mushroomed into Inx Media of which Peter Mukerjea became the chief strategy officer.  He and his wife resigned from their respective positions in 2005 and sold off their stake in the company.  In May 2011, Peter resigned from his position as Board of Director of the company.   Peter serves as the director of INX Executive Search Pvt Ltd and is an angel investor in Kratos, a digital advertising platform.
India Today put Peter Mukerjea in the list of the 50 most powerful people in India from 2004 to 2006.
Peter Mukerjea – Family
Peter married Shabnam Singh in the year 1975. They had two children, Robin (born 1980) and Rahul (1984). Ad guru Alque Padamsee introduced Peter Mukerjea to Indrani Bora, 16 years younger than him at a party. At that time, she was an HR consultant. The two became friends, fell in love and got married at a private-held wedding party at Suhel Seth's farm house in New Delhi.
Post marriage, Indrani's daughter from previous marriage to Sanjeev, Vidhie Khanna moved in to the new home. Peter Mukerjea was happy to give the daughter, his last name.  Strangely, Indrani introduced children from her another relationship, Sheena Bora and Mikhail Bora, as her younger siblings.
Sponsored link
Peter Mukerjea's involvement in Sheena Bora Murder Case
In August 2015, Peter Mukerjea was interrogated by Mumbai police in suspicious involvement in the murder of Sheena Bora, his step daughter.  While Indrani Mukerjea and accomplice Sanjeev Khanna were arrested and tried for their prime role in murdering Sheena, Peter's role seemed unclear. In the initial stages, he said that he knew nothing about the murder and that Indrani had always maintained to him that Sheena was her sister, not her daughter.  His passport also proved that he was in Rome, when Sheena was murdered in April 2012.
As facts emerged with investigation, it became clear to the agencies that Peter Mukerjea was not as innocent as he had claimed.  Investigating agencies stated that the ex-Star India CEO was in the know of the murder and that he also knew that Sheena Bora was his wife's daughter, not sister.  The motive of the murder was Indrani resistance to thwart Sheena's attempt to claim to the media that she was her daughter and had claim to her husband Peter Mukerjea's wealth, after her marriage to Rahul (Peter Mukerjea' son from first marriage).
Peter Mukerjea was arrested in November 2015 for his role in the conspiracy.  He and his wife Indrani were also charged with siphoning off funds from INX Media and transferring it to an offshore account in Sheena Bora's name.  The investigating agencies believe that Sheena was blackmailing her mother that she would disclose the funds' origin to the media which prompted Indrani and Peter to hatch the murderous plot.
Peter Mukerjea – House
Peter Mukerjea has houses in Worli, Mumbai, Bristol (UK) and Marbella, Spain. The house in Worli is worth Rs. 17 crores, it is a 3000 square feet duplex property.  The beleaguered ex-chairman of Star India was in the lookout for a buyer to buy the property to raise cash for his legal battles.  The sea-facing property is in the name of Vidhie who gifted it to Robin Mukerjea, after she relocated to London.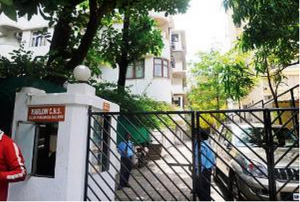 Peter Mukerjea – Net Worth
Peter Mukerjea has a net worth of $750 million.
Sponsored link