Neymar da Silva Santos Júnior popularly known as Neymar Jr. or just Neymar is a famous Brazilian professional footballer who gained international prominence for representing his home country of Brazil at the FIFA World Cup. He is also a former member of the football clubs Santos FC and the Barcelona football club. Since August 2017, Neymar has been signed on to play as a forward for the French club Paris Saint-Germain.
Neymar began his professional career at the age of 17 with Santos FC and helped it win the Campeonato Paulista championships twice successively as well as the Copa do Brazil and the 2011 Copa Libertadores. He won the title of South American Footballer of the Year twice, in 2011 and 2012 until he joined Barcelona in 2013. Neymar contributed heavily to Barca's victory at the Copa del Rey, the continental treble of La Liga and the 2014-2015 UEFA Champions League. As part of the international Brazil football team, Neymar has scored 52 goals out 81 matches played. He also played a significant role at the FIFA Confederations Cup of 2013, winning the Golden Ball and captained Brazil to victory in the 2016 Summer Olympics.
Early Life
Neymar was born on 5 February 1992 in Mogi das Cruzes, Sao Paolo, Brazil as the only son of professional football player Neymar Santos Senior, who later assumed the role of his son's manager and trainer and his wife, home-maker Nadine da Silva. Neymar was raised as a devout Christian along with his only sibling, a sister named Rafaella Beckran to whom he is very close.
Sponsored link
Neymar developed a passion for football as a child, often playing futsal and street football. He moved to the city of São Vicente in 2003 along with his family and began playing football for Portuguesa Santista's youth side. Later that year, the family moved to Santos with Neymar joining the Santos Football Club. Neymar signed his first professional contract at the age of 17 with FC Santos in March 2009 which marked his professional debut.
Career Rise  
Neymar rose to prominence after he became one of the youngest players in the history of football to begin his professional career at a very young age, making his senior team debut in 2009 as a Santos FC club member. From 2009 to 2013, Neymar developed the reputation of being one fo the most prolific goal scorers of his team and contributed significantly with the team's win of the Libertadores Cup. As a Santos FC member, Neymar scored as many as 54 goals in the 103 games he played for the club, while being courted by Europe's biggest football clubs. Neymar made his international football debut in 2010 in a friendly match. He scored three goals and won Brazil a silver medal in the 2012 Olympics.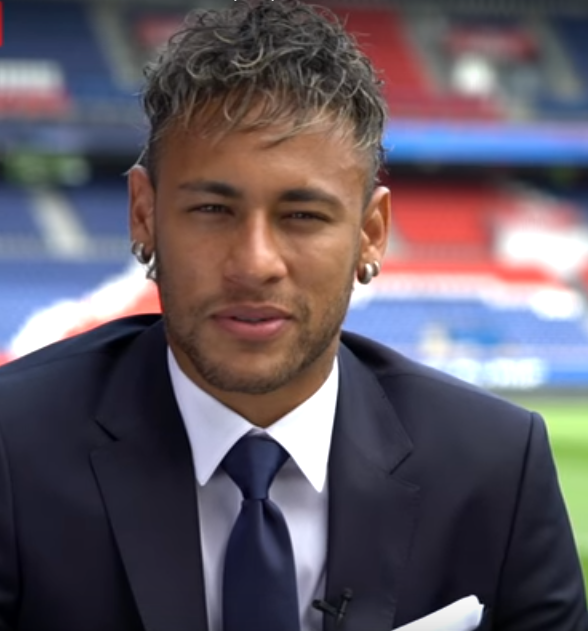 While he was still playing with Santos FC, Neymar received offers to join two of the most prestigious football clubs in the world, the Real Madrid and the Barcelona Football clubs and after an extended period of a tug-off-war, Neymar finally joined Barcelona, with a $76 Million transfer fee in 2013. On the national level, Neymar played the Confederations Cup and scored four goals for team Brazil that led to the victory of the team against Spain in the finals. Neymar started playing for Barcelona in 2013 and in the following year, scored 39 goals in all the matches played, which led to the league's victory in different tournaments including the UEFA Cup, League and Champions League treble. Neymar became the team's star player during the 2014 FIFA World Cup but his injury while playing against Columbia resulted in his being benched from the semi-final game which Brazil lost to Germany. He was named team captain in 2015 and led Brazil to their first gold in the 2016 Summer Olympics, after which he renounced his captaincy. In August 2017, Neymar joined the French football club Paris Saint-Germain in a contract that will last until 2022.
Sponsored link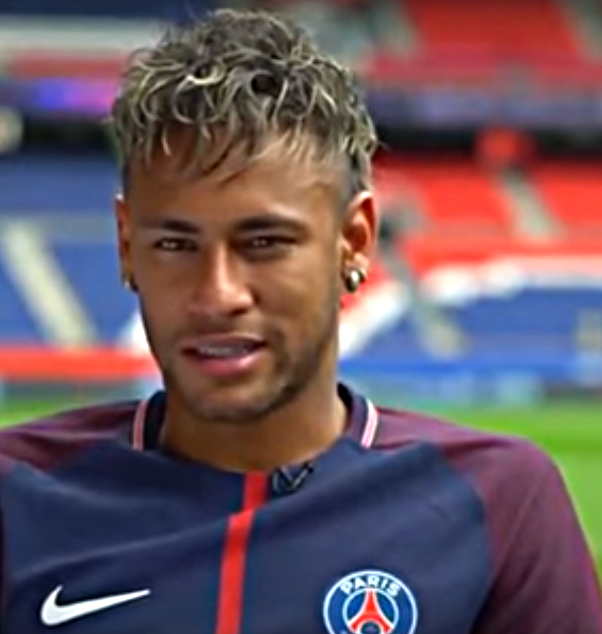 Personal Life
Neymar has been linked with several women over the years although he has never confirmed being in a relationship with any of them for a long period of time. He dated his girlfriend Carolina Dantas with whom he fathered a child at the age of nineteen, but the couple split soon after. Their son Davi Lucca da Silva Santos was born in August 2011 and lives with Neymar while Dantas shares visitation rights.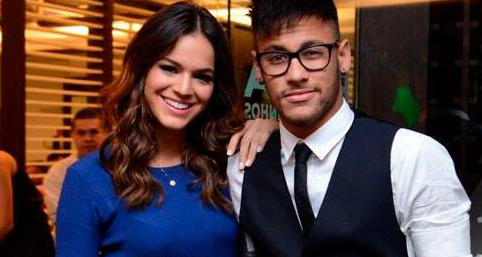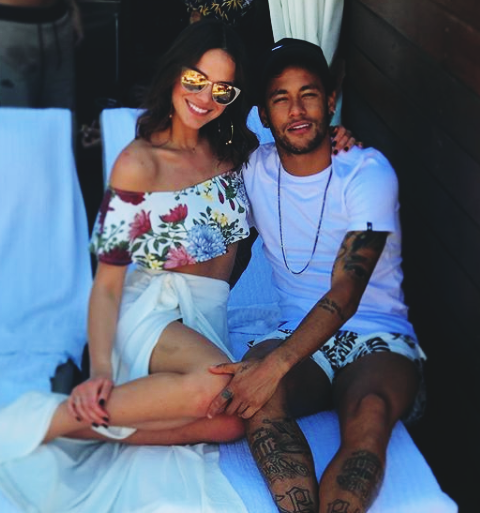 with Bruna Marquezine
The 1.75 meter tall Neymar has been speculated to be in relationships with Bruna Marquezine, Selena Gomez and Chloe Grace Moretz over the years.
Neymar – Net worth
Neymar has an estimated net worth of approximately of $105.1 Million (£80million).
Neymar – Salary and Transfer Fee
With the move to Paris Saint-Germain, the Brazilian football star surpassed Carlos Tevez, in 2017, to become the highest paid footballer in the world. His annual salary is $53 million, while Tevez who plays for Shangai Shenua,earns  $42 million annually. This means post tax, Neymar will earn a salary of $630,880 per week, $2.7 million per month, or $3756.19 per hour. If you wish to get surprised, that is $62.58 per minute and $1.03 per second!
Neymar is in a five year contract by virtue of the transfer.  The transfer fee of $263 million is the most expensive one in football history and cost PSG $528 million.
Neymar – Car Collection
Neymar loves his cars and his expensive collection includes an  Audi RS-7 and a  a Porsche Panamera Turbo
Yacht and Jet
He has an $8 million yacht, which costs around $120,500 per year for maintenance. He also owns a private jet.
Endorsement deals
Neymar has plum endorsement deals with top-line brands like L'Oreal, Gillette, Nike, Panasonic and Beats by Dr.Dre. He earns $22 million per year from endorsement alone, which includes a 11 year contract with Nike, that pays him $1 million per year.
Sponsored link