Mike Francesa is a radio talk show host cum television commentator. He formerly co-hosted a popular show known as Mike and the Mad Dog that was aired on WFAN in New York City. Today, Francesa has his own show he hosts known as Mike's On: Francesa on the FAN. This show is aired in afternoon drive taking the slot that was formerly taken by the show Mike and the Mad Dog.

Early life
Francesa was born in Long Beach, New York. He was raised in the same area. His father is called Michael Francesa, Sr. but abandoned the family at a time when Francesa was only eight years. Francesa's brother committed suicide in 1990.
Francesa attended his high school education at Maria Regina High School, which is today called Kellenberg in Uniondale. After high school, he joined University of South Florida where he studied in his first year. However, he left University of South Florida to join St. John's University in his sophomore year. He graduated in 1977 with a major in communications and athletic administration.
Sponsored link
Career Rise
The career journey of Francesa started at College and Pro Football Newsweekly where he spent six years working. In 1982, he was hired by CBS Sports where he was mandated to conduct research primarily focusing on college sports.
Although initially he worked behind the scene at CBS, out of his knowledge and good performance in his work, the executives were impressed and decided to give him a more vibrant position of being a studio analyst taking care of college basketball as well as football. His reputation grew enormously and at one point, The New Yorker perceived him as the Brent Musburger's brain.
Francesa was courted by ESPN who tried to lure him to join the network as a studio expert handling college football, NFL, and college basketball in 1991, however, he declined that offer. On 1 April 1993, he announced that he had quit CBS just before the commencement of the 1993 Final Four. He applied for a job as a radio host at the time when WFAN was launching in 1987.
Sponsored link
However, he did not get this top-tier job but was offered one as producer, which he denounced. Nonetheless, he did not lose hope and continued to pursue jobs at the WFAN channel and in August 1987, he was offered a job as a weekend host presenting talks on college football and basketball.
Soon after, he started guest hosting other shows in the channel. WFAN began the show Mike and the Mad Dog where Francesa co-hosted along with Chris Russo. The show became popular and soon it was regarded as the staple of New York's sports scene. The two won the Major Market Personality of the Year during the 2000 Marconi Award. In April 2013, he signed a contract with CBS Radio to host the shows Mike's On and The NFL Now.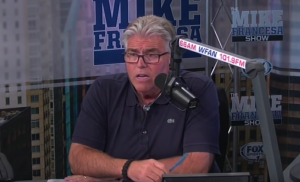 Personal life
Francesa is married to Rose, popularly referred to as Roe. They married on 14 July 2000 and have three children. Currently, Francesa and the family reside at Manhasset, New York.

Mike Francesa – salary and net worth

It is estimated that Mike Francesa has a net worth of $4 million. His annual salary is $800,000.
Mike Francesca – House
He bought the home at Long Island summer home, in 2006 at the cost of $3.5 million.  It is a huge sprawling property, covering 1.30 acres with a stunning view of the countrywide.  The house includes 2 master suites, 2 guest bedrooms, a huge basement, a living room with fireplace, gourmet kitchen, sunroom and mud room.
Sponsored link