Matt Lauer is an American TV journalist and is best known for hosting the program The Today Show that is aired on NBC Channel. Lauer is also contributor for Dateline NBC. Previously, he was a news anchor in 1994 for The Today Show. Lauer also anchored for WNBC in New York City and was a host of PM Magazine from 1980 to 1986. He was a sideline reporter for ESPN in 1980s, and in early 1990s, he hosted parts of HBO Entertainment News.
Early life
Matt Lauer was born 30 December 1957 in New York City. He is son of Jay Robert Lauer, a bicycle-company executive and Marilyn Kolmer, a boutique owner. Lauer's parents divorced when he was young, and in 1997, his father died. His father was a Romanian Jewish as portrayed in the show Finding Our Roots featured on the program Today Show. He graduated from School of Media Arts and Studies, Ohio University in 1997 with undergraduate degree. Lauer has previously dropped out from the university in spring of 1979 but went back to pursue his studies and graduated when aged 39.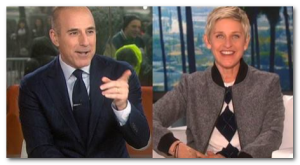 Sponsored link
Career rise
Lauer's career in TV journalism began in 1979 where he produced the 12 o'clock news aired in the channel WOWK-TV in Huntington, West Virginia. He moved around the country in cities like Philadelphia, Boston, Richmond, and Providence hosting different weekly talk programs.
Lauer also hosted the show PM Magazine in Providence. He co-hosted the show Made in New York that was aired on WNYW-TV together with Jill Rappaport. Lauer has worked for other channels including ESPN in 1980s and was host of the show Talk of the Town in 1988. He hosted a live interview program 9 Broadcast Plaza at WWOR-TV in 1989 to 1991.
Sponsored link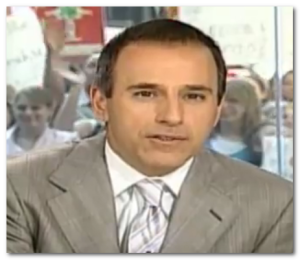 The Kushner-Locke Company hired him in 1990 to host Day in Court that was produced by producer David Sams. The program was later retitled and called Trial Watch and ran for two seasons in NBC network. He appeared as co-host of Etc., Etc, which was aired on The Travel Channel along with Willow Bay.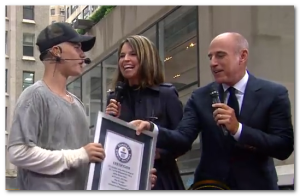 In 1992, Lauer joined WNBC-TV to become co-anchor working alongside Jane Hanson where they together anchored the show Today in New York. His on-camera presence equipped him with many opportunities especially with NBC organization, and time in time, he could stand in for Margaret Larson to present the show The Today Show when needed. This gave him an audition allowing Lauer to join the program on full time basis in January 1994 where became a news anchor while also co-anchoring for the programs Today in New York and Live at Five. He has also hosted programs on MSNBC and Discovery Channel.
Lauer has broadcasted from different locations including Panama Canal, Bhutan, Iran, Easter Island, Croatia, and Hong Kong. He appeared in the movie Land of the Lost. Lauer signed a new contract with NBC News in 2012 where he would be paid $25 million annually.
Personal life
The 1.80 meter tall Lauer married Nancy Alspaugh but divorced. He again married Annette Roque and he has two sons and a daughter.
Matt Lauer – Net Worth and Salary

Matt Lauer has a net worth estimated to be $60 million and a salary of about $25 million per year he earns at NBC News network.
Sponsored link