Marissa Ann Mayer is one of the highest paid female executives in the world. Since 2012, she has been serving as the   CEO and the president of Yahoo!. Before joining Yahoo, she served as an executive, usability leader and spokesperson for Google.
Early Life and Education
Mayer was born on 30th May 1975, in Wisconsin. Her mother, Margaret Mayer was an art teacher. Her father, Michael Mayer worked as an environmental engineer. Her grandfather, Clem Mayer, served as the Mayor of Jackson for more than 30 years. She has a brother.
It is said that as a child she had been extremely shy. During her middle and high school year she took ballet and piano lessons. Ballet taught her how to handle criticism, poise and confidence. She had always showed an interest in math and science.
Sponsored link
When she was attending Wausau West High School, she was on precision dance team. She did extremely well in chemistry, biology and physics. She started to take part in extracurricular activities. She became the president of her high school Spanish Club. Also, she became the captain of the pom pom squad and debate team. The high school debate team succeeded in winning state championship. Also, her pom pom squad ended as the runners up in the state championship.
She worked as a grocery clerk during her school years. After graduating, she was selected by Tommy Thomson in 1993. She had been picked as one of the state's delegates. She attended the National Youth Science, in Virginia.
She wanted to become a pediatric neurosurgeon. Mayer attended pre-med classes at Stanford University. Later she switched to symbolic systems. This is a major which is a fusion of philosophy, psychology and computer science. She even taught a class in symbolic system.
Career
After graduation, Marissa got more than 14 jobs offers. She went to work for Google. She was the first female engineer of the company. Soon she gained fame for her attention to details. She even got a promotion as product manager.
In 2002, Google launched a mentorship program for the new recruits with the help of Marissa. She selected a junior employee for two year program and assigned them a number of extracurricular activities. She served as the vice president product search of Google until the end of 2010. She had been demoted by the CEO of Google.
In July 2012, Marissa was appointed as the president and the CEO of Yahoo. In addition to this she is also a part of the board of directors. She launched a new program called PB&J. Through this program she collected employee complaints.
After she gave birth to a baby boy, she returned to work and created a nursery next to her own office. Later in April she changed the maternity leave policy. She extended the leave time and offered a bonus to the parents.
In 2014, she was ranked the 16th most powerful woman. Also, she was ranked sixth on Fortunes 40 under 40 list.
She was criticized for many of her decisions. Yahoo's stock started to fall. It seemed that she would be replaced as the CEO of the company. In 2016, she confirms the rumor that Yahoo is considering a sellout of the core business.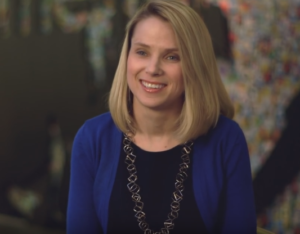 Marissa Mayer – Why did Yahoo brand fail
When she took over as the CEO of Yahoo, she began to incorporate many changes in the employee culture, some which were welcome and some which met with criticism. She increased the work-timings for employees and set deadlines.  On March 20, 2013, she led Yahoo buy Tumblr for $1.1 billoin. By February 2016, the Tumblr acquisition turned to be a losing proposition with the value of the site dropping by $230 million.
Sponsored link
Yahoo also began to experience loss in revenue, since 2013. Though stock prices doubles ever since Mayer came on-board, it is believed that the growth is probably due to Yahoo's stake in Alibaba Group (which happened before Marissa came on-board), that has grown from strength to strength.
The 'bell curve' ranking, a performance review system created by Mayer, wherein the employees at the fag end of the bell-curve would be fired, met with strong criticism.
The stealth lay-offs that began since 2014 resulted in employee faith eroding towards Mayer.  A sizeable number of employees would be stealthily called into the cabin and laid off , in a matter of weeks.  This create a feeling of anxiety in the company as employees in Yahoo began to suspect that they would be the next ones to go.  Overall, 1200 people lost their jobs through lay-offs.
By  2015, Yahoo stocks began to fall by 30% percent and several key executives left the company.
Mayer came up with bulky retention package as a way to stop key executives from leaving company and rejecting other job offers. But that move backfired because it created disgruntlement in the existing employees of Yahoo who stayed loyal to the company.
Glassdoor, a firm that collates data on jobs and employers said that only 34 percent of employees were hopeful of Yahoo's future prospect. This was a stark contrast to the wave of optimism for Twitter employees which stood at 61% and Google which stood at 77%.
In February 2016, Mayer said that the core business of Yahoo has been worth nought,and it would be selling it off.  In May 2016, it was revealed that Marissa Mayer would receive $55 million if she was terminated without a show-cause notice.
To sum up, some of the important things that led to the failure of Yahoo brand was the company  pushing the panic buttons on different things at one time – Yahoo news portal, Yahoo Answers, web search, fantasy sports etc.  The drop in display advertising revenues also dented the website's revenue earning ability.  More than ever, insiders say that Marissa Mayer's tightfisted approach with praise and affinity to be harsh with employees, demoralized the workforce.
Finally on July 24, 2016, it was announced that Verizon was going to buy Yahoo (both the website and the email service) for $4.8 billion, which is 1/10th of the price Microsoft had offered.  Marissa has stated that she will stay and play a role in the next chapter of the development of the company. If she quit, she would get $55 million as severance pay.
 Husband and Children

Marissa is married to lawyer Zachary Bogue. They have a son, born on Sept 2012 and twin daughters, born on Dec 2015.  The son's name Macallister was chosen from suggestions aired on social media. The twin girls are called Marielle and Sylvana.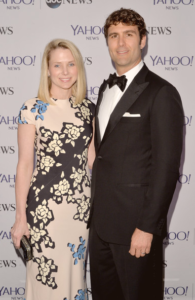 Marissa Mayer – Salary and Net Worth
Marissa Mayer's salary in 2015 was $36 million, a drop from $42 million which she received in 2014. Her base salary is $1 million. In fact, though the reported pay is $36 million, her take-home pay was $14 million because Yahoo actual performance for the year, fell short of the project financial goals.  Mayer and other key executives gave up the bonuses for 2015.  In any case, as mentioned above, if Marissa Mayer leaves Yahoo, she would be paid $55 million as severance package, along with $3 million in cash and restricted stock units. Her net worth is $300 million.
House
Marissa Mayer stays on the 30th floor of the penthouse at Four Seasons Hotel in San Francisco. She also has a home in Palo Alto.
Sponsored link