Emmanuel Dapidran "Manny" Pacquiao is a professional boxer from the Philippines. The world champion was elected to the Philippines House of Representatives at the age of 32 and has been involved in acting, singing and basketball. He is the first and only octuple champion. He is also the first one to win the lineal championship, under four different weight levels and to win ten world titles.
Early life and Background
Manny was born on December 17, 1978 in Bukidnon, Philippines. His parents are Rosalio Pacquiao and Dionesia Dapidran-Pacquiao. His parents got separated when he was around 12 years old. Manny is the fourth child amongst the six children. He was raised in a Roman Catholic faith but he currently practices Evangelical Protestant. The Saavedra Saway Elementary School was the place where he completed his elementary education. He could not receive a high school education due to very poor economic conditions. He had to leave his home at the age of 14, because his mother could not provide for the full family.
In 2007, he took a high school exam from which he could pursue a college degree later. An award for high school diploma was given to him by the Department of Education. He got his  degree in Business Management from Notre Dame of Dadiangas University (NDDU) located  in General Santos City. Manny was presented with the degree of Doctor of Humanities by Southwestern University located in Cebu City.
Sponsored link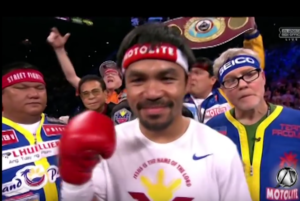 Career achievement
In the year 1995, the death of a close friend and aspiring boxer, Eugene Barutag, prompted him to pursue a career in boxing. He began his professional career at the age of sixteen.
Manny's professional launching was a four round session against Edmund "Enting" Ignacio. He became the instant star of the program after winning this bout.
He achieved the OPBF Flyweight title by knocking out Chokchai Chokvivat in the flyweight division. After the huge success, he got his first scope to fight for a world title.
Mentioning some of his major world titles in boxing would be WBC Super Featherweight Champion, WBC Lightweight Champion, WBC Light Middleweight Champion and WBO Welterweight Champion. Manny also received a minor world title named IBO Light Welterweight Champion.
In 2007, Manny publicly announced that he would compete for a seat in the Philippines House of Representatives in the legislative election. He confirmed that he would run for the Congressional seat in Sarangani province in 2009. Manny was officially announced congressman of Sarangani.
In 2014 he declared his wish to serve as the coach of the Kia Motors Basketball team of the Philippines Basketball Association. He also owns a basketball team in the PBA Developmental League. Apart from these all, he also hosted many television shows and acted in several films.
Manny announced his retirement from boxing after a match scheduled on 9th April, 2016. He said he wanted to go back to Philippines and serve his country as a political leader.
Retirement
The match on 9th April at MGM Grand Garden Area was between him and American boxer, Timothy Bradley.  Pacquiao ended up winning the contest, knocking Bradley twice in the competition. After the match, Pacquiao said that he considers himself as retired and would love to serve the people.
Manny Pacquiao – Boxing Record
Total fights     66
Wins     58
Wins by KO (Knock Out)     38
Losses     6
Draws     2
Manny Pacquiao – Wife and Children

In the year 2000, he married Jinkee Jamora-Pacquiao, the Vice governor of Sarangani. Manny and Jinkee have five children.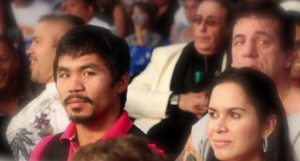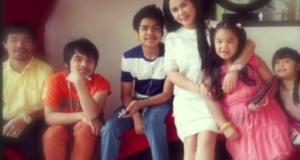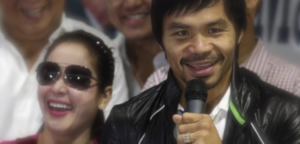 Controversy
After several months of announcing a serious injury that would demand surgery, he claimed in an interview that he was completely fine. His statement caused his fans to question the validity of his injury.
Sponsored link
Manny Pacquiao –  Net Worth
This 1.66 meter tall Filipino world champion has an estimated net worth of $250 million.  He was the second richest professional boxer after Floyd Mayweather Jr.  In 2015, he earned $160 million, of which $148 was his match-fees with Floyd Mayweather, which the latter won, and the rest were endorsement money.  He earns $850,000 through brand endorsements with top-line brands like Nike and San Miguel, while earning $15,600 for his political post as a congressman.
Manny Pacquiao also has other business interests like merchandise shops, fashion boutique, water-refilling station, gasoline station, skin clinic and a hotel – all of these are operated by his wife and him.  He wishes to contest for President of Philippines.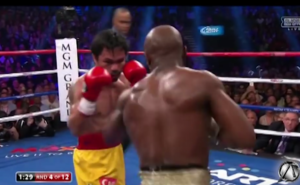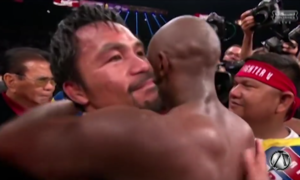 Charity
Manny Pacquiao donated more than half of his money earned through his famous fight with Floyd Mayweather to charity. He and his wife pay for school educations and sponsors various educational programs for the deprived. The couple also pay for fishing boats and other vocational implements that can help Filipinos maximize revenue opportunities.
Manny Pacquiao – Biography
Fan or not,  one should read ' Pacman ' , the biography of Manny Pacquiao. One of the inspirational parts in the story is how his father would climb 70 trees daily to earn just $1.20 daily wage for his family.  This amazing boxer has certainly made his family proud.
House
Manny has two posh apartments in General Santos city. One of those has Mediterranean design elements and another obtains contemporary style. In 2015, he purchased a 10,000 square foot mansion in Beverly Hills, CA. This $12.5 million- worth house, which he bought over from Jennifer Lopez,  has seven bedrooms and eight bathrooms. He has another home in Los Angeles worth $2.4 million.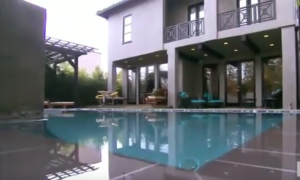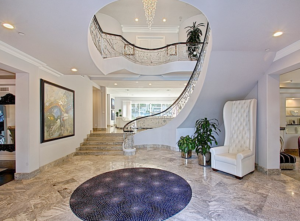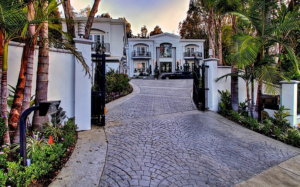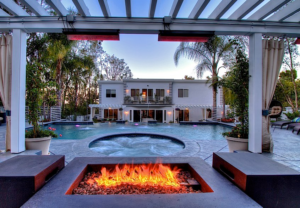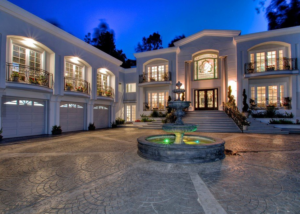 Sponsored link