Lakshmi Niwas Mittal or Lakshmi Mittal is a steel magnate from India. He is based in the United Kingdom and is the CEO and Chairman of ArcelorMittal. This company is the world's biggest steel making company. 38% of ArcelorMittal is owned by Lakshmi Mittal and he holds a 34% stake in Queens Park Rangers FC.  He is one of the richest Indians in the world with a net worth of $8.4 billion. Despite being the 8th richest man in Britain, he doesn't have a British Citizenship.
Early life and Background
Born on 15th June, 1950, Lakshmi Mittal is from Rajasthan and studied in Shri Daulatram Nopany Vidyalaya. He studied there till 1957 to 1964. He completed his graduation from St. Xavier's College in Calcutta with a degree in B.Com, getting a first class from this University of Calcutta.
Career
His father, Mohan Lal Mittal ran a business in steel. Its name was Nippon Denro Ispat. But due to a curb in of steel production by the Indian Government in the year 1976, he opened his first steel factory called PT Ispat Indo in Indonesia. During the 1990s, the assets that his family owned were a cold rolling mill for sheets of steel and alloy steel plants in Pune.
Sponsored link
Lakshmi Mittal' special talent lies in converting sick companies into money making propositions, especially in the steel industry. The LNM steel company that Mittal founded became a front-runner in the industry, capable of producing 43 million tons of steel years. It is reported that one in every five cars in the world use steel made from Arcelor Mittal.
ArcelorMittal was formed by the take-over of the Western European based Arcelor by Mittal Steel, in 2006. It was one of the most widely covered and reported take-overs  in the corporate world.  Arcelor was bought for €40.37 per share,  making a total of $33 billion.  ArcelorMittal now has its headquarters in Luxemborough.
Mittal had contributed to forming the Mittal Champions Trust which cost $9 million to support 10 leading athletes in India with potential to beat athletes of other countries. This trust was made after seeing the situation of Indian athletes only earning bronze medals. The trust conferred Bhinav Bindra with $15 million or Rupees 1.5 crores   for bringing gold medal for the country.
The Mittals made a huge donation of 15 million euros for Great Ormond Street Hospital, London. This donation is one of the largest ever in a private setting. They also developed Mittal Children's Medical Centre through this money. Among many awards, he received a Padma Vibhushan Award in 2008.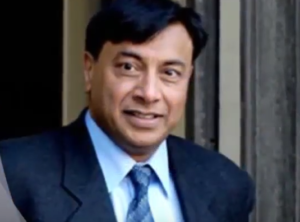 Wife and children
Mittal is married to Usha and has two children Vanisha and Aditya Mittal.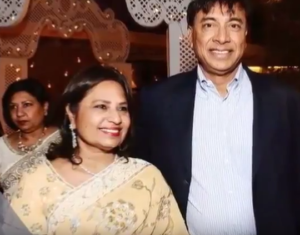 Lakshmi Mittal -Net Worth
His net worth is $12.3 billion. He is the richest person of Indian descent in the UK. As of 2016, Lakshmi Mittal is the sixth richest person in India. Here is the list of richest persons in India.
Sponsored link
Lakshmi Mittal – Yacht, Jet Planes and Cars
He is the owner of a 267.5 feet long luxury yacht known as Amevi. It was built in 2007 for a cost of $150 million. He also owns Gulfstream 550 private jet plane. He owns 20 luxury cars. His favorite vehicle is his spectacular 'Vanity Van' a recreational vehicle that includes a master owner suite, a huge bedroom, a kitchen, a big living room and many other entertainment and lifestyle amenities.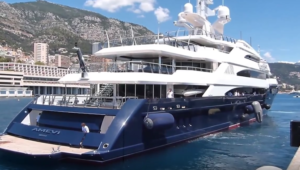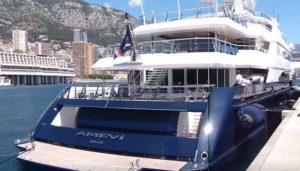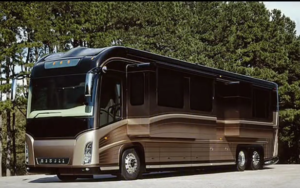 Lakshmi Mittal – Homes
He resides at a lavish home at 18-19 Kensington Palace Gardens. It was purchased in 2004 for $128 million from Bernie Ecclestone (Formula One player).  When it was bought, it was the most expensive home in the world, comprising of 12 bedrooms, Turkish baths, indoor pool and a parking lot for 20 cars. The house is made of the same quarry that supplied for the famous, Taj Mahal. No wonder, it is also known as 'Taj Mittal'.
Lakshmi Mittal certainly knows to live it up!  With a $78 million wedding in 2004 of his daughter Vanisha Mittal to Amit Bhatia an investment banker, the ceremony went into history as one of the most expensive weddings ever, in the world. It was a seven-day celebration which included acts from Bollywood's biggest movie stars.
In December 2013, Mittal got his niece married in Barcelona. It was a 3 day celebration at Barcelona, the budget going up to £50m.  There were 200 butlers and chefs summoned from India, Thailand and other parts of the world. The 500 odd guests were asked to sign up a confidentiality agreement.
There are four  properties that Mittal owns in the 'Billionaires' Row 'at Kensington Palace Garden with a  total worth exceeding 500 million pounds, the other two are called Palace Greens 9 and Palace Greens 6.
He had also bought a $70 million house No. 9A Palace Greens, for his daughter Vanisha. Mittal owns property worth $500 million. He also bought a $30 million colonial bungalow in New Delhi.
Lakshmi Mittal also owns one pad in 'Milionaires Row' in London, known as  'Summer Palace' which he bought for £6.75 million, this comprises 11 bedrooms and 12 bathrooms besides many other amenities.
Lakshmi Mittal bought a property in Perthshire, Scotland for £4 million, spent another $23 million fpr renovation of this 'Scotland Home'. The home is hi-tech in appeal with state of the art interiors, furnishings and kitchens.
Mittal  is also the owner of a penthouse apartment in 148-150 Old Park Lane in London. He also owns the Hard Rock café situated inside the building. He also owns a vacation home in St. Moritz, Switzerland.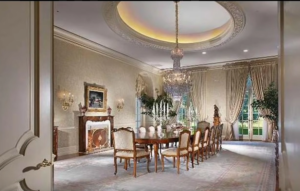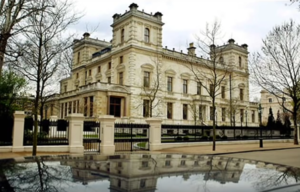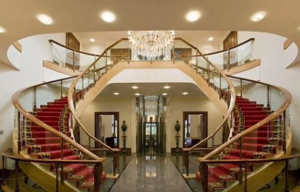 Lakshmi Mittal – book (biography)
'Cold Steel ,' a book written  by Byron Ousey and Tim Bouquet  is a thrilling story about the rise of Lakshmi Mittal and the high stakes of the steel industry.
Sponsored link