Susan Abigail Sarandon is a famous American film, television and Broadway actress. Sarandon made her debut in the 1970 film 'Joe ' and has since featured in several critically acclaimed and commercially successful films. Sarandon has received 5 Oscar Award nominations for best actress for her work in films like 'Atlantic City ', 'Thelma & Louis ', 'Lorenzo's Oil ', 'The Client ' and 'Dead Man Walking ', winning the award for the latter. She has 1 BAFTA and 1 Screen Actors Guild Award as well.
Sarandon is also known for her political and social activism. She has also made a mark as a socio-political activist. For contributing to social causes, the United Nations appointed Sarandon as the UNICEF Goodwill Ambassador in 1999. She was also felicitated with the Action Against Hunger Humanitarian Award in 2006. In 2017, Sarandon portrayed actress Bette Davis in the FX series 'Feud'.
Early Life and Education
Sarandon was born as Susan Abigail Tomalin on 4 October 1946 in Jackson Heights, Queens, New York City and raised in Edison, New Jersey as the eldest of the nine children born to home-maker Lenora Marie Criscione and advertising executive turned television producer Phillip Leslie Tomalin. Sarandon was raised as a Roman Catholic along with her siblings, four brothers and four sisters. She is of English, Welsh, Irish and Italian ancestry.
Sponsored link
Sarandon attended Roman Catholic schools. She attended and graduated from Edison High School in 1964. She then enrolled into The Catholic University of America, graduating with a Bachelor of Arts Degree in drama in 1968.
Career Rise
Sarandon made her silver screen debut with the 1970 film 'Joe ' as Mellissa Compton. She appeared in several films in the 1970 's but rose to critical acclaim for her portrayal of Sally Mathews in the 1980 film 'Atlantic City' which earned her an Academy Award nomination. Saradon's portrayal of Annie Savoy in the 1988 film 'Bull Durham' contributed to her rise in popularity. The 1990s were an extremely successful decade for Sarandon with her receiving 5 Academy Award nominations for her work in the films 'Atlantic City ', 'Thelma & Louis ', 'Lorenzo's Oil ', 'The Client '. She won the Oscar Award for Best actress for portraying Sister Helen Prejean in the 1995 film 'Dead Man Walking'.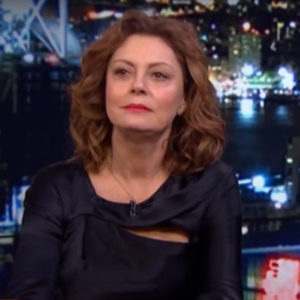 Sarandon has also delivered powerful performances in films like 'White Palace', 'Stepmom', 'Igby Goes Down', 'Bernard and Doris' etc.  She received much acclaim for her work in the films 'Little Women', 'Anywhere but Here', 'The Banger Sisters', 'Shall We Dance', 'Elizabethtown' and 'Enchanted'. Sarandon's television appearances include shows like 'Friends', 'Malcolm in the Middle' and the TV movies 'Bernard and Dorris' and 'You Don't know Jack' among others. In 2017, she appeared as Bette Davis in the FX series 'Feud', depicting the real-life rivalry between Davis and actress Joan Crawford on the sets of the film 'Whatever Happened to Baby Jane? ', with Jessica Lange portraying Crawford.
Sponsored link
Susan Sarandon – Young Pictures
Personal Life
Sarandon began dating Chris Sarandon in college and married him in September 1967. Sarandon adopted his surname as her legal last named and retained it despite divorcing him in 1979.
Sarandon was then linked with director Louis Malle and musician David Bowie. Sarandon began dating Italian filmmaker Franco Amurri, in the mid 1980's and gave birth to his daughter, Emma Amurri.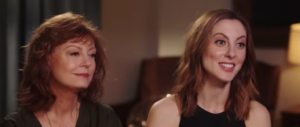 with Tim Robbins
Sarandon then started a relationship with actor Tim Robbins, with whom she has two sons. The couple broke up in 2009.
She was then with Jonathan Bricklin but broke up with him in 2015.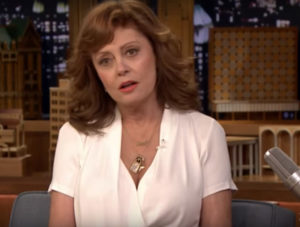 Susan Sarandon- Net Worth
Sarandon has an estimated net worth of approximately $50 Million.
Sponsored link