Shannon Brown, one of the most famous American basketball players, is associated with Miami Heat a popular basketball team based in Florida.  Before joining Miami Heat, Shannon played for various other teams over a span of many years.
Early Life and Background
Shannon Brown was born on 29th November 1985 at Maywood, Illinois. In the early years of his life, Shannon attended Proviso East High School in Maywood and later on studied at Michigan State University. During his college life, Shannon started playing the sport basketball. Brown even represented his college team Michigan State Spartans men's basketball in the Big ten Conference of the NCAA Division. In the year 2003, Shannon was conferred with the title 'Illinois Mr. Basketball 'which is given to the best high school boys' basketball player and was even honored with 'McDonald's All American' which is given to each of the American and Canadian High school boys and girls for playing the 'All star Basketball game'.
Career
Brown started his career in basketball from his university days. He played in tournaments in and around America representing his university team. Over the years, he has developed his skills and finally in the year 2006, his NBA career started after joining the Cleveland Cavaliers.
Sponsored link
Cleveland Cavliers (2006-2008)
Shannon Brown was selected in the first round with the 25th pick of the 2006 NBA Draft by Cleveland Cavaliers.  Brown appeared in just 23 games at his debut session and being a star player he scored double figures twice, once vs. New York and next vs. Toronto.
In the year 2007, Shannon was assigned to the NBA Development League's Albuquerque Thunder birds.  While playing with thunder birds, he also achieved a great success by scoring 14 points with four rebounds and six assists.
Chicago Bulls (2008)
On 21st February 2008, Shannon Brown was hired by Chicago Bulls as part of a 3-team deal which took place between the Bulls, the Cavaliers and the sonics.
Charlotte Bobcats (2008-2009)
In the same year he got hired by Bulls, another contact knocked at the door of his career. Charlotte Bobcats signed a one year contract with Shannon with the minimum NBA salary for a player which was $800,000.
Lon Angeles Lakers (2009-2011)
Sponsored link
The year was 2009 and the day was 7th of February when Shannon was traded to the Los Angeles Lakers. In the beginning, Shannon was allotted a very limited time to play for the team but later towards the end of the session he got an upswing in his playtime.
On February 6, 2010 in a game against the Golden State Warriors, Brown scored 27 points and grabbed 10 rebounds for his first career double-double. At the end of the session, he was awarded as the winner for the second championship.
The other teams which hired the 1.93-meter talented player are Phoenix suns (2011-2013), San Antonio Spurs (2014), New York Knicks (2014) and at the end with Miami heat (2014)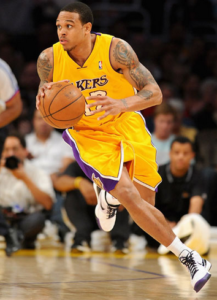 Shannon Brown – Girlfriend
Shannon Brown is married to Monica Dense the R&B singer. He has a son known as Shannon Christopher Brown and a little daughter Laiyah Shannon Brown.  After his marriage with Monica, the couple has also accepted two stepsons, Rodley Ramone Hill III and Romelo Montez Hill.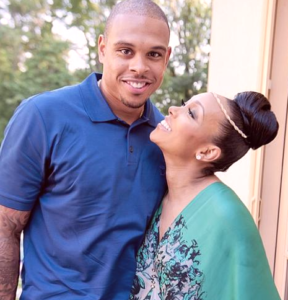 Controversy
Monica Brown claimed that her husband Shannon Brown has cheated on her after posting several Instagram messages to an unidentified groupie.
Shannon Brown – Salary and Net Worth
Shannon Brown has a net worth of $8 million and his salary is around $3.5 million.
Sponsored link