Rex Wayne Tillerson is an American citizen, diplomat, a civil engineer and the current and 69th United States Secretary of State. He was nominated for the position in November 2016, after Donald Trump was elected the 45th President of USA. Tillerson has been serving in the position since 1 February 2017.
Tillerson is also a civil engineer and the former Chairman and CEO of the American Energy giant ExxonMobil. He is also a member of the prestigious National Academy of Engineering. Apart from this, Tillerson held the position of being the 33rd President of the Boy Scouts of America from May 2010-April 2012. Forbes Magazine named Tillerson the 25th most powerful man in the world in the year 2015.
Early Life and Education
Tillerson was born in Wichita Falls, Texas on March 23, 1952 to Bobby Joe Tillerson and Patty Sue Patton and raised in Vernon, Texas. He also lived in Stillwater, Oklahoma as well as Huntsville, Texas, growing up. Tillerson has two sisters; Rae Ann Hamilton who is a physician and Jo Lynn Peters, who is a high school educator. Tillerson followed his father, who worked as an executive for the Boy Scouts of America organization and was an active Boy Scout for a major part of his life.
Sponsored link
Tillerson attended and graduated from Texas' Huntsville High School in 1970. He attended the University of Texas in Austin and graduated with a Bachelor's degree in civil engineering.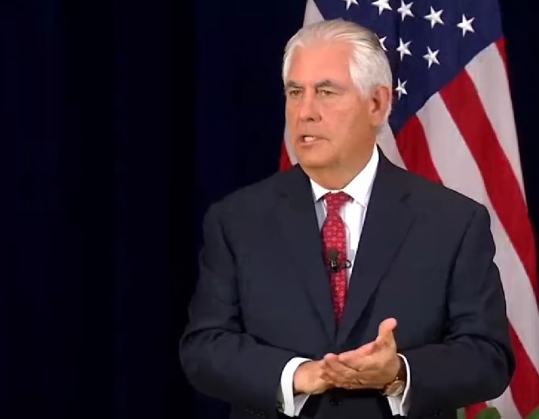 Career Rise
Tillerson spent a major part of his career as production engineer after he joined Exxon in 1975 and stayed with the company until 2016. He became the general manager of the central production division of Exxon USA in 1989 and was elected chairman as well as Chief executive officer of the company in 2006, a position he held on to for 11 years, until January 2017. Tillerson is also known for the business deals he's made with Russian President Vladimir Putin on behalf of Exxon. Such were his ties with the Russian business world, that Putin bestowed Tillerson with 'The Order of Friendship Award'.
Sponsored link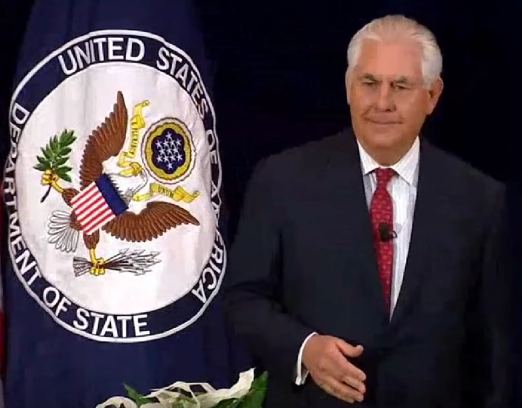 Tillerson was chosen by President-elect Donald Trump in December 2016, to be the U.S. Secretary of state over high profile candidates such as Rudy Giuliani and Mitt Romney. Trump reasoned that although Tillerson had never held office, his interactions with foreign officials in his capacity as CEO of Exxon made him a worthy candidate. With the constant interference of Russia in the 2016 Presidential elections and his friendly relations with Putin, Tillerson faced public scrutiny and his ability of getting the job done was questioned. However, Tillerson maintained that U.S. needed to be tough with Russia and even distanced himself from Trump's controversial suggestion of banning Muslim Immigrants. He was confirmed as the America's 69th Secretary of State in February 2017.
Rex Tillerson – Wife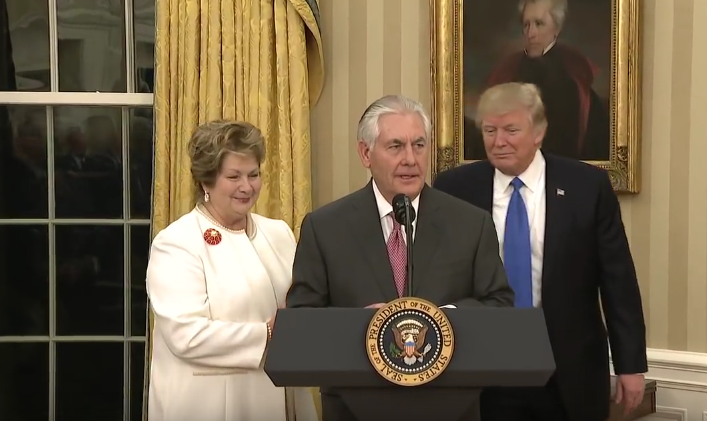 Tillerson has been married twice. He has twin boys from his first marriage with his wife. After splitting up with his first wife, Tillerson married Renda St. Clair in 1986. Together, the couple have one biological child, a son named Tyler. Tillerson is also step-father to a son from St. Clair's previous marriage. Both of Tillerson's sons from his first marriage are engineers who graduated with Bachelors Degrees in Engineering from Cockrell school, University of Texas.
House
Tillerson owns a home in Bartonville, Texas. He relocated to Kalorama, Washington D.C. after being appointed U.S. Secretary of State.
Rex Tillerson – Salary and Net Worth
Taking a massive pay-cut from his salary at Exxon where he made $24.3 Million, Tillerson draws an annual salary of $203,700 as Secretary of State. As of January 2017, He has an estimated Net Worth of approximately $180 Million.
Sponsored link