Ravish Kumar is one of the most popular television anchors in India, he is known for his disarming style of journalism. He is also a writer and journalist. Ravish works for NDTV India as an executive editor.   He is known for conducting interviews and debates with a calm temperament.
Early Life and Background
Ravish was born in the district of Bihar called East Champaran, on 5th, December 1974. He belongs to a conservative and orthodox Brahmin family of Jitvapur village. He completed his primary education in the same village and was later sent to Patna by his father for further education. He completed his 12th standard from Loyola School and then went to Delhi for his college education from Deshbandhu College, Delhi University. His main attention at that time was to get a seat in UPSC Civil Services Examinations. He started preparing for Civil Services while doing Bachelors of Art (BA). At that point, Mandal Commision was implemented in India. This commission said that the socially and educationally backward should be identified and given more preference or help. This made it difficult for Ravish to crack the Civil Services and hence decided to continue for post-graduation from the same college.  He loves traveling and playing chess too.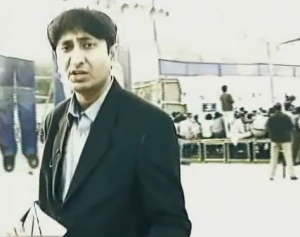 Sponsored link
Career Achievements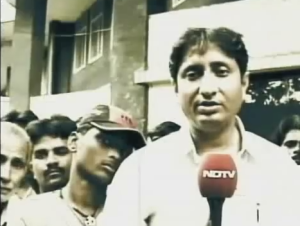 He is known to host a show called 'Ravish Ki Report' where he introduces himself and then goes on to give a fair idea about his topics that will be discussed in the show. He also hosts shows like 'Hum Log' and 'Prime Tim'. He was awarded with the Ramnath Goenka Excellence in Journalism Award for the Year, 2013, Ganesh Shankar Vidyarthi award for Hindi Journalism and Creative Literature from the President of India and won the Indian News Television award for the Best News Anchor (2014) in Hindi. He also has his own blog site called naisadak.org.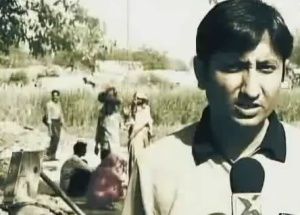 Sponsored link
Ravish Kumar – wife (Nayana Dasgupta)
He met his sweetheart while pursuing his M.Phil in Delhi. Nayana Dasgupta, a Bengali girl took his heart away. They became close friends and dated for almost seven years. Known to be a shy person, this was his first close friendship with a girl. Nayana also helped him with English language. They decided to marry after a long dating stint.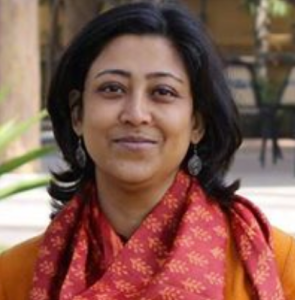 Ravish Kumar's family was very furious to know about Nayana as she was from a different background and region of India. This was not taken nicely by his family. Ravish eventually took a stand to marry Nayana by breaking ties with his family. Today, he is only in touch with his parents.
Nayana is a history teacher in Lady Shri Ram College, Delhi University. Ravish and Nayana have two daughters.
 Ravish Kumar vs Arnab Goswami
Recently, he was criticized for the program on JNU Row and mishandling media. He spoke against other media reporters, especially boycotting Arnab Goswami, which came as a shock to viewers because it was unlike his ways and personality.
Both Arnab Goswami and Ravish Kumar have their loyal set of followers and both  are equally famous in their own ways.
Ravish Kumar is known to conduct debates with a peaceful stance and is often neutral.  Arnab Goswami on the other hand, is known believes that journalist have to be the voice of change and is anything but submissive.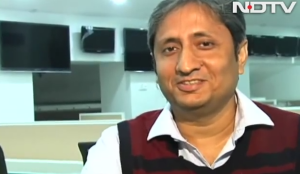 Ravish Kumar – Salary
His salary is approximated to be Rupees 5 lakh per month excluding perks and employee stock option (ESOs). His monthly package can be an average of Rs. 18 lakhs, taking his annual salary to Rs. 2.16 crore.
Sponsored link