Nick Denton is a British journalist, internet entrepreneur, and author who is most famous as the managing editor of Gawker.com and proprietor and founder of Gawker Media conglomerate.
Early Life
Denton was born on 24 Aug 1966 to Geoffrey Denton, a British economist, and physiotherapist Marika Denton née Marton. Nick's mother was a Hungarian Jew who at age 18 escaped the occupation by USSR after surviving the Nazis. She died due to cancer, just a year before Nick moved to NYC.
Denton attended University College School and later studied politics, philosophy, and economics at University College in Oxford. He was editor of the magazine at the university.
Sponsored link
Career
Denton started his career at the Financial Times where he worked as a journalist. He later co-founded 'First Tuesday,' a social networking website. Then he partnered with his UCS mates Angus Bankes and David Galbraith and co-founded Moreover Technologies.
In 2002, Nick founded the company Gawker Media with Gizmodo.com and Gawker.com as its two blogs. He ran this company from his SoHo apartment for many years after its launch. Nick has stated that his salary as managing editor was only $60,000 till only a few years ago. Currently, the company has eight blogs and is valued many millions of dollars. Its blogs rake in over $40,000,000 annually and the company is listed in the top 50 most popular online properties in the US. Gizmodo, a website about consumer electronics and gadgets, is the most popular of the nine websites of Gawker Media and gets over 6 million visitors per month.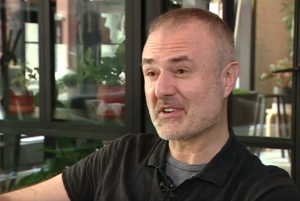 Sponsored link
Nick Denton- Husband and Personal Life
In Jan 2014, it was reported by the New York Post that Denton was getting married to his partner Derrence Washington, an actor, in May. The couple got married on 31st May at the American Museum of Natural History's Hayden Planetarium.

The guests at the wedding were taken for a 40/50 minute trip across the planetarium and through the stars. The nuptials also consisted of readings from Carl Sagan and Frank "Dune" Herbert which reminded the guests of the vastness of not just the universe but also of love.

Nick has a younger sibling named Rebecca.
Denton has co-written a book called 'All That Glitters.' It is about the Barings Bank collapse.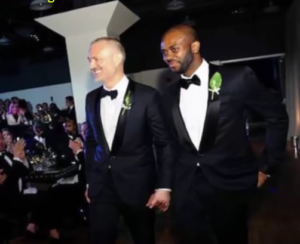 Lawsuit by Hulk Hogan
Gawker published an explicit tape extract of Hulk Hogan in Oct 2012. Hogan sued the company for privacy violation after Nick refused to obey a court injunction for video removal and a cease-and-desist order from Hulk.
The jury awarded $115 million to Hogan in March 2016 and later added $25 million as punitive damages to the verdict. Denton personally had to pay $10 of the punitive damages.
Nick Denton – Net Worth
The 2007 Sunday Times Rich List estimated the net worth of Denton to be around $205 million. It was based on the value of his shareholding in Gawker Media and the money earned from sale of his previous companies
On 1st August 2016, Denton made a filing for protection under Chapter 11 bankruptcy to protect his personal assets from being seized in the judgement. The filing states that his liabilities are between $100 and $500 million with assets up anywhere between $10 to $50 million. Gawker itself has an average revenue of $45 million, much lesser than the judgement award given to Hulk Hogan. As a result, Nick Denton has negative net worth of around -$20 million. His own net worth is in Gawker. There are seven Gawker sites that are up for sale for $90 million.
Sponsored link