Dawood Ibrahim Kaskar is a well-known leader of an organized crime syndicate called D-Company (a term created by media for organized crime group) founded in Mumbai. Dawood, a "crime lord", is the most wanted criminal across the world according to the Interpol list. He is famous for illegal acts like criminal conspiracy, cheating and running a syndicate of organized crime against India and Indians. It is alleged that he conducted the 1993 Bombay Bombings and had financed  the plan for carrying out the series of explosions that rocked the city. Ranked no.3 in the World's 10 Most Wanted list, he became India's most wanted pretty soon. He is also suspected to be involved in the 2008 Mumbai Attacks according to Indian and Russian Intelligence Agency.
The US Department of Treasury has a theory that Dawood may be working with Osama Bin Laden, a Pakistani terrorist. In 2003, US certified him as a "Specially Designated Global Terrorist" and in 2010 a US Congressional Report claimed that D-company had a "strategic alliance" with the Pakistan's ISI (a premier military-operated intelligence service of Pakistan).
Early Life and Background
Born on 26th December, 1955, in a Konkani Muslim family, Dawood is known to carry and control the Hawala system. This is a common method of transferring money unofficially. He was born in the Ratnagiri District, Maharashtra, India to father Ibrahim Kaskar and mother, Amina. His father was a Head constable of CID (Crime Investigation Department) and mother, a housewife. He grew up in a locality called Dongri in Mumbai, where he came to know a mobster gang Haji Mastan after he attacked a couple of Dawood's men. Dawood later gave birth to D-Company with his brother Shabir Ibrahim Kaskar. He has another brother named Iqbal Ibrahim Kaskar.
Sponsored link
Criminal History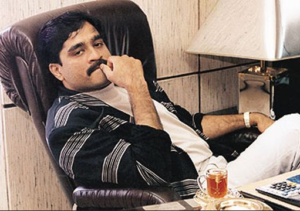 Dawood has been suspected to conduct crimes like Bombay Terror Attacks, 1993 bombing, smuggling from Africa, Middle-east and South Asia with the help of Al-Qaeda, shipment of narcotics in the UK, counterfeiting, extortion, drug trafficking, match fixing etc. His company has aimed to destabilize India through violence, terror attacks, riots and civil disobedience. He went into hiding in Afghanistan, in the late 1990s with the help of Taliban's protection. He has great interest in Bollywood and has financed, plus cast actors in some films as well. There have been reports of Bollywood's biggest movie stars being in close contacts with him, especially in the 90s This friendliness may also be because of money extortion reasons.
Sponsored link

Ten members of his of his group got arrested in November 2006 but got extradited from the UAE, from where the deportation took place.
In 2013, Dilip Vengsarkar, a retired Indian Cricketer claimed that in 1986, at Sharjah, Dawood had entered their dressing room and offered each team member a car if they defeated Pakistan in the Sharjah Cup Final. This was the extent of his illegal business.
Dawood Ibrahim – Wife and Girlfriend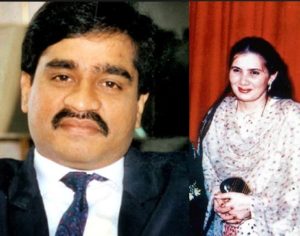 Dawood married a woman named Zubeena Zareen alias Mehjabeen Shaikh. Very little is known about their marriage. They have four children, three daughters and a son.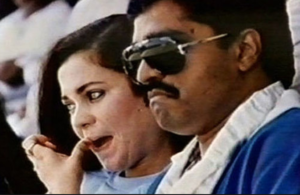 In 1994, he had been under the media glare for having a relationship with "Ram Teri Ganga Maili" actress Mandakini.
Controversy
On 24th April 2016, it was announced that Dawood was suffering from Gangrene in his legs and may face amputation. However, after 24 hours, in another news, Chota Shakeel (Dawood's lieutenant and key aide) dismissed such information and labeled it as rumors.
Dawood Ibrahim – Net worth
According to 2015 reports, Dawood is estimated to have a net worth of 6.7 billion dollars.
House
With a criminal record like his, Dawood has several hideouts and homes throughout Karachi, Pakistan. The Indian agency claims nine addresses where he seeks shelter.
Sponsored link