Linda Yu is a reputed, retired news anchor of Asian- American ethnicity. She was a television broadcaster for WLS-TV in Chicago, Illinois and renowned as the co-anchor of the 'Eyewitness newscast'. She served at the network for 32 years beginning from 1984 until her retirement in the year 2016. Yu holds the distinction of being the first Asian–American broadcast journalist in the city of Chicago, when she began her career in news in 1979 at WMAQ-TV.
Yu was known for having a strong voice and a great work ethic. She is the winner of 5 local Emmy Awards for her work in the field of broadcasting. Of the five awards, one was attributed to her report that examined the aftermath of America's greatest tragedy, the attacks of 9/11 in 2001.  For her documentary titled "The Scars of Belfast", the National Conference of Community and Justice honoured Yu with a National Gold Medal. She also co-founded the Asian-American Journalists Association.
Early Life and Education
Yu was born on 1st December 1946 in sub-provincial city of Xian in China. At the age of three, Yu and her family moved to Hong Kong. The family migrated to the United States in the year 1951. Yu only spoke Mandarin when she arrived in America and knew only a few English words such as 'Hi' and 'Thank You'.
Sponsored link
Upon arriving in America, the Yu family first lived in Pennsylvania for about four years and shifted their base to Indiana for two. This resulted in Yu having to change many schools. When she was twelve years old her family finally settled in California making it their home. Yu attended the University of Southern California and graduated with a Bachelor of Arts degree in Journalism in the year 1968.
Career
Yu's career started flourishing when she moved to Chicago in 1979 and started working for NBC Network's WMAQ-TV where she worked for 5 years. She started at the WMAQ-TV in the capacity of a general assignment reporter and was made the weekend co-anchor. Within a year, she became a daily co-anchor with Ron Magers on the 4:30 and the 10 pm newscast slots. Yu received her first Emmy award in the year 1981 a second consecutive Emmy in the following year. By late 1983, Yu was unhappy with the management at WMAQ-TV and in the wake of this, she resigned from the network in March 1984.
Sponsored link
The second Inning of Yu's career began when she joined WLS-TV for the ABC 7 network in Chicago. Alongside news anchor Joel Daly, Yu reported the 4 p.m newscast, until Daly retired in 2005. She also served on the 11:30AM newscast, a 30 minutes slot with Sylvia Perez from 1992. It was later made an hour long newscast, until it was cancelled in 2013.
Yu announced her retirement on September 6, 2016 after a stellar 46 years in the business. On November 23 2016, Yu did her last news broadcast in the 4 p.m. slot.
Personal Life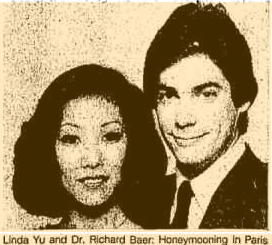 Yu dated psychiatrist Dr. Richard Baer and married him On June 12, 1982, at Chicago's St. James Cathedral after several years of courtship. Together the couple have two children, a son named Ricky born in August 1985 and a daughter called Francesca born in February 1988. After 14 years of being married Yu divorced her husband in 1996, citing irreconcilable differences.
Yu co-founded the Asian-American Journalists Association.
Linda Yu – Salary and Net Worth
Yu has an estimated net worth of $5 million. Upon retirement, the last salary she drew was $800,000.
Sponsored link