Kate McKinnon is an American comedian, impressionist, actress and voice actress. She rose to fame after being cast on Saturday Night Live and also The Big Gay Sketch Show. She is majorly famous for making great celebrity impressions. Some of the best ones that she did was that of pop star Justin Bieber, television presenter Ellen DeGeneres, 2016 US Presidential election candidate, Hilary Clinton and the list goes on.
McKinnon has achieved many awards for her witty comebacks and fantastic humor. She was nominated for four Primetime Emmys. Three of the categories she was nominated were that for Outstanding Supporting Actress in Comedy Series from which she won in one. The other category was that of Outstanding Original Music and Lyrics.
Presently, Kate McKinnon along with her co-presenter are becoming widely recognize due to their spoofs that they are doing on Saturday Night Live. While Kate McKinnon impersonates Hilary Clinton, Alec Baldwin portrays Donald Trump, the response has been stupendous and viral.
Sponsored link
Early life and Education
Kate McKinnon was born on January 06, 1984 in Sea Cliff in New York to Laura Campbell and Michael Thomas Berthold. Her mother was a parent educator, and her father was an architect. Katy lost her father when she was 18 years old. She has a younger sister named Emily. She can play cello, piano, and guitar efficiently.
Kate graduated from her high school, North Shore High School in the year 2002. She later enrolled herself in the Columbia University where she graduated with a theater major. She formed her theatre group after she graduated and named it Tea Party. She was also a part of the group Prangstgrup which was a student comedy group that recorded videos involving college pranks.
Kate McKinnon  – Girlfriend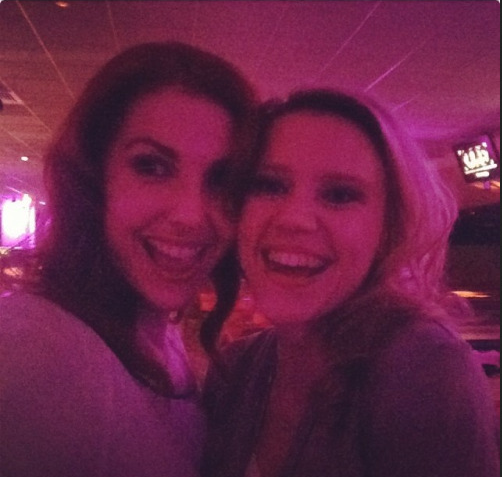 Sponsored link
The 1.61 meter tell  McKinnon has been in a long-term relationship with girlfriend Marla Mindelle who is a Broadway actress.
Trivia
Kate McKinnon is the first openly lesbian cast member on Saturday Night Live.
She is also the series' third openly gay cast member following Terry Sweeney and Danitra Vance.
Katehas been a popularly acclaimed voice artist and has voiced for several series like that of The Venture Bros., Robotomy, and Ugly Americans.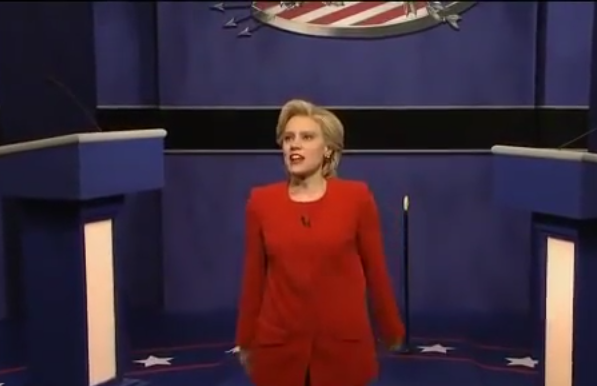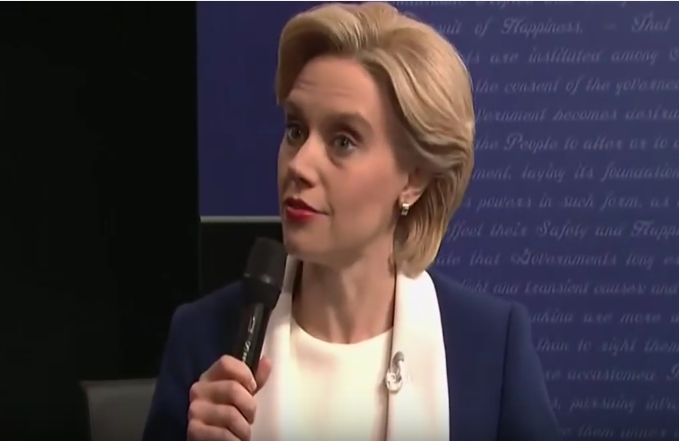 Characters portrayed
Some of the most popularly known characters played by her are:
Olya Povlatsky is a Russian woman who voices her beliefs and opinions on the Weekend Update that airs on SNL.
Santini is a character that was primarily performed on Comedy Bang! Bang! And is about a woman who writes aggressive notes to her neighbors.
Les Dykawitz is a character which portrays the struggles of a lesbian cop from the 1970s era who works for Chicago PD.
Jodi Cork is yet another famous character portrayed by Katy with is about one of the hosts of Women in a Workplace.
Kate McKinnon – Net Worth

As of 2016, Kate McKinnon has a net worth of $2 million. She has grown more famous over the years multiplying her net worth from thousands to millions over the course of time.
Sponsored link