Josh Elliott is an eminent television journalist from America who presently works for CBS News. Prior to this, he had worked with ABC as a news anchor for a show called 'Good Morning America'. He had also worked as an anchor for 'Today' and 'NBC Sports'. The live broadcast of ESPN's morning episode 'Sports Center' was co-anchored by Josh Elliott too.
Early Life and Background
Born on 6th July, 1971, Elliott was soon put up for adoption. Charles Elliott and Toni Jordan adopted him. He grew up in Los Angeles, California. At the age of 13, his father confessed to being gay when his parents were on a verge of divorce. His father died when he was just fifteen years old. Josh graduated from Loyola High School situated in Los Angeles.
He then attended the University of California in Santa Barbara. His original dream was to become a part of men's water polo team by joining the UC Santa Barbara Gauchos. Instead, he started working for The Daily Nexus, a university paper. In 1993, he graduated from UCSB with B.A. Degree in English Literature. Josh worked for Santa Barbara News-Press as a stringer. He then shifted to a graduate school called Columbia University's Graduate School of Journalism. This is the school where he received his Master of Science degree, in the year 1999. Later he began working in TV for Galaxy Productions as a producer and then moved to 20th Century Fox. Elliott functioned under the comedy development and then worked in physical production. He worked for the Sports Illustrated for 6 years and covered stories/events for major sports, after graduating from Columbia.
Sponsored link
Career Achievements
Josh Elliott joined the ESPN in 2004. He worked there as a panelist for Jim Rome in Burning and Around the Horn. He served as the co-host for ESPN2 and Cold Pizza as well. He hosted Classic Now which survived only for 1O months.
Sponsored link
In May 2011, Elliott worked for ABC's Good Morning America, after Juju Chang departed from the show. He also anchored 'Good Afternoon America' as well, with Lara Spencer from July to September 2012. Elliott had joined NBC in March 2014, and exited ABC's show. But in December 2015, he left NBC and joined CBS on March 2016. Josh Elliott received the prestigious Emmy award for contribution and writing to Angles on MSG Network in New York City. He worked as the co-host for Westwood One Sports for Super Bowl XL.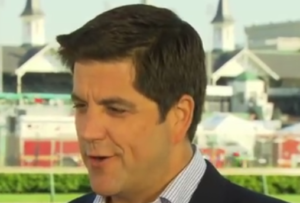 Controversy
In 2012, he was in trouble related to his passive-aggressive behavior on the sets of ABC. The senior executive had a lot of trouble with this. He frequently had diva-like tantrums on the set.
Wife
He married an Indian girl called Priya Narang. They have a daughter named Sarina. The marriage ended in a divorce. In the year 2014, he had an engagement with a news anchor Liz Cho. They got married in Montecito, California. Louisa Simone is the name of Liz's daughter from her previous marriage.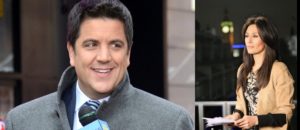 Salary and Net Worth
Josh's net worth is estimated to be $5 million with an annual salary of $2 million.
Sponsored link