Heather Star Childers is a reputed American television news correspondent and anchor best known for being the co-anchor of the Fox network show 'Happening Now' on the Fox News Channel. In August 2011, Childers served in the capacity of an anchor on the network's show 'America's News Headquarters'. She also makes appearances on the Fox favourite 'Fox and Friends' as one of the two rotating co-anchors, alongside colleague Heather Nauert.
Childers started her media career professionally in 1992. She has been felicitated with several honours and awards. Childers was adjudged the Best Female News Anchor by the National Academy of Television Journalists, who also felicitated her with a Readers Choice Award for Best Documentary. The Albany Herald honoured Childers with two awards which were the Best Newscast and Best News Anchor Award. She also received a Best Female News Anchor from Golden Viddy.
Early Life and Education
Childers was born on 7 January 1969 in Charlotte, North Carolina, where she was also raise by her parents in an upper middle class family. Childers has never revealed any information about her parents or siblings or shared any details of her early life with the media. She is of White ethnicity.
Sponsored link
During the early years of her education, Childers studied at the Sharon Elementary School in Charlotte's Fox croft area. She later attended and graduated from Myers Park High School in the year 1987. After completing her high school education, Childers first enrolled into University of North Carolina, Charlotte but later shifted to University of North Carolina, Chapel Hill from where she completed an undergraduate degree in English.
Career Rise
Childers embarked upon a career in the American media industry in 1992 when she was hired by WCNC-TV, a television station affiliated to NBC, in Charlotte, NC in the capacity of a producer and a reporter. She then took a break from her media career to participate in a beauty pageant and was crowned Miss Charlotte-Mecklenburg. She went on to represent her city and became a Preliminary Winner at Miss North Carolina.
The photogenic girl  returned to her media career in 1995 as a weekday anchor for the Fox affiliate WFXL in Albany, Georgia where she also served as a news director. In 1999, Childers moved to the ABC affiliate WLOS-TV in Asheville, North Carolina. In 2002, Childers joined News 14 Carolina, in gthe capacity of a news anchor and continued in the position for 8 years.
Sponsored link
Childers landed her dream job in 2010 when she was hired by Fox Network where she started serving in the capacity of a general assignment reporter. She was named the co-host of 'America's News Headquarters' in August 2011 alongside Patricia Stark and a few other Fox journalists. Childers, currently works as a rotating host of 'Fox and Friends' with Heather Nauer. She also co-anchors the show 'Happening Now' on FNC.
Personal Life
At the age of s16, Childers was involved in a massive accident in which she suffered several injuries to her face. Childers, who was driving her 1964 Chevrolet Corvair car, crashed it into a tree on the Queens Road West. The accident left her with multiple injuries and she had to undergo reconstructive oral and facial surgeries for several years.
Boyfriend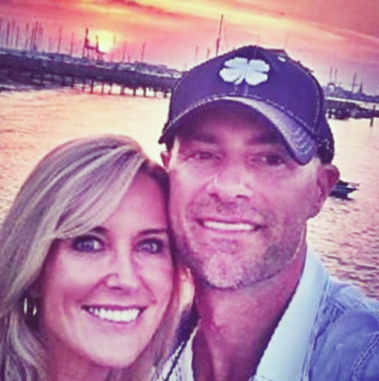 Childers is involved in a romantic relationship with Rick Carlson. Childers and Carlson were friends for several years and were speculated to be dating long before they announced their relationship officially in January 2017. Childers has never been married.
Heather Childers – Salary and Net Worth
Childers earns an estimated $500,000. She has an estimated net worth of approximately $3.5 Million.
Sponsored link