Ginger Renee Colonomos is an eminent American television personality. Presently, she serves as a weather anchor for the programs named  ABC World News Tonight and Good Morning America on ABC Channel. Renee also serves as the Chief Meteorologist for all the ABC News platforms.
Early life and background
This famous meteorologist was born on 13th January, in the year 1981, in Orange, California. She is the offspring of Robert O. "Bob" Zuidgeest and Dawn E. Zuidgeest-Craft. Ginger also has a younger brother named Sean Jeffrey Zuidgeest.
Ginger received her high school education from Rockford High School. She wanted to serve as a meteorologist from the early days of her childhood. Hence, she joined the Valparaiso University in order to pursue a degree in Bachelor of Science in Meteorology. During her college days, Ginger's goal was to pursue a career as a  successful meteorologist on The Today Show by the age of 30.
Sponsored link
Career achievement
After completing her graduation, Ginger started working for various media platforms, including WYIN-TV, WOOD-TV, WEYI-TV, WLAV-FM and WMAQ which is owned and controlled by NBC Network. Ginger filled in the Today show as a guest, while serving for the WMAQ network from the year 2006 to 2011.
In the year 2011, Ginger began working for a show named Good Morning America on ABC Channel.
Apart from all these, she has also occasionally appeared in several programs affiliated with ABC network, including ABC World News and Nightline.
From December, 2013, Ginger became the regular weather anchor of Good Morning America as she replaced Sam Champion.
She has covered many major weather events including Colorado floods, the devastated Jersey Shore from Hurricane Sandy and damages from tornados in Moore and ElReno. Ginger Zee is known to be an AMS certified broadcast meteorologist.
The Emmy Award-winning meteorologist also served as an adjunct professor at the Valparaiso University from 2008 to 2011.
Sponsored link
In the year 2016, she was declared as a celebrity competitor on the twenty second season of  Dancing with the Stars. Ginger Zee will be paired with  Valentin Chmerkovskiy, who is known to be a famous and professional dancer.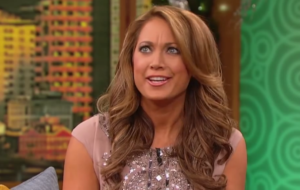 Ginger Zee- Husband
Ginger Zee is married to famous television personality Ben Aaron,  who serves for WNBC-TV. In the year 2013, they became engaged. The couple got married on 7th June, in the year 2014 in Petoskey, Michigan. The couple is blessed with an adorable son named Adrian Benjamin. The famous television personality was diagnosed with narcolepsy when she was around 21 years old.
As a highly talented and enormously gorgeous lady, Ginger Zee has many fans and followers on social media.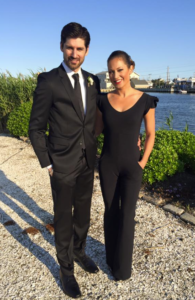 Ginger Zee – Salary and Net Worth
Ginger Zee is a very hardworking and dedicated meteorologist. Her salary is $120,000 with a net worth of $.5 million.
House
Ginger Zee and her husband reside in a posh apartment in New York City. The house has a 40,000-square-foot gym in the basement.
Sponsored link