Drew Allison Carey is a famous American Comedian and game show host.  He is particularly known for the popular improve comedy show 'Whose Line is it Anyway?' and 'The Drew Carey Show'.
Early life and education
Drew Carey was born in Cleveland ,Ohio on May 23, 1958 and was the youngest of the three sons of Lewis and Beulah Carey. His father passed away when Drew was 8 years old, due to a brain tumor.
He attended James Ford Rhodes High School and graduated from it in the year 1975. He was a member of the marching band in this school and played the trumpet and the cornet.
Sponsored link
His college years were spent in Kent State University however, he was expelled twice due to poor performance in his academics. What followed was a six year stint in the US Marine Corps Reserve, he even had moments of stand up comedy while there. After leaving the marines he moved to Las Vegas and worked as a bank teller and waiter there.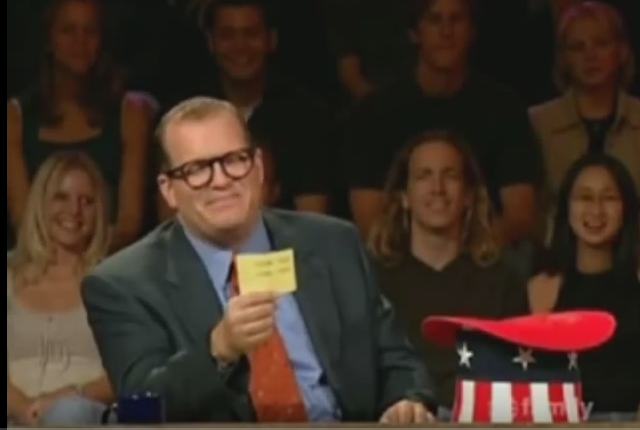 Career
Prompted by his friend, David Lawrence , a disc jockey, Drew Carey would go to his local library and research how to write jokes. Drew Carey was already writing jokes for David, but this was the base of his stand up career starting in 1985. The following year he won an open-mic contest and subsequently became the Master of Ceremonies at the Cleveland Comedy Club.
This was followed by performances across comedy clubs over the years in Cleveland and Los Angeles.
Drew went on stage for the 1988 running of Star Search , this was the moment he started being a household name. He made an impression on his appearance on the Tonight Show Starring Johnny Carson in 1991 ; this landed him a place on the couch next to Carson himself. The same year Drew showed up on Late Night with David Letterman. In 1994. he made his own standup comedy "Drew Carey: Human Cartoon"
His acting career began with supporting roles, starting with the 1993 movie Coneheads. He co-starred in The Good Life which was short – lived. He was then hired as a consultant to the writer Bruce Helford for another show , called "Someone Like Me"
Carey and Helford created and developed the concept and production of Drew's epynomous show "The Drew Carey Show" in 1995. The show had a good nine year run and featured the appearances of guest stars like Ryan Stiles, a famous comedian in his own right.
While still working on "The Drew Carey Show", Drew began hosting the American version of the improvisational comedy show "Whose line is it anyway?" The show ran from 1998 to 2006. In a similar vein, Drew Carey had another show called "Drew Carey's Green Screen Show" which was another one of the improvised comedy formats, however with the aid of a Green Screen for all comedy acts.
Sponsored link
A third improv comedy show was hosted by Drew at the MGM Grand Hotel in Las Vegas from April 2011. It was called "Drew Carey's Improv-A-Ganza" . "Improv All Stars" was another touring performance of improv comedy hosted by Drew.
Drew started out as a game show host on the CBS Show "Power of 10" only for the Pilot episode in 2007. He was then asked to fill in the place of the retiring Bob Barker as host of "The Price is Right"
Drew Carey – Girlfriend
Drew was seen with Nicole Jacks; she was also alongside him on episodes of The Price is Right. He is a father figure to her son from a previous relationship, Connor. While they were engaged to be wed, they broke it off in January 2012.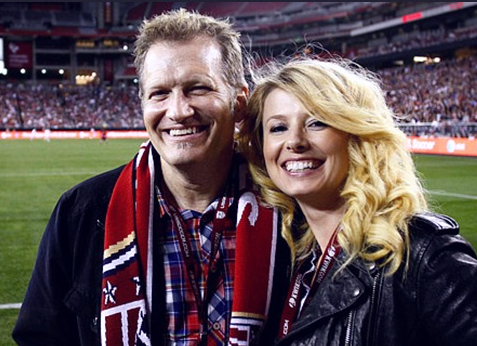 Political views
In political views, Carey is an outspoken libertarian. In his own words. "As far as your personal goals are and what you actually want to do with your life, it should never have to do with the government. You should never depend on the government for your retirement, your financial security, for anything. If you do, you're screwed."
Trivia
He has attributed his crew cut hairstyle to the time spent in the Marines.
He has written extensively about comedy. His autobiography "Dirty Jokes and Beer: Stories of the Unrefined" was on the New York Times Bestseller list for three months.
He was the Cable Ace Award winner for "Drew Carey: Human Cartoon", and ne of TV Guide's "10 Hottest New Faces of 95". He has a star on Hollywood Walk of Fame
He has made an appearance on The Sims computer game and one scene from The Drew Carey Show is rendered in that game's graphics.
He is an avid sports photographer, who traveled with the US Soccer team.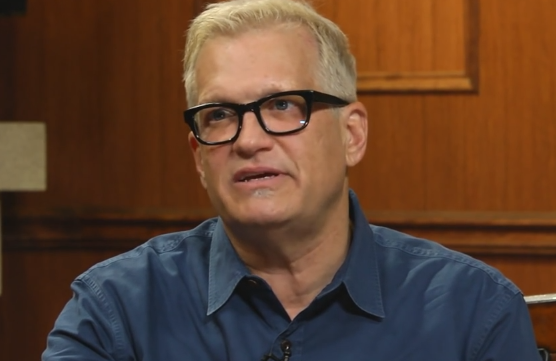 Drew Carey – Salary and Net Worth
His net worth is estimated to be around $165 Million. Drew Carey draw a salary of $9,000,000 per year.
Sponsored link