David Muir is popular as the anchor of ABC World News Tonight with David Muir. This American journalist previously served as the Co-anchor of the ABC newsmagazine 20/20 and the weekend anchor of the ABC World News Tonight.
According to the report of Tyndall, David' s reporting achieved the most airtime in the year 2012 and 2013. He has received several Edward R. Murrow and Emmy awards for his contribution to international and national journalism. In 2014, he was listed among one of the sexiest men alive by People Magazine.
Early life and background
He was born on 8th November in the year 1973 in Syracuse, New York.  Muir was born to Pat Mills and Ronald Muir. He has one older sibling, one nephew and three nieces. He grew up in Onondaga Hill, which is located in New York City.
Sponsored link
In 1991, Muir completed his high school education from Onondaga Central Junior-Senior High School. After that, he joined the Park School of Communications at Ithaca College to pursue a B. A in journalism. During his college days, Muir also attended the institute of political journalism at Georgetown University. He graduated from Ithaca College in May 1995. Muir also studied at the University of Salamanca, located in Spain. Apart from the Englsih language, he is also proficient in Arabic and Spanish.
Career achievement
In 1995, after completing his graduation, Muir started his career as a journalist. He struggled five years as a reporter and an anchor in WTVH television. He used to report from Jerusalem, Israel, Tel Aviv and Gaja Strip. At the early stage of his career, he has taken the exclusive interview of Israel Prime Minister Yitzhak Rabin. The Associated Press  honored him for Best television Interview and best enterprise Reporting.
In 2000, Muir left the job of WTVH television and joined WCVB television, Boston. He worked there for three years as a reporter and an anchor. Muir received the Edward R. Murrow award for his contribution to investigative journalism. Apart from this, he also gained the National Headliner Award. The Associated Press also praised him for his reporting and News-anchoring.
Sponsored link
After achieving so much fame, Muir left WCVB television in August 2003 to join ABC News. This wise decision could be marked as the turning point of his career. He started his career with ABC as the anchor of World News Now, an overnight news program. And after some days, he started serving as the Co-anchor of the popular news magazine Primetime.
In 2012, he became the anchor of  World News with David Muir, a weekend newscast show of ABC News.
In 2014,  the 1.8 meter tall Muir took the place of Diane Sawyer as the managing editor and anchor of ABC World News. Because of his great contribution, this program became the country's most watched most watched evening newscast.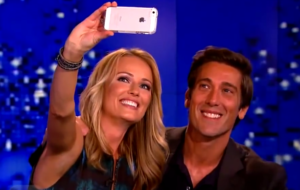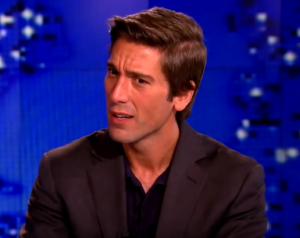 Is David Muir gay or straight?
He is gay. Though he is known to be single now, he was in a relationship wit Gio Benitez, who is currently married to Tommy DiDario.
David Muir – Salary and Net Worth
This poular news anchor earns an annual salary of $5 million, with a net worth of $7.5 million.
Sponsored link