Baba Ramdev is a yoga teacher who also made quite notable contributions in Ayurveda, politics and agriculture. It is only because of him that millions of youth were awakened to the concept of yoga. Ramdev has even penned down his instructions in Aushadh Darshan, Pranayama Rahasya. He is the founder of Patanjali Ayurved (an Indian FMCG company) and Patanjali Yogpeeth.  His effort to promote yoga has been immense; he has set up Divya Yoga Mandir Trust.
Baba Ramdev – Real Name, Background and Education

Ramdev was born on December, 25, 1965 in the town of Mahendragarh, of Haryana. He is the son of Ram Yadav and Gulabo Devi; and has one sibling named Ram Bharat. Ramdev detached himself from school after studying till the eighth grade. He diverted his full attention towards acquiring knowledge on yoga and sanskrti.
Born as Ram Krishna Yadav adopted the name Baba Ramdev,  when he allegedly sacrificed the worldly pleasure and became sanyasi. It was during the time in Kalwa Gurukul in Jind district when he began offering yoga training to the villagers. He moved to Haridwar in Uttarakhand where he spent years in the Gurukul Kangri Vishwavidyalaya studying ancient scriptures.
Sponsored link
Career achievements
He founded the Divya Yog Mandir Trust in the year 1995 marking the beginning of his career. It was during 2003, when his popularity went up, by being featured in Aastha TV's morning yoga slot. He had trained celebrities like Amitabh Bachchan and Shilpa Shetty. His yogic activities have been appreciated not only in India but also in Britain, USA and Japan. Owing to such a world-wide popularity he received an invitation from Kofi Annan to deliver a lecture on poverty alleviation in UN Conference.
Establishment of Patanjali Yogpeeth and Patanjali Ayurved marked a major mile-stone in his career.  Ramdev has actively participated in politics regarding Anti-corruption. His support was strongly felt during the Jan-Lokpal agitation. He has even voiced his wish of forming a political party called Bharat Swabhiman.
In 2007, Ramdev received an honorary doctorate degree from Kalinga Institute of Industrial Technology for his notable contribution towards Vedic Science of Yoga.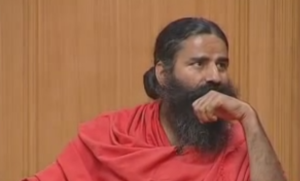 Sponsored link
Baba Ramdev and Patanjali Ayurved
Baba Ramdev and Acharya Balakrishna started  Patanjali Ayurved in 2006 in Haridwar.  As on 2016, it is India's fastest growing company with turnover crossing INR 45 billion ($670 million).  The company now stands as a powerful FMCG company, competing against the likes of Dabur and Colgate.  Patanjali Ayurved is valued at INR 13000 crore ($1.9 billion). Future Group which runs the supermarket chains like 'Big Bazaar' sells Rs. 32 crore ($4.7 million)worth Patanjali products every month.
 Baba Ramdev – Controversies
Ramdev has been embroiled in several controversies.  Here are some of them
He was caught in the middle of controversy when he said that homosexuality can be cured. His detest towards 'gays' and considering it to be a disease were his words that landed him in trouble. He again hit the limelight by criticizing UPA. He was also found making statements of yoga being a better choice than education on sex. Such a pre-conceived statement got him threatened with legal actions by the Indian Union Health Ministry.
His medicinal products were not free from controversies, usage of human and animal bones were found present in it.
Patanjali Atta noodles were found to be substandard by Food and Safety Drug Administration. In the samples 'ash' were three times more than the prescribed limit (1%), even higher than Maggi, which was banned temporarily for this reason.
 Baba Ramdev is never the one to shy away from controversial statements. On April 2, 2016, he said that if there was no law of land, he would chop the heads of anyone who did not say 'Bharat Mata ki Jai'. A police complaint was lodged against him to this effect.

Baba Ramdev – Net Worth
He is estimated to have a net-worth of Rs. 1,500 crore ($223 million). The Patanjali Trust is of Rs. 164.8 crore and Bharat Swabhiman is worth 10 crore.
Sponsored link