Anthony Scaramucci, known in the media as 'The Mooch' is a renowned American financier as well as a political figure. Scaramucci's was named the White House Communications Director in July 2017 after former director Sean Spicer announced his resignation. But his appointment to the White House may be delayed owing to the fact that his company SkyBridge Capital has not yet been sold, which is a required mandate by the Office of Government Ethics.  Scaramucci has previous experience, working on the Executive Committee that handled the Presidential-Transition Team after Donald Trump was elected the Unites States President.
As a financier, Scaramucci began his career in the capacity of an investment banker with Goldman Sachs in 1989 and continued there until 1996. He went on to launch 'Skybridge Capital', a global investment firm in 2005, serving as its co-managing partner. In January 2017, Scaramucci entered into an agreement to sell his company after being offered a role in the Trump cabinet, but the sale of his company hasn't been finalized yet.
Early Life and Education
Scaramucci was born in a middle class family in Long Island, New York on 6 January, 1964 as the son of Marie DeFeo Scaramucci and Alexander Scaramucci. His mother was a homemaker while his father worked as a construction worker. Scaramucci's grandfather immigrated to USA from Italy and he is therefore of Italian-American descent. Scaramucci has a brother named David and was raised as a Roman Catholic.
Sponsored link
Scaramucci was a student of Paul D. Schreiber Senior High School in Port Washington, New York where he served as President of the student council and graduated in 1982. He later attended Tufts University, Medford Massachusetts and graduated with a Bachelor of Arts Degree in Economics. After graduating from Tuffs, Scaramucci enrolled into Harvard Law School from where he completed his Juris Doctor Degree.
Career Rise
Scaramucci co-founded his first venture Oscar Capital Management in 1996 but sold the company in 2001 to Neuberger Berman. Lehman Brothers acquired his former company in 2003 and named Scaramuci as the Managing Director of the firm's investment management division. In 2005, Scaramucci co-founded his second investment venture and named it SkyBridge Capital, serving as a co-managing partner and chairman of their famous "SALT" conference. He also served as a host of 'Wall Street Week', a financial news program on TV, airing on PBS and later, Fox. In January 2017, Scaramucci sold a majority stake of his company, Skybridge Capital and eventually stepped down from his roles at the company in order to pursue politics fulltime.
From May 2016, Scaramucci played an active role in endorsing Donald Trump, and was part of his Finance Committee. He also served in the Executive Committee of the Presidential-Transition Team. When Trump was elected President of United States, he announced his intention of appointing Scaramucci as the Director of the White House Office of Public Liaison and Intergovernmental Affairs. Scaramucci was required to undergo a mandatory review of his finances by the Government Ethics Office, which was delayed, and ultimately, in March 2017, George Sifakis was appointed to the position. In June 2017, Scaramucci was appointed the senior vice president and the chief strategy officer of the U.S. Export-Import Bank. In July 2017, he was named as the replacement of Sean Spicer as the White House Communications director, but the appointment also seems to be delayed, apparently due to the fact that the sale of his company SkyBridge Capital hasn't yet been finalized.
In a shocking turn of events,  Scaramucci was asked to quit his job as the White House Communications Director within 10 days of his appointment.  The appointment came in after the appointment of General John Kelly, as the new  of staff for Trump administration.
Sponsored link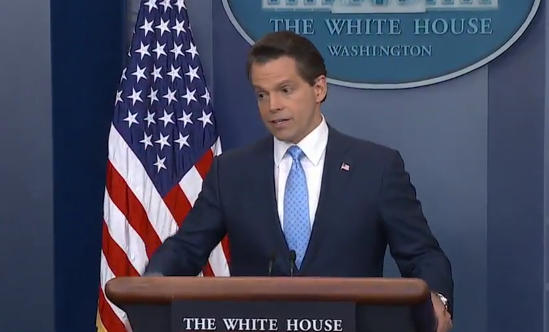 Wife and Children

Scaramucci has been married twice. He was first married to Lisa Miranda with whom he has three children;  daughter Amelia, sons Anthony Jr., and Alexander Scaramucci. The couple divorced in 2014.
Scaramucci met Diedre Bell when she took up a job at his company Skybridge Capital in the capacity of an investor relations executive. The couple started dating in 2011 and married in 2014. Together they have two children; sons Nicholas and James. Bell filed for divorce in July 2017, when she was 9 months pregnant with her second child.
Anthony Scaramucci – Divorce Reason
It was written in various sections of the media that one of the main reasons Diedre Bell filed for divorce was because she was none too happy with her husband's political ambitions. A friend added that she was happy with their Wall Street lifestyle and their pad on Long Island, and not the tension-writ lifestyle of Washington DC. It is reported that she did not agree with many of Trump's policies.
Anthony Scaramucci – Salary and Net worth
For his role at Skybridge Capital, Scaramucci earned an annual salary of $7 Million. One being appointed as White House Communications Director, Scaramucci  decided to forego his salary. He has an estimated net worth of approximately $1.5 Billion.
Sponsored link