Amy Joanne Robach is a journalist from America. She works for ABC News and anchors the popular news show called 'Good Morning America'. Before this, she used to work as a national correspondent for NBC News. She has also anchored on MSNBC and has been a co-host to Saturday's edition of NBC's "Today". She fills in for Robin Roberts sometimes with Elizabeth Vargas for the 20/20 show, on ABC News.
Early Life and Background
Born on February 6, 1973, in East Lansing, Michigan, Robin was brought up in St. Louis, Missouri. She spent nine years in Georgia and moved to South Carolina, Washington D.C. She was also in the New York area for sometime. Amy completed her schooling from Brookwood High School in Snellville and completed her graduation with honors in Broadcast Journalism from University of Georgia. She had become the 4th runner up in the Miss Georgia pageant in 1994.
Career
Before working for NBC News in 2003, she had worked at WTTG in Washington D.C. Amy spent four years in NBC News where she worked for a 2-hour slot in the morning. On July, 2007 she was the co-anchor of 'Weekend Today' before the quit the show in 2012. She has also been a part of news shows like 'Morning Joe' and 'Countdown with Keith Olbermann'. Amy soon made an announcement to work for ABC on May, 2012. She initially started as a correspondent of ABC's 'Good Morning America' and soon became the news anchor of the same show on March, 2014.
Sponsored link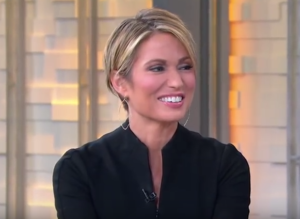 Amy Robach – Husband
Amy is the cousin of Matt Lindahl, a former Nashville star contestant. Her uncle and aunt were teachers of performing-arts at high school. She was married to Tim Mcintosh since 1996, until they filed for a divorce in 2008. They have two daughters Ava and Analise,   born on 2002 and 2006 respectively.
Amy fell in love and got engaged with Andrew Shue, a former Melrose Place star, in 2009. They had met each other at a book party in April. They got married at The Lighthouse, Chelsea Piers, on February 2010, which was also her 37th birthday. Shue has three sons from his previous marriage to Jennifer Hageney. Their names are Nate, Adian and Wyatt, all of them born on 1997, 1999 and 2004 respectively.
Sponsored link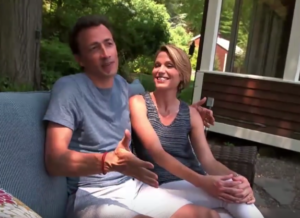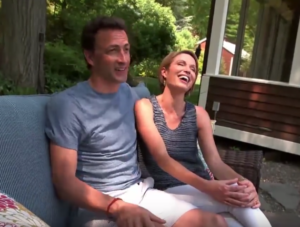 Amy Robach – Cancer Fight
Amy has undergone a mammogram test in 2013, where the results turned out to be positive for breast cancer that had spread to the lymph nodes. She underwent 8 rounds of mastectomy, chemotherapy, radiation and a reconstruction surgery. This period was very testing for her as it had broken down her confidence and independent living. This was also a tough time in her marriage as well. She also wrote a book on her fight called
'Better: How I Let Go of Control, Held On to Hope, and Found Joy in My Darkest Hour.'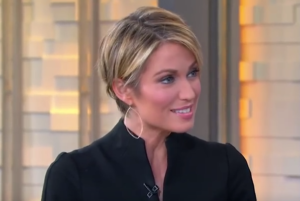 Amy Robach – Salary and Net Worth

Her annual salary is $300,000 with net worth at $1.5 million.
House
Amy and Andrew had rented a penthouse in Lower Manhattan for 16,800 dollars per month.
Sponsored link