Kathleen Genevieve Ledecky/Katie Ledecky is an American swimmer. Till 2016, she has won 9 world championships and 4 Olympic gold medals. She is the world record holder for 1500, 800, and 400 meter freestyle swimming events. She has also recorded the fastest times for 1650, 1000, and 500 yard freestyle swimming events.
Katie has won many awards, including the 2013, 2014, and 2015 American Swimmer of the Year and World Swimmer of the Year awards. In 2014, L'Équipe named her as the international female Champion of Champions. Katie won 7 gold medals in individual races at the World Aquatics Championships; it is a world record in the field of women's swimming. She featured in the 'Time 100 list' of Time Magazine in 2016 and was the youngest person ever to receive this honor.
Early Life
Katie was born on 17th March 1997 in Washington DC to David Ledecky and Mary. She was raised a Roman Catholic.
Sponsored link
Katie went to Little Flower School in Bethesda, Maryland and later to Stone Ridge School of the Sacred Heart. She started swimming when she was only 6 years old because of her older brother's influence. Also, her mother was a swimmer for the University of New Mexico.
In high school, Katie set the 500-yard freestyle US Open and American record as well as the 200-yard freestyle national high-school record, two times. When her career as a high school swimmer finished, she held the swimming record for Stone Ridge School in all events other than the 100-yard breaststroke.
Ledecky was trained by coach Yuri Suguiyama at the Nation's Capital Swim Club in 2012 and still trains at the club. She has accepted Stanford University's athletic scholarship and will swim for the Stanford Cardinal team of coach Greg Meehan from 2016 fall.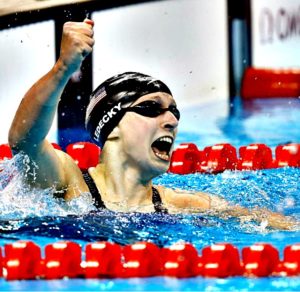 Sponsored link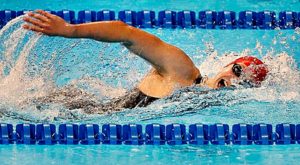 Career
In 2012, Katie placed 1st in the 800-meter freestyle at the US Olympic Trials in Omaha, Nebraska and finished 3rd in 400-meter freestyle event. Ledecky then debuted at the 2012 London Summer Olympics and won the 800-meter freestyle gold medal with the second fastest time ever.
Since then, Katie has won 18 gold medals and 1 silver medal in major international swimming competitions, including the World Championships, the Summer Olympics, and the Pan Pacific Championships. She also broke 12 world records during this time.
At the ongoing 2016 Rio Summer Olympics, the 1.83-meter-tall Katie has won gold medals in the women's 200m freestyle, 400m freestyle, and 4x200m freestyle relay and a silver medal in the women's 4x100m freestyle relay event, till now. She broke her own world record when she won the gold medal for the 400m freestyle event.
Katie Ladecky – Net Worth
Ledecky is an amateur swimmer and most of her earnings are via the U.S. Olympic Committee's 'Operation Gold' program. He estimated net worth is about $70,000. It could have been in the millions if she had become a professional instead of opting to swim as an amateur for Stanford University.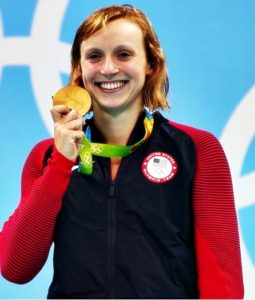 Trivia
At the 2012 London Olympic Games, she was the youngest participant from the US at age 15 years, 4 months, and 10 days.
Jon Ledecky, the owner of New York Islanders, is her uncle.
Katie works with many charities.
Sponsored link