Katie Couric or more precisely Katherine Anne Couric is an eminent American journalist and an author. She is currently serving as the host of Yahoo! Global News.Katie has worked with almost all the prominent media houses of USA which includes NBC News, CBS News and ABC News.  In 2004, due her exemplary talent Katie Couric was included in "Television Hall of Fame".
Early Life and background
Katie Couric was born on 7th January 1957 in Arlington, Virginia. Her father, John Martin Couric, was a public relation executive while her mother Elinor Tullie, was a home maker and a part time writer.
Katie attended several  public schools in Arlington which includes Jamestown Elementary, Williamsburg Middle School, and Yorktown High School. During her high school days  she served  as a intern at Washionton D.C all news radio station"WAVA".
Sponsored link
Post her school education, Katie joined University of Virginia in 1975 . She earned a B.A in American studies in the year 1979. During her university days she was the part of several extracurricular activities. She has contributed in the UVA's popular daily news paper "The Cavalier Daily". She was also the "Delta Delta Delta" senorita sister.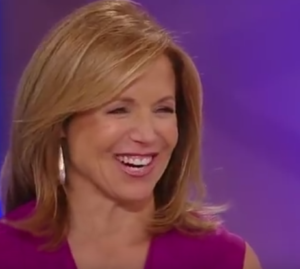 Career Achievements
Katie Couric started her career in the 1979. Her first job was with ABC News Bureau in Washington D.C. Thereafter, she joined CNN as an assignment editor. Katie also served the WRC-TV which is a NBC owned station in Washington DC. Due to her reporting skills in the WRC- TV, Katie won the Associated Press award and an EMMY.
Later in the year 1989, she became a part of the show "Today" as a national political correspondent. In the year 1991, Katie became the permanent anchor of the show. She has also been associated with many popular programs like the "NBC News at Sunrise", "Now with Tom Brokaw and Katie Couric" and so on. In addition to this she got the opportunity to interview many eminent personalities like the Jimmy Carter, George W Bush, Bill Clinton etc. Due to her exemplary skills , she has received several awards which includes the prestigious Peabody Award for her series "Confronting Colon Cancer". Katie has also co-hosted the "2000 Summer Olympics" and the opening ceremony of the "2006 Winter Olympics"
In the year 2006, Katie joined the CBS as the new host and managing editor of "CBS Evening News". She has also contributed in many popular shows like "60 minutes", "Sarah Palin interviews with Katie Couric", "CBS Reports Series", "@katiecouric" etc. Katie has received several awards while working with the channel which include the Emmy Governors' award.
In the year Katie rejoined ABC as a special correspondent for ABC News. She has also served as host for the talk show "Katie". Later, on November 13th 2013, Marissa Mayer, the CEO of Yahoo!, disclosed that Katie Couric had been hired as the global anchor for Yahoo! News. She started working for Yahoo! from 13th January 2014.
Sponsored link
Apart from this, Katie has also lent her voice for the US version of the film "Shark Tales". Not only that, she has appeared in a cameo role in "Austin Powers in Goldmember". In addition to this, she has made guest appearances in several shows like "Murphy Brown", "Will & Grace" etc. In 2014, Couric narrated and produced a domentary called "Fed Up".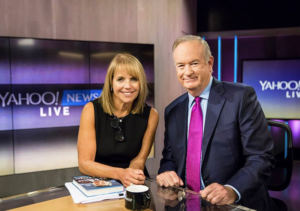 Controversy
In December 2013, Katie Couric found herself struck in a controversy.  Katie hosted a segment on HPV Vaccine. Critics accused her of supporting the unsciencetific claims which stated the vaccine to be harmful. Couric gave a befitting reply to all her critics through an article in "The Huffington Post"
Katie Couric – Husband
Katie Couric was married to attorney John Paul "Jay" Monahan. They got married in the year 1989 and were blessed with two daughters. But in the year 1998, Monahan died due to Colon Cancer. In subsequent years, Katie lost her elder sister, who was suffering from pancreatic cancer. Following the death of her husband and sister, Katie became a part of many events spreading awareness on cancer. Later in the year 2014, Katie married John Molner, a financer in a private ceremony, at The Hamptons.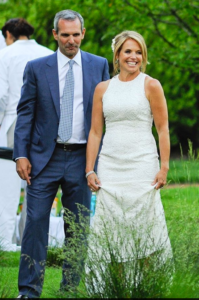 q
 Katie Couric – Salary and Net Worth
Katie Couric is one of the richest women in news reporting, she earns a salary of $10 million at Yahoo. This is with regards to the new contract from the web major, prior to this; her salary was $6 million.  She used to earn a salary of $15 million at CBS before she shifted to Yahoo.
Katie Couric has a net worth of $55 million.
Katie Couric – House
Katie and her husband John Molner bought a new home for $12 million at 151 E. 78th St. This Upper East Side property  close to Lexington Avenue is a sprawling piece of real estate, extending to 3,966 square-foot area. It includes five bathrooms, five bedrooms, heated flooring, eight-jet stream shower, walk-in closet, gym and a private garden.
Book
Katie Couric  released a book in 2004 called"The Best Advice I Ever Got: Lessons from Extraordinary Lives" in  2004  It is classified as best seller by the New York Times. It is a book of collective inspirational experiences by famous people who shaped her life.
Sponsored link