Who is Justin Gatlin?
He is an American sprinter. He won the gold medal in the 100m dash at the 2004 Summer Olympics. He has twice won the 60-meter dash in World indoor championships. Justin won a bronze medal at the 2012 London Olympics 100m final with a time of 9.79s. This was the fastest 100m race in the history of the sport as 3 sprinters had run the race in under 9.80s.
In 2014, Gatlin finished the 200 meters race at the Diamond League event held in Monaco in 19.68s, thereby becoming the world leader of the year. The same year he was nominated for IAAF Athlete of the Year award.
In the Rio 2016 Olympics, Justin Gatlin scored a silver medal running a 100 meters dash, clocking in 9.89 just shy of the gold-medalist Usain Bolt who achieved the feat in 9.81 seconds.
Sponsored link
Justin currently lives and trains in Kissimmee, FL. He is trained by Coach Brooks Johnson.
Early Life
Gatlin was born on 10th February 1982. He went to Woodham High School located in Pensacola, Florida.
Gatlin enrolled at the University of Tennessee in Knoxville in 2000. He gained admission as a good 100m hurdler. His coaches Bill Webb and Vince Anderson saw his potential and made him a sprinter. He then went on to win six NCAA titles successively.
Justin left the university in 2002 and turned pro.
Doping bans
Gatlin tested positive for a banned substance (amphetamines) in 2001 and was banned for 2 years. It was decreased to 1 year after he appealed that he tested positive on account of medications he used to take for ADD.
In 2006, both his samples tested positive for a 'testosterone' like substance. Due to this, his then 100m world record time of 9.77s was expunged. He was given an 8-year ban instead of a lifetime ban after he co-operated with doping authorities. The ban was reduced to 4 years on appeal.
In August 2010, the 1.85 meter tall Justin's eligibility was restored and he returned to active competition.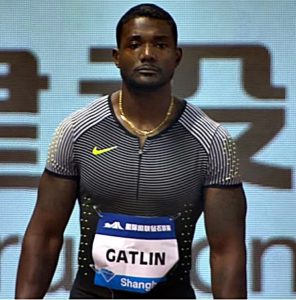 Sponsored link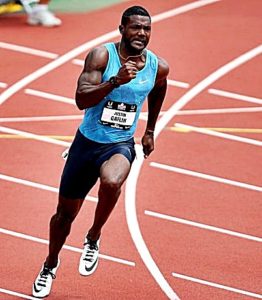 Career
After turning pro, Gatlin competed at the 2004 Olympics in Athens and won the 100m finals in 9.85s. He also won a silver medal for 4×100m relay and a bronze for the 200m race.
On 7th August 2005, Justin won the 100m race at the World Championship in Helsinki in 9.88s, with the widest margin ever recorded at 100m races in World Championship sprinting events. He also won the 200m race at Helsinki.
Gatlin equaled the 100m sprint world record timing of 9.77s on 12th May 2006 at the IAAF Super Tour meeting in Doha, Qatar. This record was erased after he was banned for doping.
Justin won the 100m bronze medal at the 2012 London Olympics. On 15th May 2015, Justin ran the 100m race at the Qatar Athletic Super Grand Prix in 9.74s. This is his personal best time till now.
At the 2016 US Olympic Trials, Justin won the 100m race and thus became the oldest sprinter to qualify for the US Olympic team. He is considered as the strongest challenger to Usain Bolt in the 100m race at the Rio Olympics.
Trivia
During his 4 year ban from track and field, Gatlin tried for The Tampa Bay Buccaneers as a wide receiver but was unsuccessful.
Justin Gatlin – Net Worth
The net worth of Gatlin is estimated to be $1 million.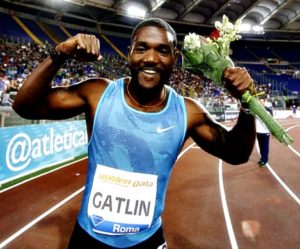 Sponsored link