Vijay Mallya is the chairman of UB Group, an Indian multinational company with varied interests like alcoholic beverages, aviation, real estate, infrastructure and fertilizers.  He is the ex-chairman of Indian-based United Spirits Ltd, the second largest spirits company in the world.  Apart from businesses around the world, Mr. Mallya is also a Rajya Sabha (upper house in the Indian parliament) member. He has served as the chairman of many companies including Bayer CropScience and Sanofi.
Mallya is the owner of several sports teams, which include the Indian Premier League team 'Royal Challengers Bangalore' and popular indigenous football teams like Mohun Bagan AC and East Bengal FC. Incidentally, Vijay Mallya bought Royal Challengers Bangalore for a whopping $111.6 million.  He is also the part-owner of Sahara Force India, the Formula One Team.  He represents India in the Fédération Internationale de l'Automobile (FIA) by virtue of his being a member of the World Motor Sport Council. He also bought the Caribbean Premier League for Rs.13.5 crore (with Rs.5 crores as players' salaries) and purchased Kingfisher Ultra Derby in November 2015 for another Rs. 3 crores.
VJM Media Private Limited (or Blitz Multimedia Group), is a publishing company owned by Vijay Mallya, which bought over popular Bollywood magazine 'Cine Blitz' in 2001.
Sponsored link
Mallya became a Rajya Sabha member from Karnataka with the support of Congress Party and Janata Dal in 2002. In 2010, he was re-elected for the second term, with the backing of BJP.
Early life and rise as corporate baron
Vijay Mallya was born to Lalitha Ramaiah and Vittal Mallya, a businessman from Bantwal, Mangalore. He studied at La Martinere school, Calcutta and graduated from St. Xavier's College in the same city with a commerce degree.  While he was in college, he worked as an apprentice in his father's business where he polished his skills and business acumen.  Post his graduation, Mr. Mallya became an intern at Hoechst AG in the US.
Mallya became the chairman of the UB Group after his father's death in 1983. He was only 28 before he took over as the head of the United Breweries Group. Under his leadership, UB group became a leading multinational conglomerate with more than 62 companies under its fold.  The UB Group converted many loss making companies into profitable ventures and by 2000, the company was worth more than $11.5 billion.
Mallya kept his focus on the UB Group making Kingfisher beer, the largest selling beer in the world.  The beer sold in more than 52 countries, has more than 52 percent share in the Indian market.  Mallya also bought many companies including Berger Paints, Crompton, Mangalore Chemicals and Fertilizers, The Asian Age and Cine Blitz between the periods 1988 and 2001. In 2012, Mallya gave away management control of United Spirits Ltd to British-based alcoholic beverage giant Diageo, while he retained certain amount of stake in the business.  He earned Rs. 2400 crores (approximate) from the sale of his stake in United Spirits to Diageo in 2014.
Mallya founded Kingfisher Airlines in 2005, it did great business in the first few years before it became insolvent and had to shut down. The main reason was outstanding loans and inability to pay Kingfisher employees who have still not been paid.  To date, the company owes its employees Rs 300 crores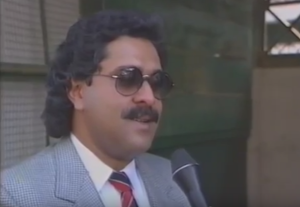 Vijay Mallya –Bank loan controversy
It came to light in the month of March 2016 that Vijay Mallya owes Rs.9061 crores ($1.34 billion) to as many as 17 banks which lent him money for reviving his businesses. The media reported that Mallya had diverted nearly Rs. 4000 crore of the lent money (tax payer's money) to tax haven places like Mauritius and Cayman Island.  He owes State Bank of India (the largest bank in India) Rs. 1600 crore. A consortium of banks on March 8, 2016 asked the Supreme Court in India to debar him from going overseas till he paid the outstanding moneys.  By then, Mallya had already left for the UK.
In April 2015, the United Sports Board initiated a process to remove Mallya from the position as chairman due to reported financial irregularities. Mallya who had refused to resign, consented February 2016 and after he resigned as chairman and his position in the board, Diageo paid him $75 million (with $40 million paid upfront and the rest in the period of 5 years).
Post this settlement, the banks from India decided to push their case towards action to be taken against Mallya. The banks asked the Debt Recovery Tribunal to block $75 million payment.  Though the tribunal did so, $40 million of the payment already passed through to Mallya.
Though he claimed that he had no money to pay the 1500 employees who worked on Kingfisher Airlines, Mallya spent $2 billion for his birthday party in Goa in December 2015. The party was attended by 200 people and had musical performances by the likes of Sonu Nigam and Enrique Iglesias who charges INR 3.5 crore per live song performance.
The Enforcement Directorate in India sought to seal off his assets, though it would be a pretty long haul to sell off most of his assets, based overseas. SBI, the largest bank in the country sought the lender's first right to $75 million payout from Diageo to Mallya. It also filed applications that included arresting Vijay Mallya and bring him back to India and impounding his passport.
Vijay Mallya, however, in his open-letter and tweets blamed the media and the banks for making a villain out of him. He said that Rs.2494 crore of the Rs.9061 crores was given back to the banks and that he was working on a one-time settlement with them.
Mallya in his open letter wrote, "I have neither the intention nor any reason to abscond. I have been a non resident for almost 28 years and the RBI has acknowledged this in writing. I am also honoured to be a member of the Rajya Sabha. Despite pledging blue chip securities and depositing significant amounts in court, a successful disinformation campaign has ensured my becoming the poster boy of all bank NPA.  feel that the time has come to clarify my position in order to avoid this relentless attack on my reputation. Kingfisher was launched on the basis of a viable business plan vetted by SBI Capital Markets and renowned International aviation consultants, but despite every effort, it was an unfortunate commercial failure caused by macro economic factors and then government policies. After the closure of the airline, since April, 2013, banks and their assignees have recovered, in cash, an aggregate of Rs 1,244 crore from sale of pledged shares. In addition, an aggregate of Rs 600 crore is lying deposited in the Karnataka High Court (since July 2013) and a further sum of Rs 650 crore belonging to United Breweries Holdings has been deposited in the Karnataka High Court since early 2014, being sums realised from the sale proceeds received by United Breweries Holdings from the sale of shares in United Spirits to Diageo Plc in July 2013."
Mallya added, "All the enquiries conducted have failed to find any evidence of misappropriation of funds by Kingfisher Airlines or myself for the simple reason that the allegations and the innuendo to this effect is plainly false. My group directly invested over Rs 4,000 crore in Kingfisher Airlines itself which investment stands fully impaired. It is not as though it is only the bank debt that has suffered. The banks will recover a substantial part of their debt and my group's loss is permanent.'
The Kingfisher head honcho reiterated that will continue to cooperate with investigating agencies. He wrote, "My statement as to my personal future after quitting Diageo/USL — that I want to spend more time in England closer to my children — has been grossly distorted and misportrayed. I wish to reduce my business commitments gradually and devote more time to my family."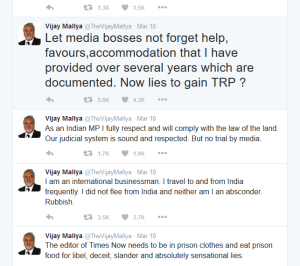 Vijay Mallya – Wife and children
He married Sameera Tyajbee, an airhostess representing Air India, in the year 1986. They have a son called Siddharth Mallya, born on May 7, 1987.  Though they have been divorced, Mr. Mallya and Sameera are still in touch. In 1993, he married Rekha, his childhood friend and double -divorcee.
Vijay Mallya and Rekha have two daughters called Leanna and Tanya. He also raised Rekha's children from previous marriages. One of them, a daughter, died in an automobile accident in 2003, in London.
 Vijay Mallya – auction
Mr. Mallya bid for auctioned items that have been deemed rare and invaluable for India from a historical point of view. He successfully bid for Tipu Sultan's sword for £ 175,000 in London and bought it back to India.  He also bought other 30 items which include weapons like cannons and other personal items.  In 2009, Mallya bid for items belonging to Mahatma Gandhi valued at $1.8 million at an auction in New York.
Awards
Mallya has received several awards for entrepreneurship which include
Global Leader for Tomorrow by the World Economic Forum
Officier de la Légion d'Honneur, highest award for recognition in France.
Honorary Degree, Doctorate of Philosophy by Southern California University for Professional Studies.
Vijay Mallya – House
Dubbed as the 'King of Good Times', Vijay Mallya has more than 26 homes around the world, which include New York, Mumbai, Goa, Bangalore, New Delhi, Monaco, Scotland, Napa Valley and UK
Mallya razed down his ancestral home in Vittal Mallya Road and built Kingfisher Towers at UB City for billionaires and millionaires. Some of the property is still in construction and is due for completion by 2018. The tower is located in the heart of Bangalore and has 82 apartments split across 3 blocks. Out of these 82 homes, 72 are put for sale, 30 belong to Mallya and the rest belong to a company called Prestige. The 10 unsold properties are meant for Mallya's family.
Sponsored link
The rates go higher with every ascending floor.  Livable apartments begin fifth floor onwards, the first four floors with two basement floors are meant for car parking.  While every resident has car parking for 5 cars, Vijay Mallya's car parking is generous enough to accommodate 100 cars. There is a section to accommodate his vintage car collection too.
White House in the Sky is Vijay Mallya's penthouse, located on the 33rd and 34 floor of Kingfisher Towers. It is a stunning piece of property built in one-acre area. The house is known for its lavish interiors, wine cellar, spa, infinity pool and a helipad on the roof.
Mallya has a huge mansion home in Sausalito, San Francisco. The house offers amazing views of the Bay Bridge and Belvedere. The mansion walls feature amazing art works from legendary artists like Picasso, Renoir, Turner and Chagall. He bought this house in 1987 when his wife was having a difficult pregnancy and the doctor had asked her to take rest.  This 11,000 square properties was bought out of foreclosure for $1.2 million. Mallya has neighbors in the form of Tiger Woods, Williams sisters and many Hollywood stars around this property.
Vijay Mallya owns as $2.4 million penthouse in Trump Towers, New York.  His house is on the 37th story of the residential tower, the most expensive tower in the city, overlooking the San Francisco Bay Area.
Mallya has a sprawling pad in Johannesburg's luxurious street, called Nettleton Road. The property offers splendid view of the Clifton Beach.  Mallya's luxury home includes a garage space for his cars, a gym and a sauna. He is known to toast celebrities, movie stars, singers, heads of state and royalty and hold parties in the patio, which also has a long infinity pool.
He owns a huge Goan villa called 'Kingfisher Villa' in Cadolim Beach, overlooking the Arabian Sea. This palatial home has splendid teakwood furniture, three giant bedrooms, a huge living room and lives upto its reputation as a quaint, holiday home.  This property is worth Rs. 90 crores.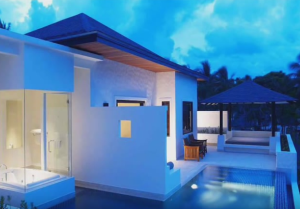 Vijay Mally also owns countryside estates house and farmhouses in London and Scotland.
Vijay Mallya – Islands
He has an island in Monte Carlo worth about Rs. 800 crores, according to Economic Times.  Vijay Mallya owns castles i n Scotland and few townhouses in London.
He owns the island of Sainte- Marguerite, the biggest of the four 'Lerins islands'.   The property is known as 'Le Jardin' or the 'Big Garden'. The island is half a mile, off shore from the French Riviera, Cannes.
Vi ijay Mallya owns the Mabula Game Lodge in South Africa, sprawling area of land running into 12,050 hectares.
He is the owner 1000-acre tourism sites in the Himalayas.
Vijay Mallya – yacht
He has a royal yacht called Indian Empress worth $100 million. This super-yacht also includes a helipad, he had bought it from a Sheikh based in Qatar, in 2006.  This is one of the largest superyachts in the world, measuring 95 meters. The yacht is used to hold Formula 1 parties apart from raising a toast to royalties of state and other powerful people across the world.  The media reports that Mallya sold off the yacht and only charters it 3 times a year but this news is not confirmed.
Vijay Mallya – Jets
His jets Boeing 727 and Gulfstream were sold due to debt.   However, Mallya owns Airbus 319CJ (one of India's only two private airbus commercial jets) leased out from Deutsche Bank in London and Shaw-Wallace owned Hawker 700.

Vijay Mallya – Cars
He has an enviable car collection that range from modern to classics. Some of his toys include the Rolls- Royce, Jaguar E-Type (1974) Jaguar D-Type (1954), Ferrari Series, Mercedes (1926 Model), Rolls-Rocye Silver Ghost (1913 model), Porsche (1955), Ford (1929), Shellby America Cobra (1965), Ferrari 365 California Spider (1966) and many more.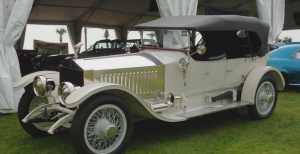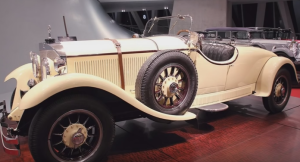 Vijay Mallya – Net Worth
Vijay Mallya's net worth is $1.01 billion (Rs.6800 crores).  He holds 32 percent share in United Breweries (maker of Kingfisher) and retains Rs. 150 crores worth USL shares.
Sponsored link