Jillian Michaels  is a popular American personal trainer, TV personality, author and businesswoman based in Los Angeles, California.  She is known for her TV shows from NBC, 'The Biggest Loser' and 'Losing it with Jillian'. She is also a part of the talk show on television called The Doctors.  In 2016, she also hosted a new reality TV series called 'Just Jillian' which premiered on E!
Early life and education
Jillian Michaels was born on Los Angeles, California on February 18, 1974.   In Santa Monica, where she was raised, young Jillian had a traumatic childhood heightened by night terror (sleep disorder) and bullying by classmates.  Her parents' divorce also affected her as a child.   But with passing time, Jillian began to gain control of herself  and began to nourish her personality with confidence and high self esteem.
Young Michaels studied in the California State University at Northridge. At that time, she got a job as a bartender and a fitness trainer. She was also an agent for International Creative Management ( a talent agency based in Los Angeles ) for some time. In 2002, she opened 'Sky Sport and Spa' in Beverly Hills, a state of the art sports and medicine facility.
Sponsored link
Career Rise
Michaels raised the bare for fitness by doing exceedingly well in her job as a fitness trainer. She trained her clients a mix of strength training and endurance exercises which include weight training, Yoga, Pilates, kickboxing and pylometrics.
In 2012, Jillian Michaels came out with a 90-day weight loss program known as 'Body Revolution'. She also released 'BODYSHRED', a  half an hour workout program for GoodLife gyms in Canada and in certain fitness clubs in the US.   She has teamed up with her business partner Giancarlo  Chersich,  and both of them run Empowered Media, LLC
Jillian Michaels – Diet Mantra
She believes in the 80/20 rule for fitness.  She revealed to the Health Magazine, "Make sure that 80 percent of your  diet is healthy and then  take 80 percent of your daily calories and make them fun". Incidentally, she has polycystic ovary syndrome and ADHD.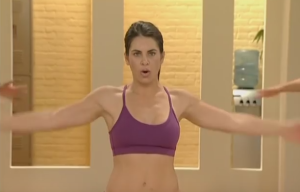 Jillian Michaels – Books
She has written several books on fitness and health, which include ' Master Your Metabolism', 'Making the Cut', 'Slim for Life' and 'Unlimited'.   Many of her books have made it to the New York Times Best Seller List.
Jillian Michaels Fitness Videos and DVDS
She had released several videos on fitness which include  30 Day Shred, Banish Fat Food Metabolism, Workout & Yoga, No More Trouble Zones and 6 Week Six Pack.
Miscellaneous
Michaels's podcast 'Jillian Michaels Show' on iTunes was singled out by Apple in 2001 as the winner in Best New Audio Podcast Category.  She has also released video games like Jillian Michaels' Fitness Ultimatum 2009, Fitness Ultimatum 2010, Fitness Ultimatum 2011 and  Fitness Adventure.
Business
Jillian Michaels released 'Impact' , her active-wear line, at KMART.  In 2015, she released athletic footwear for ladies and children.
Jillian Michaels – Philanthropy
She is actively involved in many charity programs which include working with organizations like  Stand Up to Cancer, Hope for Haiti ,  Alliance for a Healthier Generation,  Play 60 (NFL ) and PETA.
Sponsored link
 Jillian Michaels – Girlfriend (Heidi Rhoades) and Children
Jillian Michaels announced her engagement with Heidi Rhoades on March 8, 2016. They have two children.  The fitness sensation also adopted a two year old daughter from Haiti in 2012; she gave birth to a boy child in the same month. Her son is named Pheonix Michaels  Rhoades and the daughter's name is Lukensia Michaels Rhoades.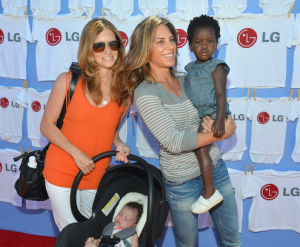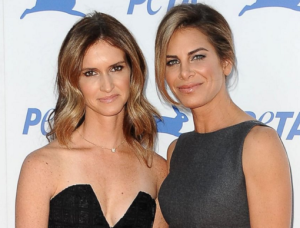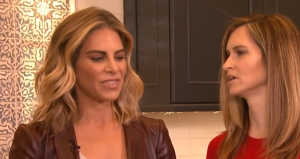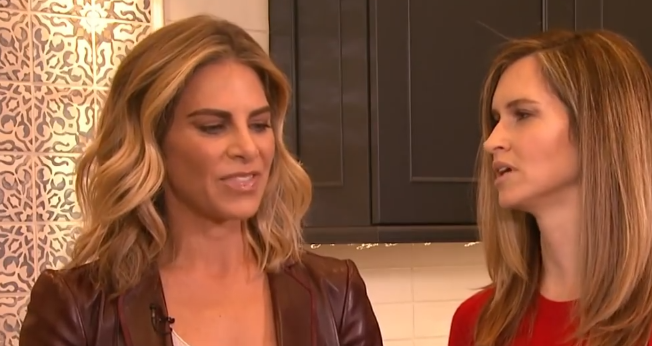 On her sexual orientation, the 5 feet 2. 5 inch tall Michaels said, "I didn't know I was gay till I was in my 20s. Let's just say thatI believe in healthy love.  If I fall in love with a man, it is awesome; it's the same if I fall in love with a woman. I only eat healthy organic food and I only want healthy love." She credits Madonna's hit video 'Justify My love' for making her proud of being gay.
On March 8, 2016 in the finale of her hit show 'The Biggest Loser',   Michaels got down on one knee and proposed to her long-term partner Heidi Roades. The video played at the reality show also had a montage of the times, the couples had shared throughout the years, bring their children together.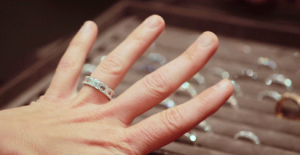 Jillian Michaels – Net Worth
The fitness icon has a net worth of $4 million.
Sponsored link