Christopher James "Chris" Evans is a presenter, producer and businessman for television and radio. He began his career in broadcasting for Manchester's 'Piccadilly Radio', before shifting to London. In London, he worked as a presenter for BBC's Greater London Radio. He then worked for channel 4 television, where he became a star through 'The Big Breakfast'. According to the Sunday Times Rich List, by the year 2000, he became UK's highest paid entertainer.
Early Life and Background
Born on 1st April, 1966, in Warrington, England, Evans is the youngest child to Martin Joseph Evans, a health authority wage clerk and bookmaker, Minnie Beardsall, who used to manage a convenience store. He has a brother and a sister named David and Diane respectively. He began his schooling from St Margaret's Church of England Infants and Junior School and was transferred to Junior School in Orford, Warrington. Evan's father and paternal uncles died of colorectal cancer. Evan's mother is a survivor of breast cancer.
Chris Evans passed eleven plus exam and went to Boteler Grammar School, in Warrington. He was just 13 years old when his father passed away. Soon he took up part time work at an outlet of T. J. & B. McLoughlin's news agent in Woolston after his death. Chris left school when he was 16 years old. He then had some dead-end jobs in and around Warrington, which included a private detective agency.
Sponsored link
Career Achievements
He started working in 1983 at Piccadilly Radio, Manchester. This was the same place where he worked before as an unpaid school boy. Until 1984, he had three jobs- Assistant to Timmy Mallet and acting in 'Nobby Nolevel', working at the newsagent (sorting our newspaper deliveries), and acting as a disc jockey during evenings at a pub when he was not on Piccadilly radio.
He subsequently worked in BBC Radio 1, Channel One's 'The Big Breakfast', Virgin radio, set up a production company called UMTV and many more.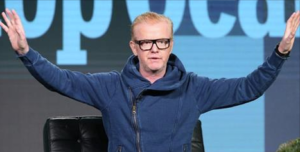 Sponsored link
TOP GEAR-
His latest work was in June 2015 in Top Gear. He worked for this BBC 2 motoring show after the departure of Richard Hammond, Jeremy Clarkson and James May. Chris had texted all the three for their approval and they replied with great support. Chris confirmed that in February 2016, Matt Le Blanc, Sabine Schmitz, Eddie Jordan, Rory Reid and Chris Harris were on board for the new season of Top Gear. The release month was set on May 2016 and the first episode of this new season got aired on 29th May.
Chris Evans – Wife and Children

Evans has a daughter from his former fiancée Alison Ward. His daughter's name is Jade who was born on 1986. He married Carol McGiffin in 1991 and soon split in 1994. He dated Billie Piper for a while and got married on 6th May 2001 in Las Vegas. In 2005, this marriage too, broke apart and they got divorced in May 2007. He then married Natasha Shishmanian in August 2007 and had son, Noah, in February 2009. On 1st June 2012, they had a second baby boy which was announced on BBC Radio 2 Breakfast through a telephone.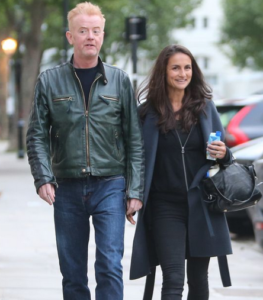 Controversy
On 4th July 2016, he announced his departure from Top Gear. The reason that he gave for the departure was to move on further. However media sources claim that he was criticized as the host and hence he left. It was also said that he was too aggressive with the BBC Radio 2 audience, revamped the show in an unacceptable format, which probably let to his exit.
Chris Evans – Salary and Net Worth
The estimated net worth of Chris Evans is 55 million pounds with an annual salary of over £1 million pounds per year. The Top Gear show made him the highest paid star on BBC with a £5m contract for 3 years.
Sponsored link