Andy Grove  (Andrew Stephen Grove) was one of the earliest success stories of the 'Silicon Valley'. The CEO and chairman of Intel Corporation was known to be one of the torch-bearers of the semi-conductor industry.  Though he passed away on March 21, 2016, Grove's humble living and enormous influence of progressive business practices lives on.
Early life
Andy Grove was born on September 2, 1936 in Budapest, Hungary.   The sickly child who at the age of 4 contracted Scarlet Fever, a disease that causes partial hearing loss, found another challenge four years later, when he was deported along with his Jewish parents by Nazis to concentration camps.  He and his mother assumed false identities while his father was forced to do bonded labor. Post the war, he was united with his family. During the Hungarian Revolution of 1956, Grove left his home and escaped to Austria, from where he moved to the US a year later.
In US, Andy Grove finished his college in the City College of New York and graduated from University of California, Berkley, in 1963. Once he completed his Ph.D., Grove got a job as a researcher for a company called Fairchild Semiconductor.  By 1967, he became the assistant director of development, working with the team that made integrated circuits.
Sponsored link
Andy Grove and the Intel Success Story
In 1968, Intel was founded by Robert Noyce and Gordon Moore. Andy Groove, the third employee was hired on the day of the incorporation of the company.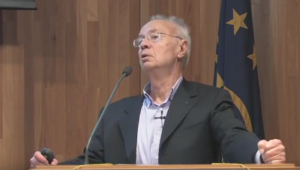 In its early years, Intel made DRAM chips which lost out on the competition because Japanese companies would make low-cost memory chips and supply it to the US market.  Then Andy Grove changed the focus of the company, discontinued DRAM manufacture and instead concentrated on making microprocessors.  He also helped Intel strike a deal with IBM to use Intel microprocessors in their computers, a norm that most computer brands would follow in years to come.
Sponsored link
Andy Grove became the president of Intel in 1979, the CEO in 1987 and the chairman and CEO in 1997. He quit his position as a CEO in the 1998 following the diagnosis of prostate cancer, and remained chairman till 2004. He continued being the senior advisor to the company and would hold lecture at Stanford University in his later years. As a CEO of the company, Grove helped Intel ensured that the company became the market leader for microprocessors, which are nothing less than the 'heart' of all computing functionalities.   The revenues for the company soared from just $2600 in the first year to $20.87 billion in 1997.  Intel is now the preferred microprocessor for leading tech brands like Apple, Samsung, Dell and HP.
Andy Grove – Quotes and leadership style
He was a man whose lifestyle could be summed as  'simple living and high thinking'  He was known to be detail personified; he was scared of being complacent. He was someone who corrected even his own spelling mistakes and worked with his employees in an ordinary cubicle, in spite of being a CEO and chairman of a billion-dollar company. He did not fancy luxury cars and did not have airplanes for someone his stature. He focused only on how he could take Intel to greater heights.
Andy Grove – quotes
Some of his popular quotes include
The devil is in the details
A corporation is a living organism; it has to continue to shed its skin. Methods have to change. Focus has to change. Values have to change. The sum total of those changes is transformation.
Success breeds complacency. Complacency breeds failure. Only the paranoid survive.
Andy Grove – wife and children
Grove met his future wife Eva Kastan in 1957. He worked as a busboy (a person who clears the tables in a café) while she worked as a waitress.  They married a year later and they have two daughters.
Andy Grove books
Some of his illustrious works include
Physics and Technology of Semiconductor Devices (1967)
Only the Paranoid Survive, (1996)
Andy Grove- Death
He passed away on March 21, 2016 at age 79. The cause of his death was Parkinson's Disease. Incidentally, he was known to make magnanimous contributions to foundations that worked for the treatment and cure of the debilitating disease.
Andy Grove – Net Worth
His net worth is $400 million.
Sponsored link