George Soros is a renowned Hungarian-American business magnate, investor and philanthropist who is also regarded as one of the most successful investors in the world. He is the founder of the extremely profitable Soros Fund Management LLC and has gained the reputation of being the most active philanthropist in the world. Through his company, Soros has funded several foundations, spending billions of dollars on charities and institutions in America and across the world.
Soros identifies as a progressive and liberal American and makes donations to liberal, political causes in USA through his 'The Open Society Foundation'. He has donated over $11 billion to various causes in since 1979. Soros spent another $12 billion on initiatives to provide education and reduce poverty. He played a very significant part in the peaceful and smooth transition to capitalism from communism in Eastern Europe during the late 1980's to the early 1990's. Soros is also an author and has penned several books on political and financial issues which include 'Open Society: Reforming Global Capitalism' and 'The Age of Fallibility: Consequences of the War on Terror'.
Early Life and Education
Soros was born as György Schwartz on 12 August 1930 in Budapest, Kingdom of Hungary as the son upper-middle class parents and non-observant Jews Erzsébet and Tivadar Soros. Like most Jewish families of the time, the Soros' were uncomfortable about their Jewish roots and identified as anti-Semitic. Soros' father, a lawyer and a World War 1 Russian prisoner of War. His mother's family owned a flourishing silk shop. Their Jewish family name of Schwartz was changed to Soros to protect themselves. Soros had one sibling, an older brother named Paul.
Sponsored link
When Soros was 13, Hungary was occupied by Nazi Germany. His family fell to extremely hard times during the war. However, Soros' father could save not only his but a few other families in 1944, which made Soros idolize his father as a hero. Soros is also a survivor of the 1945 Siege of Budapest. He immigrated to England in 1947 and enrolled in London School of Economic, studying under philosopher Karl Popper. After doing several odd jobs, Soros was employed by a merchant bank. Soros completed both, his Bachelor and Master of Science in Philosophy from London School of Economics in 1951 and 1954.
Career Rise
Soros began his career in 1956 when he was employed by F.M. Mayer in New York City in the capacity of an arbitrage trader, serving until 1959. He then moved to Wertheim & Co. and served as a financial analyst until 1963. He served at Arnhold and S Bleichroeder in the capacity of vice-president for a period of 10 years from 1963-1973. Soros began his journey as an entrepreneur in 1969 along with his partner Jim Rogers and founded the privately-owned hedge funds company 'Double Eagle' which led to the creation of the Soros Fund Management LLP. The company was renamed 'Quantum Group of Funds' in 1973. Soros was a student of philosopher Karl Popper and credits him regularly for being the inspiration behind his multi-billion-dollar empire. Soros adapted Popper's ideas of developing the social theory of 'reflexivity' which could explain the real-time valuation of assets in the market. In the 1970's Soros also began being associated with philanthropic activities and formed a network of foundations in several countries in Eastern and Central Europe, Africa and the Soviet Union which work towards promoting education, public health and democratization, which as of 2017 operates in more than 60 countries across the world.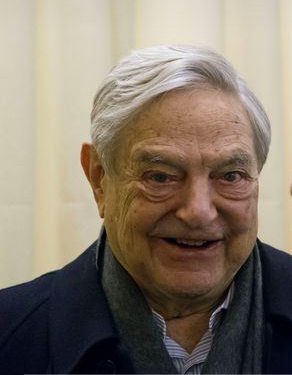 Sponsored link
In 1984, with an investment of $3 Million, Soros formed the first of many Open Society Institutes, beginning with his birth country of Hungary. During the UK currency crisis of 16 September 1992, known infamously as 'Black Wednesday', Soros reported a profit of $1 billion USD because of the short selling Sterling. The following year, he founded the Open Society Foundation with its headquarters in New York City, supporting initiatives in areas of education, independent media, rule of law among other significant things. Soros identifies as a liberal with progressive political views, which he made clear during the 2004 presidential election when he donated heavily to support the Democrats. He donated $20 Million to the 'America Coming Together', a progressive American political action group and another $3 Million to 'Center for American Progress'. Soros further pledged another $50 Million in 2006 to economist Jeffrey Sachs' 'The Millennium Promise' that provides medical and educational aid in poverty-stricken African villages. Soros funded $50 Million to the New York City based non-profit think tank Institute for New Economic Thinking in 2009.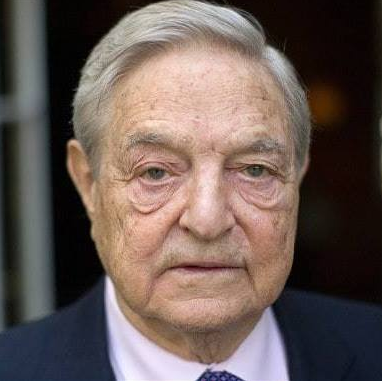 Personal Life
Soros has been married thrice, with the first two marriages ending in divorce. Soros married his first wife German immigrant Annaliese Witschak in 1960 who was orphaned in during the Second World War. The couple has three children together, Central European University founder Robert Daniel Soros, Trace Foundation Founder and President Andrea Soros Colombel and Friends of Democracy co-founder Jonathan Tivadar Soros. Soros divorced Witschak in 1983.
Soros' second marriage was with Susan Weber, who was junior to him by twenty-five years. The couple got married in 1983. The union produced two children. Their first son Alexander Soros is a philanthropist and serves on the boards of Global Witness and Jewish Funds for Justice. Their second son Gregory James Soros is an artist. The couple divorced in 2005.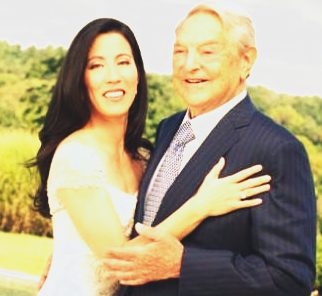 Soros met Tamiko Bolton, who is 42 years younger to him in 2008 and married her in September 2013. Bolton is of Japanese ancestry but was raised in California. Bolton runs an internet based business, selling vitamins and dietary supplements.
George Soros – Net worth
With an estimated net worth of approximately of $25.2 billion, Soros ranks among the 30 richest people in the world.
Sponsored link