Bill O'Reilly is a political commentator, syndicated columnist, TV host, historian, journalist, and author. O'Reilly hosted the program The O'Reilly Factor, a political commentary that is aired on Fox News Channel. He has previously worked as a news reporter in different local TV stations in U.S. before joining CBS News and ABC News. O'Reilly was the anchor of Inside Edition, an entertainment news program from 1989 to 1995. He is author of different books and hosted the program The Radio Factor until early 2009.
Early life
O'Reilly was born September 10, 1949 and is son to William James Sr. and Winifred Angela Drake O'Reilly. He grew up in different areas including New Jersey and Long Island. O'Reilly graduated in 1967 from Chaminade High School. He joined Marist College where he earned himself a Bachelor of Arts degree before he went on to earn an M.A. from Boston College. O'Reilly also possesses an M.P.A. from Harvard University.
Career rise
In his early career days, he worked in Miami Florida as a history teacher— soon after graduating from Marist College. In the 1970's and 1980's, O'Reilly worked for different local news outlets. He moved to report for CBS News and ABC News, and in late 1980's to mid 1990's, he was anchoring the program Inside Edition, which is an entertainment news program.
Sponsored link
He joined Fox News Channel in 1996 where he anchored his program dubbed The O'Reilly Report and later renamed this program The O'Reilly Factor. In 1986, he joined ABC News where he was a correspondent. During the death of his friend Joe Spencer, who was also an ABC News correspondent, he delivered a eulogy for him.
Joe Spencer had died in a helicopter crash that occurred in 22 January 1986 while traveling to cover Hormel meatpacker strike. It is during the reading of the eulogy by O'Reilly that Roone Arledge, the ABC News president who had attended the funeral decided to hire O'Reilly.
Sponsored link
The impressively tall at 1. 93 meters, O'Reilly, at ABC News hosted programs such as previews for World News Tonight, Nightline, Good Morning America, and World News Tonight itself.  He made O'Reilly Factor, one of the most watched news programs in US. . O'Reilly in addition to being among the first American broadcasters who covered the dismantling of Berlin Wall, he also managed to obtain the first even exclusive interview with Joel Steinberg, a murderer. He was also among the first TV hosts to be on the scene of Los Angeles riots in 1992.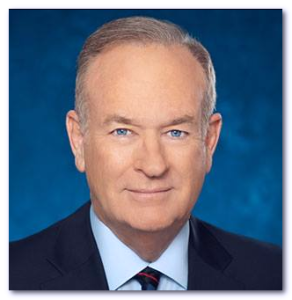 O'Reilly has authored various books including Those Who Trespass, The O'Reilly Factor: The Good, the Bad, and the Completely Ridiculous in American Life, and Who's Looking Out For You.
Bill O'Reilly – Wife and Children
O'Reilly was husband to a public relations executive called Maureen E. McPhilmy. These two met in 1992. Their wedding was held in on November 2, 1996 in St. Brigid Parish of Westbury. O'Reilly and Maureen had a daughter and son. The couple separated on April 2010, and formerly divorced on September 2011.
Bill O'Reilly – Net Worth and Salary

Bill O'Reilly net worth is estimated to be about $75 million. He earned himself $28 million in book royalties in 2014. O'Reilly's annual salary is estimated to be over $18 million.
Suspension from Fox News
A New York Times detailed report in April 2017 showed that O'Reilly and Fox News Channel had paid amounts totaling to $13 million to five women who had levelled se**al harassment charges against him. The report spoke about these events dating back to 2002. Following the ensuing backlash in media in April 2017,  the parent company 21st Century Fox along with the owners The Murdoch Family, had to conduct a detailed internal investigation, following which they reached a decision that O'Reilly had to go. On April 19, 2017, it was announced that  Bill O'Reilly was relieved of his 21-year old career with Fox News.
Sponsored link