Diane Sawyer is an American TV journalist and news anchor. She has previously anchored ABC World News, a nightly flagship program of ABC News. She also was a co-anchor of the program Good Morning America, a morning news program aired on ABC News Channel. Sawyer has been a co-anchor of Primetime newsmagazine. During her early days in her career, Sawyer was a member of White House staff in time of President Richard Nixon and was a close associate of the president himself.
Early life
Diane Sawyer was born on 22 December 1945 in Glasgow, Kentucky. She is daughter to Erbon Powers Sawyer, a judge and Jean. W. an elementary school teacher. After her birth, soon the family moved to Louisville. Her father became a community leader and local prominence as a politician in the Republican Party. And, by the time his father died in 1969 through a road accident at Interstate 64 in Louisville, he was judge for Kentucky's Jefferson County Judge.
Sawyer attended Seneca High School. When at school she was an editor in chief for Arrow, the school's newspaper. He obtained a Bachelor of Arts degree in 1967 where she majored in English at Wellesley College in Wellesley, Massachusetts. She also attended a semester at University of Louisville where she studied law before she turned to journalism.
Sponsored link
Career rise
When Sawyer graduated, she immediately went back the Kentucky and worked for WLKY-TV in Louisville as a weather forecaster. She moved to Washington, D.C. in 1970 where she took the role of interviewing for positions in government offices. Eventually, she became the White House deputy press secretary and assistant to Jerry Warren.
She wrote press releases and soon she started handling other tasks such as drafting public statements for President Richard Nixon. In 1978, she became a general assignment reporter for CBS News and in 1980; she was promoted to political correspondent on weekday broadcasts of the program Morning with Charles Kuralt. She was announced by the president of CBS News as a co-anchor in May 1981.
Sponsored link
In 1984, she was the correspondent on the program 60 Minutes. She moved to ABC News in 1989 and co-anchored the program Primetime Live newsmagazine together with Sam Donaldson. She returned to morning news in 1999 where she co-anchored the program Good Morning America together with Charles Gibson.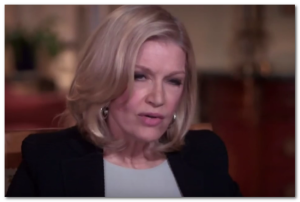 Until 2014, Sawyer remained the anchor of ABC World News, the ABC's flagship broadcast, and was the network's principal anchor for coverage of breaking news, special events, and election. It was announced in June 2014 that Sawyer would stop being the anchor chair at ABC World News by September the same year, but she would remain with ABC News this time focusing on creation of specials and doing high profile interviews.
Diane Sawyer – Husband

The 1.75 meter tall Sawyer married Mike Nichols in April 1988, but they had no children. However, Nichols had two daughters from his earlier marriages. Sadly, Nichols died in November 2015.
Diane Sawyer – Salary and Net Worth

Diane Sawyer's net worth is estimated to be $80 million and her annual salary is about $22 million.

Sponsored link