Chetan Bhagat is an Indian author who has been recognized as the face of Indian contemporary storytelling.  Along with an identity of a story teller, Chetan is also a columnist in various national English newspapers, a screenwriter for films, television personality and a motivational speaker in various platforms. Bhagat's first novel Five Point Someone in the year 2004 had a huge success among the readers and from there onwards he has been credited as the story teller for the new India.  It is Chetan Bhagat, who has actually changed the trend of Indian storytelling and has attracted the young crowd to reading habits.
Chetan's books have sold more than 8 million copies. The New York Times hails him as ' the best-selling English novelist in Indian history'.
Early life and Background
Chetan Bhagat was born on 22nd April 1974 in Delhi, India. His father was an army officer and his mother, a government employee in the agricultural department. Ketan Bhagat, brother of Chetan Bhagat is also a novelist.
Sponsored link
In the beginning, Bhagat did his schooling from the Army Public school at Dhaula Kuan in Delhi. After school, he got himself enrolled in Mechanical engineering at Indian Institute of Technology, Delhi.  Later, Chetan also did his MBA from the prestigious college in management studies, Indian Institute of Management, Ahmadabad.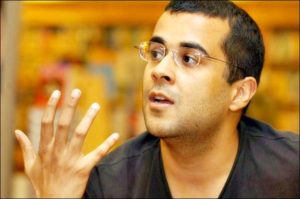 Career
Chetan Bhagat started his career as an investment banker in 'Goldman Sachs' in Honk Kong. He continued that job for ten years and then shifted to the world of literature.  Though in the midst of working as a banker, he use to write manuscripts of stories but he turned into a complete author after the launch of his first novel 'Five Point Someone'. The novel was based on the Indian education system and its process of imparting knowledge to the students which is quite futile and uninspiring.  Very soon, the novel got a huge recognition among the readers both in terms of literature and commercial value. Chetan's first novel also got a screen adaptation in Bollywood as '3 Idiots'.
After getting a huge success, Bhagat wrote his second novel 'One night at the Call center'. The story was again adopted as a film in the later stage named as 'Hello', where Chetan himself was the screen play writer. It was again a huge hit and slowly he got a good accreditation among the young readers in the country.
In the year 2008, Chetan launched his third book '3mistakes of my life' which was about cricket. The book was not only limited in pages but again had a screen adaptation called 'Kai Po Che' by the director, Abhishekh Kapoor.
Later, he came out with some other fictional work like 2 states, Revolution 2020, What Young India Wants and Half Girlfriend.
In 2016, Chetan Bhagat came up with the book 'One Indian Girl' which broke the record of the highest ever-preordered books in India.
Apart from writing, Chetan is also quite active in the television platform and also endorses various brands.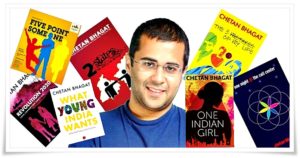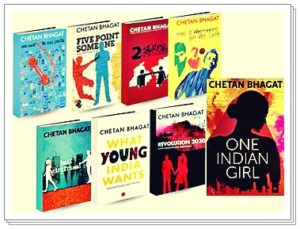 Sponsored link
Relationship
Chetan Bhagat got married to his fellow IIM classmate, Anusha Suryanarayanan. The couple is blessed with two twin children, Shyam and Ishan.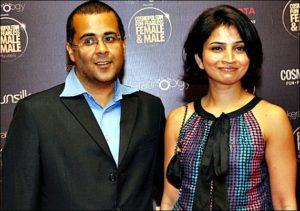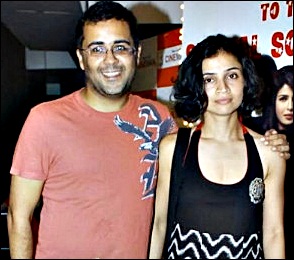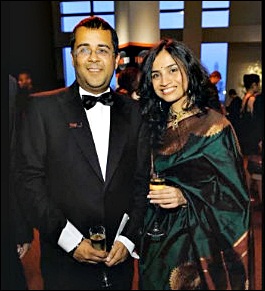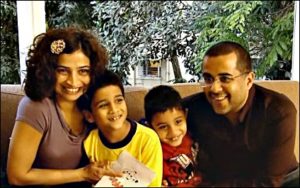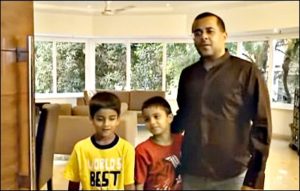 Controversy
As a writer, Bhagat is also famous for various controversies in the social network.  A year back, he made insulting comments against the eminent historians like Romila Thappar, Irfan Habib to name a few.  Chetan twitted, 'What do historians do? I am genuinely curious. This happened. Then this happened. Then this. Ok work done for the day."
He was also criticized for turning judge for the reality TV show 'Nach Baliye'.
Just after the release of 3 Idiots,  Chetan Bhagat and Aamir Khan with Vidhu Vinod Chopra had a huge war of words,  where Chetan said that the movie did not give him a proper credit for his book 'Five Point Someone'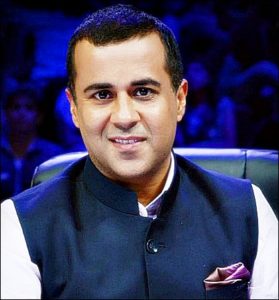 Chetan Bhagat  – Net Worth
The best-selling author has a net worth of $45 million.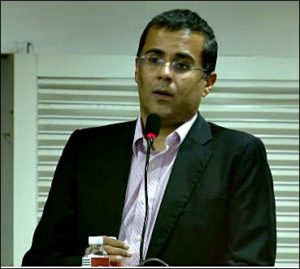 Sponsored link